Darkening skies to the north this close-to–noon Tuesday here in California's Central Valley — NWS has forecast a big chance for rain in the upcoming afternoon, 90 percent maybe, and tomorrow, too (40 percent), even into Thursday (30 percent), as the seasonal wet season kicks off. The NOAA predicted a lower-than-usual rainy season and even envisioned the return of a La Niña event, which could continue our dry-drought episode.
However, right now there's sunshine peeking through the clouds (except those in the north) and it doesn't look rainy.
Those 'darkening skies' pronouncement adds to the atmosphere of a noted word which most accurately portrays the nowadays to a tee — shit-hitting-the-fan 24/7:
"Permacrisis", a term that describes "an extended period of instability and insecurity", has been named @CollinsDict Word of the Year 2022, as it "sums up quite succinctly just how truly awful 2022 has been for so many people".

Read here: https://t.co/EDYsbUiTx1 pic.twitter.com/lCIpN5aLO4

— The Bookseller (@thebookseller) November 1, 2022
Details via The Washington Post this morning:
We've all been living in a state of permanent crisis, a "permacrisis" if you will, according to lexicographers at the U.K.-based Collins Dictionary who have anointed it the word of the year for 2022.

The portmanteau describes the feeling of "living through [a] period of war, inflation, and political instability," and "sums up quite succinctly just how truly awful 2022 has been for so many people," the company said in a statement on Tuesday.

"Permacrisis," which is defined as "an extended period of instability and insecurity" by the publisher, is one of a handful of words relating to the challenges posed by climate change, the war in Europe, a cost-of-living crisis and, in many quarters, political chaos. It was first used in academic contexts in the 1970s, according to Collins, but has seen a spike in use in recent months.

"It was very apparent this year that the conversation was dominated by crisis," Helen Newstead, language content consultant at Collins Dictionary, told The Washington Post.

Her team looks at the "Collins Corpus," a database of 18 billion words, in making its choice, as well as taking "snapshots" at intervals throughout the year to analyze newspapers and social media among other sources, she said, to find new words and increased usage.

"Permacrisis," Newstead said, encapsulates "lurching from one crisis to another without really drawing breath."

"I think it does resonate … as something everyone can relate to," she said.

"There hasn't been a huge amount to celebrate," she continued, noting that the word of the year captures "the way we're all feeling at the moment, sadly."

…

"Language can be a mirror to what is going on in society," Alex Beecroft, managing director of Collins Learning, said in a statement, adding that 2022 had "thrown up challenge after challenge."

"Our list this year reflects the state of the world right now — not much good news," Beecroft added, citing rising energy prices, severe weather and lingering impacts of the coronavirus pandemic.
So be it, a BBC take on the word of the right now:
Word despite the time, yet once again here we are…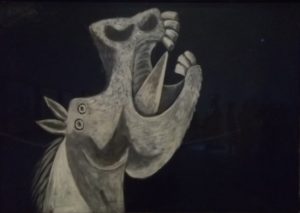 (Illustration out front: Pablo Picasso's 'Agonizing Horse,' found here.)