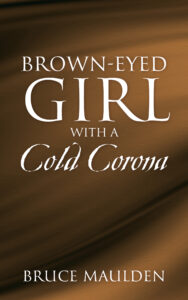 Hello, this late-afternoon Monday here in California's Central Valley — instead of the usual news-based post on some near-pertinent something-or-another (I do love hyphens), this is another plea to buy my novel, "Brown-Eyed Girl With A Cold Corona," self-published last March by OutskirtsPress.
My author's page at Outskirts is here.
Most importantly, the Amazon/Kindle page is here.
And for the first time, a Kindle-customer review:
"Not since the Time Travelers Wife has a story tugged at my heart, f*** with my head, and left me so chilled, haunted and thoroughly impressed. A vivid, romantic and ultimately chilling debut, I sincerely hope this author doesn't stop here. A new, genre bending talent has been unleashed and I personally can't wait to see what he comes up with next."
As explained in an earlier post, I wrote the first draft in the summer of 1994, and the whole story is just a couple of days of my real life then, but way-tweaked into a fictional literary-fantasy-horror tale.
Self-publishing may not be my best route — after spending two decades as a 450-page, hard-copy manuscript stored in a cardboard box (315 pages published) — as I'm not very good at marketing. Not very good, really, with any kind of self-congratulatory/back-thumping action — all of which is handled by a publisher in the usual path via a literary agent to a publishing house
Yet I had the money to do it last fall, and it's done.
A perspective from that earlier post:
Now just a matter of wait and see the reaction for readers to this major, long-ago personal project, after such a long time in that before-mentioned cardboard box. How will it come across as a paperback book you can hold in your hand, and maybe too, find later in the used-book section of a second-hand store.
Even at this point, I'm not sure if I've made the right decision in going with self-publishing, vs the conventional literary-agent-to-publisher route, and how will book sales be affected. Questions with no answers right now.
In a current historical note, the word 'Corona' in the title doesn't quite hit me hard as it did a couple of years ago when COVID started its initial run. I was just finishing a brand-new edit of the manuscript — my daughter had the written version made digital (Google docs) — and the whole scene depressed me so bad (death and disease and T-Rump and lockdowns) the virus name prompted me to stop work for months. My novel's entire, continuous storyline is fashioned around a Corona beer. Oddly, simple 'COVID' eventually replaced 'coronavirus' in the media as the go-to word for the pandemic. Weird. And fortunately for my 'Corona' girl.
And did I mention the Amazon/Kindle page is here?
Part Deux's 'Corona girl' plea post is here.
And I really do appreciate it.
Until next time.
Literary or not, here we are once again…