Sunshine in glorious bursts from behind big, fluffy white clouds this near-noon Wednesday here in California's Central Valley — a wonderous, beautiful day after a most-marvelous midterm election yesterday.
The weather feels the yay! whee! effect this morning.
Instead of sad and remorse, anxiety attacks coupled with stress headaches, and other sad-sack mental states, there's joy in Mudville, Casey 'didn't' strike out. Although all the swirl over the last few days has been Democrats in disarray, the reality of the show is that it's asshole Republicans in actual disarray.
After shutting down my InterWeb doomscrolling in the late afternoon yesterday just to seek some anxiety relief, an old friend called about 8 PM and happily informed me the whole midterm-election operation was screening to the left, seemingly headed to better-than-predicted end results — the MSNBC crew, he told me, were delirious with the news.
I immediately scrolled the InterWebs (I don't have cable) and despite some Republican wins, the overall online chatter was a Democrat turnaround, in a wonderful finger to all the asshole journalists, pundits, and whatnot that portrayed a bad, horrible crash.
Wrong!
No heavy sweat from the brow, however:
"Biden had the most successful midterm of any POTUS in 20 years. The Democrats in disarray narrative looks a lot more like Republicans in disarray. The American people, it turns out, did care about inflation. But they cared about democracy too" — @nberlat https://t.co/Jf1AxZp5PH

— Aaron Rupar (@atrupar) November 9, 2022
Aaron Rupar is good with this shit; his Public Notice newsletter this morning explains the situation on the red wave that wasn't — some snips:
In the wee hours of Wednesday morning, the results of the 2022 midterms were still uncertain. Control of both the House and the Senate remained up for grabs; the latter may ultimately be determined by a run-off in Georgia in December.

We do know one thing though. Joe Biden has had the most successful midterm of any president in 20 years. The Democrats in disarray narrative looks a lot more like Republicans in disarray. The American people, it turns out, did care about inflation. But they cared about democracy too.

…

You have to go back to the 2002 midterm, in the rally around the flag aftermath of the 9/11 attacks, to find a midterm in which the president's party made any gains. The Republicans that year picked up eight seats, solidifying their hold on the House. Before that, the president's party lost control of the House in every other midterm election since 1978.

Biden's achievement — even if he ends up losing a handful of House seats — is all the more remarkable because his popularity remains in the doldrums. Poll aggregator FiveThirtyEight has his approval at around 41.4 percent. That's lower than Trump's (42.2 percent) and or Obama's (44.8 percent) at the same point in their presidencies, when they experienced catastrophic losses.

Biden's low approval ratings and high inflation nationally led many pundits to believe that there would be a red wave in line with most midterms. Pundits said that New York governor Kathy Hochul could be in danger of losing her blue state to challenger Lee Zeldin. Analysts also suggested Democrats could lose a Rhode Island House seat they'd held since 1991, as Republican Allen Fung looked prepared to unseat Democrat Seth Magaziner. Colorado Democratic Senator Michale Bennett was supposed to be in trouble. So was Washington state's senator Patty Murray.

In anticipation of a big Democratic electoral loss, pundits also began to dust off the usual Dems in disarray narratives. Fox of course has been telling their viewers that a Republican tsunami was inevitable.

But mainstream sites also started to circle Ds like buzzards.

Democrats are "out of touch with American voters," CNN declared. The American Prospect informed its readers about "how Democrats mishandled crime." Democrats "face their nightmare scenario on election eve," CNN said again, "as economic concerns overshadow abortion and democracy." Graeme Wood at the Atlantic criticized Biden for making a last-minute pitch to voters to cast their ballots against GOP authoritarians and election deniers.

"Saving democracy shouldn't be the Democrats' main pitch to voters," he fulminated.

Somewhat lost amidst all this finger-wagging and knife-sharpening was the fact that the polls didn't exactly indicate a red wave. The Economist's House Forecast (which was more careful to weed out partisan polls than FiveThirtyEight) gave the Democrat's about a 1 in 4 chance of holding the House, and a 43 out of 100 chance of holding the Senate. The Economist's analyst, G. Elliott Morris, concluded just before the election, "A Republican ripple is more likely than a red wave." He added that "the Senate is a true toss-up."

Morris' prediction turned out to be on the money. There was no red wave. Instead, Democrats wildly overperformed the usual midterm expectations. They did not lose key races in blue states like New York, Colorado, or Washington. Nor did they drop that long-held Democratic seat in Rhode Island.
And of the orange-turd-of-an-asshole T-Rump: 'Trump will never acknowledge this — hilariously, he claimed during an interview earlier Tuesday that "if they [Republicans] win, I should get all the credit. If they lose, I should not be blamed at all" — but Tuesday's results suggest it's not a foregone conclusion he'll win another Republican presidential primary, let alone return to the White House. And it's not just libs like me who are saying this.'
What happens next is the Georgia Senate run-off between Raphael Warnock and Herschel Walker — how that contest even could get that close (Warnock, 49.4 percent of the vote, Walker at 48.5) is beyond me. Walker is a nasty, igorant asshole.
There is a shitload of analysis out there and it'll take the rest of the day for me to handle and note the details.
The bottom line, though, is happy.
Less stress or not, once again here we are…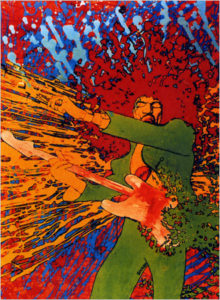 (Illustration out front: 'Explosion (Jimi Hendrix), 1967," by artist, and cartoonist Martin Sharp, and found here.)