Another sunshine-splashed morning here in California's Central Valley — weather on a Thursday in a week of excitement and suspense — a nice environment right now, but soon due to accelerating climate change becoming not so good in the way-near future.
And maybe, too, the blue-tinted midterms from Tuesday might be a hint of salvation for Republican denial efforts on global warming.
The wondrous Nancy Pelosi thinks so — in midst of personal tragedy she traveled to Egypt for COP27, the annual UN conference on climate change, and spoke today about how America might have dodged a horrible bullet with the midterms and Republican intent to 'hoax' the planet.
Nancy talks straight:
Nancy Pelosi, for now the speaker of the House, is at Cop27. She says it's "hard to speak" about the midterms now but points out that many Republicans think the climate crisis is a hoax. "We have to get over that. This is urgent, it's overdue," she says pic.twitter.com/zjcoEJGaHR

— Oliver Milman (@olliemilman) November 10, 2022
Details from the Guardian this morning:
Nancy Pelosi has accused Republicans of treating the climate crisis like "it's all a hoax" while at the Cop27 climate talks in Egypt, where the US delegation is attempting to remain upbeat about continued progress on dealing with global heating despite uncertainty over the midterm election results.

Pelosi, the speaker of the House of Representatives, made a surprise appearance at the climate summit in Sharm el-Sheikh on Thursday. The trip may be one of Pelosi's last as speaker, with most forecasts predicting Republicans will eke out a narrow majority in the House.

There has been "shall we say, a disagreement on the subject" of the climate crisis between the parties, Pelosi said at Cop27, adding that Republicans have said "'Why are we having this discussion? There is no climate crisis. It's all a hoax.' We have to get over that. This is urgent, long overdue.

"So we cannot just have any political disagreement or the power of the fossil fuel industry cramping our style as we go forward with this, but to show a path that gets us to where we need to be," Pelosi said.

Pelosi's appearance at Cop27 comes at a critical point for the future of democracy in the US and the future of the planet. Joe Biden was able to pass the country's most significant piece of climate legislation this year because Democrats have the majority in both the House and the Senate. With that set to change, the mounting anger at the US for obstructing meaningful global climate action, despite being the world's largest polluter and richest country, may only get worse.

Kathy Castor, a Democrat from Florida who chairs the House subcommittee on the climate crisis, predicted Republicans would axe her committee should they gain power. "They have not really been partners in tackling the climate crisis, and it's inexplicable because the world's top scientists tell us we are running out of time," Castor said.

Biden will appear at Cop27 on Friday and a delegation of his cabinet members have already descended upon Sharm el-Sheikh to stress to other, skeptical, countries that the US, which has swerved erratically on climate policy over the years and under Donald Trump completely abandoned the crisis, will still be engaged on fighting global heating even if Republicans do secure Congress.

"I think the United States is seen favorably here based on the actions taken in the last two years," Michael Regan, administrator of the Environmental Protection Agency (EPA), told the Guardian.

Regan, who appearing at a number of events at Cop27, cited the inflation reduction act, which includes more than $370bn in climate spending, and the administration's actions to promote environmental justice.

"Polls suggest climate change isn't a top-tier issue, but most families are focused on keeping a roof over their heads and putting food on the table … so it's not surprising some issues were registering a little higher than climate change," Regan said of the midterm elections.

"But climate change hasn't fallen off the list, it's still a top priority. You don't even have to trust scientists any more, you just have to look out of the window or put on the news. People are smart enough to see this isn't some long-term conspiracy theory."
Republicans are horrifying on so many levels. On Tuesday they were exposed as worthless in the eyes of a shitload of American voters. Climate change is one such sore point.
Similar to a lot of shit nowadays, it's not just the science and studies/reports/etc, but the actual looking out the window to the obvious weather going shit-crazy. So in order to do damage, GOPers don't so much denounce climate change as hoax, they just want to put off doing anything about it.
For instance, from The New York Times last summer:
One hundred million Americans from Arizona to Boston are under heat emergency warnings, and the drought in the West is nearing Dust Bowl proportions. Britain declared a national emergency as temperatures soared above 100 degrees Fahrenheit and parts of blistering Europe are ablaze.

But on Capitol Hill this week, Republicans were warning against rash action in response to the burning planet.

"I don't want to be lectured about what we need to do to destroy our economy in the name of climate change," said Senator Lindsey Graham, Republican of South Carolina.

…

Few Republicans in Congress now outwardly dismiss the scientific evidence that human activities — the burning of oil, gas and coal — have produced gases that are dangerously heating the Earth.

But for many, denial of the cause of global temperature rise has been replaced by an insistence that the solution — replacing fossil fuels over time with wind, solar and other nonpolluting energy sources — will hurt the economy.

In short, delay is the new denial.
Assholes.
Yet Nancy Pelosi was 'swarmed' by reporters after her keynote speech:
Nancy forever, or not, yet here we are once again…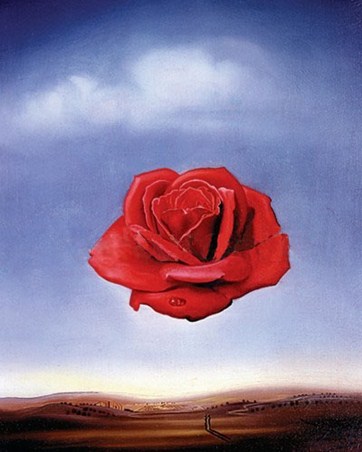 (Illustration out front: Salvador Dalí's 1958 painting, "Meditative Rose," and found here.)