Darkly overcast this late-afternoon Friday here in California's Central Valley — chilly, too, which is just a reminder of winter coming quickly toward us. And with DST gone, the day becomes night real quickly, almost like a finger snap. Despite the outside gloom onset, the weather is a top-tier life force, always and forever more.
In contextual news, earlier today Joe Biden addressed COP27 — the UN climate-change conference currently in progress in Sherm El Sheikh, Egypt — in a quick three-hour stopover there on his way to Cambodia for an Asia-Pacific leaders' meeting, then to Bali, Indonesia, for the G20 summit. He's scheduled an aside Monday with China's top leader, Xi Jinping. Supposedly, Biden's topics with Xi will include climate change.
Although in his speech Biden noted the urgency — '"We can no longer plead ignorance to the consequences of our actions, or continue to repeat our mistakes,"' and '"This gathering must be the moment to recommit our future and our shared capacity to write a better story for the world"' — there are no real agenda items to curb emissions and shift the dangerous, perilous path the planet is on and lessen the horror of global warming.
Also contextual today, another way-bad warning:
"We would need to look back and say we could have done it and we didn't. How do we explain that to our kids?" https://t.co/L4BuKHFOkB @sarahkaplan48.

— Louisa Loveluck (@leloveluck) November 11, 2022
Nutshell on the study from Earth System Science Data via The Washington Post this morning:
Nations will likely burn through their remaining carbon budget in less than a decade if they do not significantly reduce greenhouse gas pollution, a new study shows, causing the world to blow past a critical warming threshold and triggering catastrophic climate impacts.

But new gas projects — launched in response to Russia's invasion of Ukraine and the resulting global energy crunch — would consume 10 percent of that remaining carbon budget, making it all but impossible for nations to meet the Paris agreement goal of limiting warming to 1.5 degrees Celsius above preindustrial levels, according to another report released Wednesday.

The Global Carbon Budget, an annual assessment of how much the world can afford to emit to stay within its warming targets, found that greenhouse gas pollution will hit a record high this year, with much of the growth coming from a 1 percent increase in carbon dioxide from burning fossil fuels. Emissions in both the United States and India have increased compared to last year, while China and the European Union will probably report small declines, according to the report.

To have a chance of keeping global temperature rise within 1.5 degrees Celsius, humanity can release no more than 380 billion tons of carbon dioxide equivalent over the coming decades — an amount equal to about nine years of current emissions, the report says. Avoiding warming beyond 1.5C will require the world to curb emissions by about 1.4 billion tons per year, comparable to how much emissions shrank in 2020 as a result of the economic slowdown from the coronavirus pandemic.

Yet even as scientists warn of the world's dangerous trajectory, leaders here at the U.N. Climate Change Conference, known as COP27, have advocated for natural gas as a "transition fuel" that would ease the world's switch from fossil energy to renewables. At least four new gas projects have been reported or announced in the past 10 days, with several African countries pledging to expand export capacity and supply more fuel to Europe. Representatives from both Egypt and the United Arab Emirates, the host of next year's climate conference, have made clear they view COP27 as an opportunity to promote gas.

This rhetoric has alarmed scientists and activists who say expanding natural gas production could harm vulnerable communities and push the planet toward a hotter, hellish future.

"Gas is not a low carbon energy source," said Julia Pongratz, a climate scientist at the University of Munich and an author of the Global Carbon Budget report released Friday.

Pongratz said it is still technically possible for the world to avoid temperature rise beyond 1.5 degrees Celsius — which scientists say is needed to avoid disastrous extreme weather, rampant hunger and disease and the collapse of ecosystems on which humanity depends.

But if fossil fuel use does not dramatically decline, "in a few years we will no longer be able to say it's possible," Pongraz said. "And then we would need to look back and say we could have done it and we didn't. How do we explain that to our kids?"
However, the 'kids' already know — Greta Thunberg calls it the '"Blah, blah, blah"' effect' posed by the international order of shit things.
A quick view of that carbon budget:
And if not complying, then some real-life CGI:
Blah or blah not, once again here we are…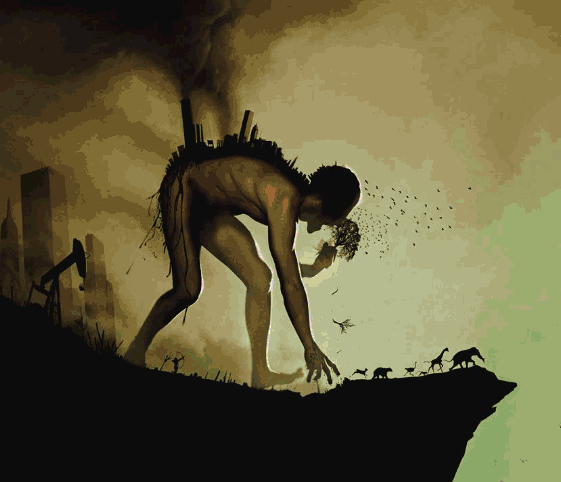 (Illustration out front found here.)