Bright sunshine and chilly-willy temperatures this early Tuesday afternoon here in California's Central Valley — although a bit crisp, outside right now is another 'good-as-it-gets-around-these-parts' episode.
Usually too hot, or too something. Nice this morning. however.
Today marks a full week since the midterms and the euphoria still lingers in the air. Despite the gains, Republicans are still assholes and after capturing the House (all the news sites seem to indicate that, the Senate is already codified Dem) they will attempt to create chaos and shitty business in the new year.
And I'm getting weary of the same political stories in the press. Not much in the MSM about how shitty the MSM was in preparing the public for the election.
My exhaustion on the election and aftermath is a good reason there have been no posts since Friday. So many words just didn't come and the attempt to maybe write less seemed blog-appropriate.
And now add a foreign mix to the cycle with news from the war in Ukraine — Russia has probably finally crossed the line in another flurry of missile attacks. This could be a major crossing point (the AP a short while ago):
A Russian missile barrage on the Ukrainian power grid sent the war spilling over into neighboring countries Tuesday, hitting NATO member Poland and cutting electricity to much of Moldova.

It was Russia's biggest barrage yet, and some of the missiles crossed into Poland, where two people were killed, according to a U.S. official. It marked the first time in the war that Russian weapons have come down on a NATO country.
A major development:
"We are aware of the press reports alleging that two Russian missiles had struck a location inside Poland near the Ukraine border. I can tell you that we don't have any information at this time to corroborate those reports and are looking into this further" pic.twitter.com/6HePNGSkAL

— Acyn (@Acyn) November 15, 2022
Urgency in a nutshell via CNBC:
Pentagon spokesman U.S. Air Force Gen. Pat Ryder said the Defense Department was aware of reports that a Russian missile crossed into Poland and resulted in the death of two Polish citizens.

"We have no information to corroborate these reports at this time," Ryder said during a daily Pentagon press briefing.

When pressed by reporters, Ryder declined to elaborate on the event or if it would trigger NATO's collective defense, known as Article 5.

To date, the 30-member alliance has only invoked Article 5 once — in defense of the United States in the wake of the 9/11 terrorist attacks.
And a primer on this Article 5 business from Poynter last March:
Ukraine is bordered by four NATO members: Hungary, Poland, Romania and Slovakia. (A fifth neighboring country, Moldova, is not a NATO member.) Further north, Russia borders the three Baltic states, each of which belongs to NATO: Estonia, Latvia and Lithuania.

Because Ukraine is not a NATO member, the alliance has no formal obligation to intervene to stop Russia's invasion. However, if Russia attacks any of the NATO-member nations, it could prompt NATO to invoke what's known as Article 5, a collective-defense mechanism that NATO itself describes as "the very heart of NATO's founding treaty."

Rhetorically, top U.S. officials have reiterated their support for the obligation to defend fellow NATO members who have been attacked militarily. In his State of the Union address, President Joe Biden pledged to "defend every inch of territory of NATO countries with the full force of our collective power."

And Secretary of State Antony Blinken said March 7 in Vilnius, Lithuania, that "if there is any aggression anywhere, on NATO territory on NATO countries, we the United States, all of our allies and partners will take action to defend every inch of NATO territory. It's as clear and direct as that."

An invocation of Article 5 is no longer an abstract question. On March 13, Russia attacked Yavoriv, a military training site in western Ukraine, just a dozen miles from the Polish border.

Could NATO's Article 5 require the United States, as the key member of NATO's military, to wage a direct military fight against Russia? Experts say it could, but they add that there is a considerable gray area that confounds easy assumptions. Article 5 does not lead inexorably to full-scale war; it offers a framework for developing a measured response, with each country deciding what action to take.
Maybe as we dodged a horrible bullet one week ago, this latest Vlad Putin-induced screw-up might not suck the Ukrainian war into a bigger, more frightful more-than-a regional conflict.
Yet as with all kinds of shit nowadays, we'll have to wait and see.
A good primer on possible escalation from noted UK defense and security analyst Professor Michael Clarke:
Article 5 or not, here we are once again…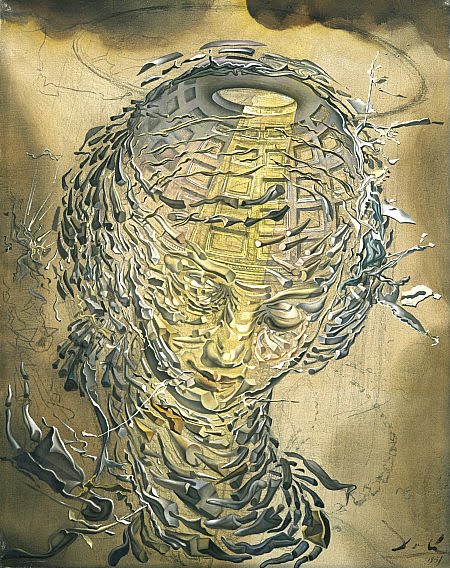 (Illustration out front: Salvador Dali's 'Tête Raphaëlesque éclatée [Exploding Raphaelesque Head],' found here.)