In the wake of Katie Hobbs's delightful defeat of frightful nutcase Kari Lake last night for governor of Arizona, an opposite gag-reflex action in just a little while from the most-worse frightful nutcase the T-Rump in supposedly announcing plans to make once again a try at being elected president in 2024.
Although he's popular with mad-MAGA hatters, no one wants him to run.
Bad, bad news — via the Guardian's live blog just minutes ago:
Donald Trump is expected to announce his 2024 presidential bid tonight at his Mar-a-Lago residence and resort in Palm Beach, Florida.

The big announcement that the former president has been teasing since before the midterm elections will come as he faces intense scrutiny from within his own party. After a number of far-right, Trump-endorsed candidates lost their elections, advisers had urged the ex-president to delay announcing a 2024 candidacy.

Meanwhile, Trump is facing a deluge of legal troubles and investigations. Today, the former chief financial officer of the Trump Organization, Allen Weisselberg, testified in the tax-fraud trial of Trump's family business. Prosecutors are also investigating whether he criminally retained national security documents at Mar-a-Lago.
Shitty big deal, yet the whine has started already:
Trump's Spokesperson says networks are violating the 1st Amendment by not covering his announcement live: "They don't want the American people to hear directly from the biggest leader of the greatest political movement in history. We do not have the 1st Amend, it's under attack." pic.twitter.com/luejlcEzyM

— Ron Filipkowski ?? (@RonFilipkowski) November 16, 2022
The orange turd is in such a bad way his own kids won't be there for the announcement — from Bess Levin at Vanity Fair this afternoon:
Earlier this week, we learned that as a wedding present to his daughter Tiffany and her new husband, Michael Boulos, Donald Trump gave a father-of-the-bride speech about how he was too cheap to pay for a tent at Mar-a-Lago in case of rain. Now, it's been revealed how else he showed his fourth child and second daughter he cares: by spending her big day begging Jared Kushner and Ivanka Trump to appear with him onstage when he announces his third run for office.

Yes, according to the New York Post, Trump devoted part of Tiffany's nuptials to "trying to convince his much-loved elder daughter" and her husband to literally and figuratively back him during his expected 2024 announcement Tuesday night. And, much like Tiffany trying to get him to show her some affection as a child, he was apparently rebuffed.
(What part of the wedding did Trump ignore to make his entreaty? We're guessing cocktail hour, most of dinner, and all of the newlyweds' first dance. In other words, every moment other than whatever the hell this was, which surely had his rapt attention.)

"Trump thought he could convince Ivanka this weekend to come back and campaign for him as she was the most requested speaker after the president himself last time around…but so far she's resisting his entreaties and holding firm, as is Jared," said a source familiar with the family affair, seemingly suggesting Trump still believes they could change their minds and show up at the eleventh hour.
"They both feel they got burned in Washington and don't want to go back and expose themselves and their children to another bitter campaign."
The outlet notes that Javanka's refusal to get involved has led to "extra behind-the-scenes tension": Don Jr. and Eric Trump are "all in on yet another White House bid," as are their partners, Kimberly Guilfoyle and Lara Trump, the latter of whom regularly appears on Fox News to offer her totally unbiased opinion on her father-in-law's affairs.

…

On Tuesday, Axios reported that Trump scheduling the "very big announcement" for November 15 was actually a compromise to his advisers, who begged him not to kick off his candidacy the night before the midterms. Now, some of them wish he'd delay doing so until after the Georgia runoffs, lest the Eau du Trump alienate voters even more than it already does. But at this point, that seems about as likely as the former guy taking to the stage and telling the crowd, "Ivanka and Jared said they didn't want to be here tonight but you know what? F–k 'em. I've got my boys Donny and Eric, and that's all I need," and then giving his two eldest sons an advance on their biannual hugs.
Yuck!
And still horribly-funny bad-lip-reading Obama — '"You're a creep"' — nothing really changes:
'Very Big Announcement' — not! Yet once again here we are…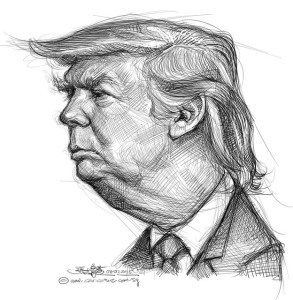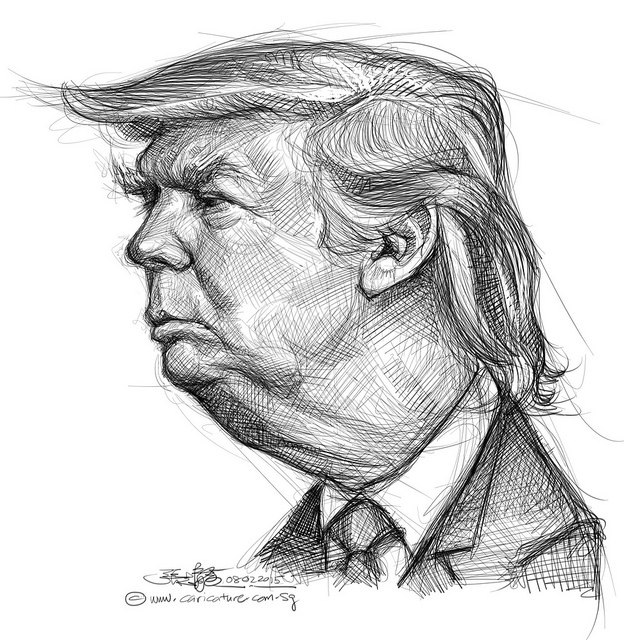 Image out front is my favorite of the T-Rump mugs, though, 'favorite' does not mean in any form or fashion, as in, 'my favorite movie,' or 'my favorite song.' It's more of an anti-appreciation/like.
And aptly titled, 'Basic Shapes,' by caricaturist/illustrator Chong Jit Leong (and found here), it's an image that displays the elemental form of a purloined sociopath — a bloated profile of flatulent bile and arrogant ignorance.