Fading sunshine and a lingering chill this late-afternoon Wednesday here in California's Central Valley — approaching the end of another beautiful day embedded in a comfortable autumn season.
First, a couple of updates from yesterday's posts on war and a shitty former American president.
Although I wrote about the Russian missile that struck Poland and killed two people, today it was reported Ukrainian fired that missile: 'In earlier versions of a story published November 15, 2022, The Associated Press reported erroneously, based on information from a senior American intelligence official who spoke on condition of anonymity, that Russian missiles had crossed into Poland and killed two people. Subsequent reporting showed that the missiles were Russian-made and most likely fired by Ukraine in defense against a Russian attack.'
And from CNN late this afternoon: 'The leaders of Poland and NATO said the missile that killed two people in Polish territory on Tuesday was likely fired by Ukrainian forces defending their country against a barrage of Russian strikes, and that the incident appeared to be an accident.'
Damped down the fright of an expanding war zone as NATO would be called to defend their area. The good news in a way-bad war. (Along, of course, with the Ukrainians beating the shit out of Putin's army.)'
And in that second update — T-Rump did in fact announce last night he intends to run for president again in 2024. However, beyond Fox News and other MAGA outlets, it was a case of blow-it-out-your-ass (late last night from The Washington Post):
When Donald Trump announced on Tuesday night that he will mount another run for the White House — a rare case of a former president seeking his old job — the country's three major broadcast networks opted not to carry his speech live.

ABC, NBC and CBS all decided to stick with previously scheduled entertainment programming — reality show "Bachelor in Paradise" on ABC, science fiction drama "La Brea" on NBC and a fictionalized show about the FBI on CBS.
Aaron Rupar in his Public Notice newsletter this morning: 'There was something slightly off about it. The speech was basically the same one he's been delivering at his rallies for years, but the response to it from the Mar-a-Lago faithful seemed oddly low energy. A reporter who was there filmed a particularly brutal scene for Trump of people trying to leave the ballroom while he was still speaking but being prevented from doing so.'
Rupar also noted some shit-blabbering from the T-Rump mouth: '"The total effect of the suffering is just starting to take hold," he said. "They don't quite feel it yet, but they will very soon. I have no doubt that by 2024 it will sadly be much worse."
Trump 2024: It Will Get Worse (with some help from the new House GOP majority).'
And of such, Republicans did indeed win a slim majority of the House, and thus the shit will fly. What's in store won't be pretty:
I wrote about what republicans taking the house could look like in ?@VanityFair? https://t.co/7uZvbFoVK8

— Molly Jong-Fast (@MollyJongFast) November 17, 2022
Molly Jong-Fast at Vanity Fair this afternoon touches upon the wildcard, crazy and horrid chaos-influenced bullshit intended for the next session of the House:
For Democrats, the outlook of a GOP-led House is grim. As Democratic representative Eric Swalwell texted me, "The GOP has laid a historic egg. Democrats ran on competence and contrasted it with chaos. And if Kevin McCarthy somehow holds on to become Speaker, he's no Nancy Pelosi who can lead a narrow majority. McCarthy would be the leader of the land of misfit toys, a place that will exist exclusively as a vessel state of MAGA nation. A MAGA House majority will also operate as the largest law firm in Washington, DC, but serving just one client and his endless grievances. Functionally, without a Democratic votes it will spectacularly fail to execute its core functions: keep the government open, pay America's bills, and fund the fight for freedom in Ukraine."

What's on the agenda? First a caveat, Republicans didn't take the House by nearly as many seats as predicted. The anticipated "red wave," or even "red tsunami," never materialized, and Trump-backed Republicans were rebuked in several states. It took until Nov. 16—more than a week after results started coming on election day—for Republicans to reach 218 seats.

So perhaps House Republicans won't be as emboldened as they would be if they had taken twenty or thirty, or—as McCarthy fantasized last year—60 seats. Maybe there will be some kind of power struggle between MAGAworld and the few remaining normalish republicans. Representative Richie Torres predicted, "The House Republican Conference will have the barest majority, rendered ungovernable by the lunatic likes of Matt Gaetz and Majorie Taylor Green. The self-sabotage of an ungovernable Republican majority will all but guarantee that Democrats take back the House in 2024."

Yet even without a MAGA mandate, it's hard to imagine the Trumpiest Republicans not doing some crazy stuff when taking power. Expect a jacketless Jim Jordan yelling at everyone from Hunter Biden to Secretary Alejandro Mayorkas. There will likely be investigations into everyone from Vice President Kamala Harris to Nancy Pelosi's third cousin once removed. Expect Gaetz grandstanding and delivering terrifying soliloquies that sound like opening monologues from OAN. House Democrats are already worried Congress will be a circus that has little to do with, you know, governing. "My fear is that the Republicans will just be about investigating Biden and obstructing progress instead of working to rebuild our economy and provide every American with opportunity," Representative Ro Khanna texted.
Indeed grim. Yet all it will be is screaming bullshit without anything being accomplished for the American people, no policy, no work being done — just loud noise.
Another show of being obvious about being worthless.
And what if their shit is killing them? In my doomscroling this afternoon, I ran across another report of MAGA assholes dying from being assholes. There have already been studies of Republican anti-vaxxers dying in greater numbers than Democrats, and red counties having more COVID outbreaks than blue, yet did all this affect/effect the midterms?
Maybe:
The authors of a new study can't say if this impacted the 2022 midterms, but say that it's "plausible given just how stark the differences in vaccination rates have been, among Democrats and Republicans." https://t.co/GT3oNUdDge

— Motherboard (@motherboard) November 16, 2022
Some crazy data on this shit at Vice this afternoon — some snips:
COVID-19 is killing more Republicans than Democrats, according to a new study from the National Bureau of Economic Research. The study, titled Excess Death Rates for Republicans and Democrats During the COVID-19 Pandemic, used voter registration and death records to answer a question: is there a link between political affiliation and rates of COVID related death in the U.S.?

…

Is it possible that anti-vax Republicans dying from COVID affected the midterms? "If Republicans are dying in increased numbers relative to their Democratic colleagues in a political climate where there are so many close electoral contests, could that have been the decider in a particular particular race?" Jason L. Schwartz, an associate professor of Health Policy at the School of Public Health at Yale and one of the authors of the study, told Motherboard. "Our study can't answer that. But it certainly seems plausible given just how stark the differences in vaccination rates have been, among Democrats and Republicans."

…

The excess death rate difference isn't small. "In the summer of 2021—after vaccines were widely available—the Republican excess death rate rose to nearly double that of Democrats, and this gap widened further in the winter of 2021," the study said. This rose to a 153 percent difference after all adults could take the vaccine in Florida and Ohio.
Weird as shit, huh?
Republicans in charge of noting but the dead:
Despite the numbers, yet here we are once again…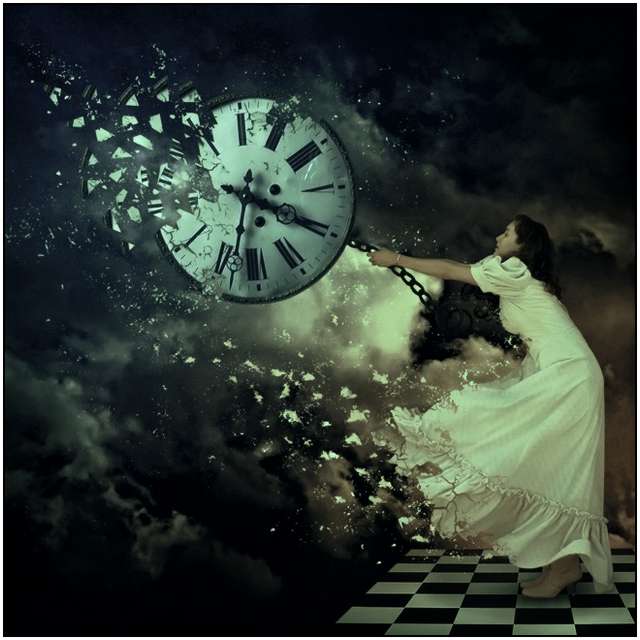 (Illustration out front: 'A Break in Reality,' by Xetobyte, found here.)