Thus, sing The Beatles — rain plus-more rain this miserable near-noon Friday here in California's Central Valley as we're on the leading edge of another 'atmospheric river' gushing toward us from the coast. In fact, according to weather people, a couple of those environmental phenomena are forecast to be heading our way with a lot of water falling down:
"An average atmospheric river instantaneously carries two to three times what the Amazon River typically carries," said Alexander Gershunov, a research meteorologist at UC San Diego's Scripps Institution of Oceanography.
The most significant portion of the downpours is scheduled for tomorrow and Sunday, continuing seemingly indefinitely into the days ahead, leaving 2022 in a way-wet finish. Par for the course. Rain is also beyond precipitation, but also a weather product of life and maybe carries a sad, soul sense:
All over the freaking world!
I haven't been posting much lately — the last one was Christmas Eve — and highly sporadic even before then. Maybe the shit out in that rainy world is getting too much for my old, close-to-burned-out brain to make sense of much less attempt to explain, analyze or bullshit about in written words.– more screaming required. Factoring in shit beyond the horrifying news cycle creates a block to creating literary, ass-kicking posts (Yeah right!) — the weather can sometimes be a non-motivator/semi-motivator influence on how I approach my blog or writing in general.
Especially added crap like the 'tule fog' we've been experiencing the last couple of weeks here in the Valley, then couple that with rain, and the whine comes silently forth of melancholy baby-blubber taking precedence over acting like an adult and not a toddler. Yet I've always been that way, my personality conforms to the whims of my child-like mental state — I can write only when I'm feeling happy. Even writing about sad shit, there has to be some happiness lurking about in the mind.
So, I guess, via a whisper of weight and according to that prognosis, there has to be some level of gaiety in my brain cells this morning. Odd but weird in a personal, insane sort of notion.
Ha, ha.
Rain, fire, and sanity:
In that lack of writing/posting, the problem is not enough shit to write about, but there's too much. The airwaves are saturated with horror stories, especially from the faces of asshole Republicans, a group of people who can bring down any feelings of happy, happy. One of the most grueling stories of America in the last 40 years is the total immersion of the Republican party into a cesspool of cruel lies and hate. No sense in governing whatsoever, just call the alarm on certain particular people, from the gay to the transgender to the librarian, the school board member, pro-vaxxers, anti-T-Rumpers, decent human beings who make MAGA-hatters highly and spitefully uncomfortable by wearing masks in this crazy age of the pandemic that won't go away.
It's depressing how many there are of these pieces of human shit, as described by Joe Biden last September:
"MAGA Republicans do not respect the Constitution. They do not believe the rule of law. They do not recognize the will of the people. They refuse to accept the results of a free election. And they're working right now, as I speak, in state after state, to give power to decide elections in America to partisans and cronies, empowering election deniers to undermine democracy itself. … They promote authoritarian leaders and they fan the flames of political violence that are a threat to our personal rights, to the pursuit of justice, to the rule of law, to the very soul of this country. They look at the mob that stormed the United States Capitol on Jan. 6, brutally attacking law enforcement, not as insurrectionists who placed a dagger at the throat of our democracy, but they look at it as patriots."
In that definition (according to The Washington Post), about 19 percent of American adults are hardcore, brain-rotted toward lies and violence, or about 50 million MAGA Republicans. A nasty, goodly sum. However, the terror is most love them some firearms, which adds to the anxiety levels. A matter of truly national concern and worry.
The major hindrance is the shitty way Republicans fester/infect the operation of a rightful, compassionate and actual administration of the country, especially as climate change becomes worse and worse, and requires the full weight of the government to get a full, workable handle on it. The horrors of Republicans are numerous and deep.
And as I said, the news cycles are not slowing down. As I write this, the big story this morning is the release of the T-Rump's tax returns — really a not big deal as we already know what an illegal, fraudulent, lying piece of shit he is, and no matter how much tax forms are disclosed, that will never change. Media people will be digesting that shti for days.
Although the tax document dump is a huge deal, T-Rump has been the spark of interest for like forever.
In closer times, the Jan. 6 committee's final report, and the slow release of interviews — like for instance, Stephanie Grisham from earlier this year and Melania T-Rump's dislike of assholes barging into her space: '"She hated when people would come to the residence … That was her home, she wanted privacy. So I do recall, towards the end, her telling me that there were constantly meetings happening in the Yellow Oval, which is the room up in the residence, with various people … And she was very upset because nobody would give her a heads-up and was she walking around in a robe, that type of thing. But she never gave me specific names other than Sidney Powell, Giuliani and campaign people. Those were her words … Mrs. Trump always wanted to be warned before people were coming into her house."'
Whose house?
Anyway, all that shit and more hinders being happy. Anything having to do with the T-Rump is a mega-downer. A photo makes me want to hurl chunks. America at the end of 2022 is at a crossroads and next year will be a fever-pitch of a time where either we gain control of the future or we get fucked.
Happy or sad now, huh?
No better way to play us out of this wet, literary gem is Annie Lennox's rain of emotion:
Hopefully, this post will awaken the creative desire to write. Who-the-fuck knows?
Yet umbrella or not, here we are once again…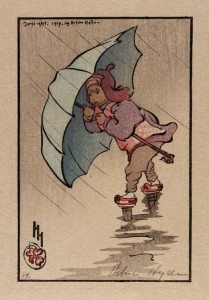 (Illustration out front: 'The Blue Umbrella," (1914), color woodcut on paper, by Helen Hyde, and found here.)