Barbara Walters seemed like Queen Elizabeth — she was always there. And now there's a gap in life and a hole in the history of the now. I came of age under the journalism of Walters and the notion of shit that's taken for granted nowadays was on the edge of breaking news for more than 60 years.
I'm 74 and Walters has been a fixture for all my teenage years and adult life.
Although officially retired in 2014, Walters kept at it, returning every so often for an interview or two. She was part of modern America's landscape — a look at her life via an appraisal from The New York Times this morning:
Long before she became the first woman to co-anchor a network newscast and the foremost prime-time interviewer of heads of state and Hollywood stars, Barbara Walters understood the power of television.

When she was a teenager in New York City, she saw that TV provided an escape for her cognitively disabled sister, who spent hours watching "I Love Lucy" and "Texaco Star Theater." And it wasn't lost on her how her father's nightclub business fell off in part because of television's ability to keep people in their living rooms at night, rather than out on the town.

Ms. Walters, who died on Friday at age 93, had spent more than five decades in front of the camera and become a titan of the medium: lauded for the subjects she scored, criticized for her coziness with them, even memed for how she presented herself.

But when she started out, the industry was against her. Men did the hiring. Men decided what went on the air. Men delivered the news.

She wrote in her 2008 memoir, "Audition," that it was her legs, not her skills, that persuaded the head of a small Manhattan advertising agency to give her a job soon after she graduated from Sarah Lawrence College in the early 1950s. She quit when her boss "became overly amorous," as she described it. She went on to find low-level jobs at NBC and CBS.

In 1961, she joined NBC's "Today" show as a writer, researcher and occasional correspondent. When she went before the camera, it was in the guise of what was then called a "Today Girl." She reported on Paris Fashion Week and dressed up in a Playboy Bunny costume — but soon began seeking out grittier topics and more independence.

Gloria Steinem took notice of Ms. Walters in a 1965 article for The New York Times (headline: "Nylons in the Newsroom") on the rise of women in television news, singling her out among a group of pioneering correspondents and producers that also included Nancy Dickerson and Pauline Frederick.

"Miss Walters not only appears on camera but writes her own scripts, and researches, directs and edits her own filmed reports," Ms. Steinem wrote.

[…]

When Ms. Walters retired in 2014, dozens of female media luminaries — including Oprah Winfrey, Robin Roberts, Connie Chung, Maria Shriver and Diane Sawyer — turned up at her final taping of "The View."

"I didn't start out waving a banner and saying, 'I'm going to change things for women,'" she said in a program for her 1989 induction into the Television Academy Hall of Fame. "But I think my work, my example, and some of the struggles I went through — and some of the terrible, terrible criticisms aimed at me — did change how women are perceived on television."

Katie Couric, a longtime competitor of Ms. Walters's, put it more bluntly to Vanity Fair: "She rattled a lot of cages before women were even allowed into the zoo."

[…]

While teaching an interviewing master class in 2015 at her alma mater, she instructed the group that female reporters "should do their job," adding: "Don't be pleasant. Don't be fun. Be a journalist."
I started my journalism career in the mid-70s and even then were a lot of females in the newsrooms — not many, however, in high-ranking positions. As the world progressed, women filled the ability gap higher up and proved, in a shitload of cases, better at the job than asshole men.
Walters was so profound, SNL poked satirical fun at her for decades, and as a good sport, she responded::
Sad state of affairs, yet once again here we are…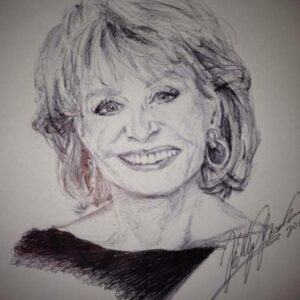 (Image: 'Barbara Walters,' ballpoint pen on paper, by Billy Jackson, and found here.)