Sunset to another gorgeous day here this early-evening Tuesday in California's Central Valley — we're drying out in style. According to predictions, rain maybe this weekend, so all is clear until then.
An update on my COVID situation, now approaching a full week. My daughter tested positive again today, so the wait continues. She appears not in too bad a shape, though, just a virus is a virus and easily spread. My daughter's Significant Other has also tested positive, too, but he seems to be on the mend after a few days of feeling like shit. Although I tested negative last week, I'm going to do a follow-up test tomorrow and see what happens.
Despite the nerves, not so terrible so far and we will endure — we have to.
Meanwhile, the big story here in California is murder — mass murder. Three shootings in 44 hours — the first, Saturday night in a Monterey Park dance studio claimed 11 lives, then yesterday, in Half Moon Bay, south of San Francisco, a gunman killed seven, then last night a shooting at an Oakland gas station killed one and wounded seven others — and the carnage you know just won't stop. We're gun-absolute-crazy ('The US ratio of 120.5 firearms per 100 residents, up from 88 per 100 in 2011, far surpasses that of other countries around the world.')
Notwithstanding the slaughter, we all know the culprit, even California Gov. Gavin Newsom knows, calling the situation as a continuing parade of "Republican obstruction," allowing the killing of even their own voters (CNN): "We got to solve for these – not just the incidents, we've got to solve for these patterns, and it requires Congress to take bold leadership. But the Republican Party has been obstructing it, and the Republican leader, who happens to be in our own backyard, hasn't said a damn word."
Yet K-Mac did speak, however, blubbering a double whammy, including a hands-off-call for guns:
Kevin McCarthy indicates he won't support any new gun control laws despite a spate of mass shootings in his state pic.twitter.com/6kVThHMQgN

— Aaron Rupar (@atrupar) January 25, 2023
In a move of the old 'thoughts and prayers' routine (The Washington Post): 'A spokeswoman for House Speaker Kevin McCarthy (R-Calif.) said he had ordered the flags at the U.S. Capitol to be flown at half-staff "in order to honor the lives lost and victims impacted due to the tragic events from this weekend."'
The problem is obvious to any decent, mentally stable person — way-too many guns.
Eugene Robinson at The Washington Post yesterday nailed it:
The gun, the gun, the gun, the gun. The common factor, always, is the gun.

There is one way the mass shooting Saturday in Monterey Park, Calif., could have been prevented — one way that all mass shootings and individual shootings and gun suicides can be prevented: Keep deadly firearms out of the hands of those who would use them to kill.

This time, 11 victims were slain and nine others injured at a popular dance studio and ballroom in a heavily Asian American community, during a festive weekend of Lunar New Year celebrations. This time, the suspected assassin was a 72-year-old Asian American man who fatally shot himself as police closed in on him.

It was the deadliest mass shooting since the Uvalde, Tex., school massacre last May, when 19 children and two adults were killed. That time, the assailant — killed by U.S. Border Patrol officers — was an 18-year-old former student at the school who was armed with an AR-15-style assault rifle. The worst mass shooting in U.S. history occurred in October 2017, when a 64-year-old man carried 24 firearms, including assault rifles, and thousands of rounds of ammunition into a Las Vegas hotel room and fired into a huge crowd at a country music festival, killing 60 people and injuring more than 400 others with bullets or shrapnel. In that case, as in Monterey Park, the shooter killed himself before police could arrest him.

Mass killers have different profiles and different motives. Most are male. Many are young, few are old. By definition, virtually all are struggling with mental health issues of some kind; happy, well-adjusted people do not kill innocents at random. Some, as in the 2015 Mother Emanuel AME Church killings in Charleston, S.C., or last year's supermarket massacre in Buffalo, are warped by racism. Some are antisemitic or xenophobic. Others are impelled by misogyny, personal grievance or paranoid hallucinations. Sometimes, the impetus is never known, much less understood.
Further via CNN this evening:
Each of these incidents is distinct and can have unique causes. Sometimes there are workplace disputes, family traumas, personal grudges or mental health issues. Hate crimes or political motives can be involved. Especially in the immediate aftermath, these shootings can appear as a baffling shattering of normality.

"As he's walking into the store, he pulls out his gun and there are two people getting food and he shoots them," Yakima, Washington, Police Chief Matt Murray told CNN, about a shooting that killed at least three people at a Circle K on Tuesday.

While there are individual motives behind many shootings, it would also be facile not to acknowledge that the easily availability of deadly weapons – legally and illegally – gives people the capacity to wreak carnage. It's also indisputable that nations that have cracked down on firearms' availability after horrific mass killings have seen fewer mass shootings.

America's Second Amendment rights make this country an outlier – to the deep satisfaction of many citizens who believe in the right to bear arms. And the country's frontier mentality, entrenched suspicion of government and authority and self-image of self-reliance help explain how it has a different relationship with guns than many other developed nations. So comparisons between the US and other developed democracies are not always that helpful.

But at the same time, the regularity of people being gunned down as they work, shop and play is raising growing questions about the extent to which one person's freedom to bear arms suppresses another's rights to life, liberty and the pursuit of happiness. Many gun rights advocates are not willing to even entertain this issue. The same applies to the perennial debate whether constitutional guarantees necessarily mean people should be able to buy high-powered weapons of war for personal use.

"When any community cannot gather to celebrate without fear of being the victim of the next mass shooting, we have lost our way," New Jersey Democratic Gov. Phil Murphy said in a statement after the mass shooting in Monterey Park. "We cannot be a nation where such gun violence is tolerated and normalized."
Although California has some of the strictest guns laws on record, safety first does work:
Trigger-finger tightening or not, once again here we are…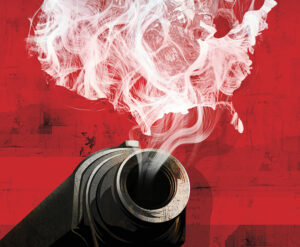 (Illustration out front by Taylor Callery, and found here.)