Closing in on sunset Saturday here in California's Central Valley, bringing approaching darkness to another gorgeous day, though, some deep, wet fog earlier this morning was a bit problematic weather-wise, but it turned into a best-as-it-gets episode for this time of year.
Rain forecast for tomorrow — however, just 'showers' predicted, no heavy downpour or atmospheric river this time, and slated for late afternoon. We'll cool through it.
I tested positive for COVID this afternoon, the first time ever. And actually been feeling the affects/effects of the virus since this past Wednesday — aches chills, fever, etc. A drawn-out feeling of miserable misery. Considering COVID's possible impact, not a necessarily bad situation for me. I'm fully vaxxed and boosted. Just feeling shitty is not as bad as a forced trip to the ER.
My daughter and her Significant Other have tested positive twice in the last 10-12 days (my original COVID post), but they seem to be pulling out of it. Or at least showing signs of getting better. They're also fully-vaxxed and boosted.
I didn't feel any symptoms until this week, and boy did it wham me. I haven't felt like this in years.
Although it's shitty, I have been fighting the shit with BC powders, vitamins, DayQuil and NyQuil, and just resting. However, even in a short space of time, I'm already sick of being sick. Yet that's to be figured in a pandemic. The exception is to be an idiot or not — a normal, decent person with sense or be a MAGA Republican.
Hard to imagine not seeing the sight. Vaccines have been around since forever, And they work.
Especially when the help/cure is right there, close at hand, and there's no easy excuse (h/t tweet Balloon Juice):
95% of Americans live within five miles of a location with the free, updated COVID vaccine.

Visit https://t.co/S2DQV6MlBv to find a vaccine near you to stay protected. pic.twitter.com/ApBZRARuu8

— The White House (@WhiteHouse) January 25, 2023
Except to a mind like mine. I've just felt too miserable to do any writing. One part lazy and the other part not wanting to get worked up over the horrible shit patrolling the inner/outer reaches of the nowadays — from Ukraine to Kevin McCarthy's match with Marge T. Greene, to all those mass shootings (six horrible such events in California alone this past week; 22 (?) dead), that horrible video of the police beating of Tyre Nichols; or Paul Pelosi's hammer beating; and on and on.
Despite feeling like shit right now, I can't help but wonder did we miss the freaking boat already? Downsides:
Was it ever worth it, was there all that much to gain?
Well, we knew we'd missed the boat and we'd already missed the plane
We didn't read the invite, we just dance at our own wake
All our favorites were a-playing
So we could shake, shake, shake, shake, shake
Tiny curtain's open and we heard the tiny clap of little hands
A tiny man would tell a little joke and get a tiny laugh from all the folks
Sittin', driftin' around in bubbles, and thinkin' it was us that carried them
When we finally got it figured out that we had truly missed the boat
Masked/vaxxed and ready — or not — here we are once again…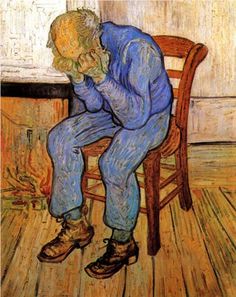 (Illustration out front: Vincent van Gogh's 'Old Man in Sorrow (On the Threshold of Eternity)' found here.)