Another sunshine-filled episode as we near early-evening Wednesday here in California's Central Valley — weather the weather is it seems to be springing into springtime early.
Meanwhile, under the weather of asshole-crazy Republicans spending another idiotic day acting the shits of US government — after last night and Joe Biden's wondrous SOTU with nit-twit-GOPer-bitches letting their crazy fly — the House Oversight Committee (with a Republican majority) tried to corral the Twiter machine but all it got was the T-Rump's being called into the airwaves and Congressional record as a "pussy-ass bitch."
As per the course with shithead Republicans — via The Daily Beast:
Former Twitter executives Yoel Roth, James Baker, and Vijaya Gadde, along with ex-Twitter official turned whistleblower Anika Collier Navaroli, were brought on to testify about the FBI's possible role in suppressing the laptop story. And though they once again conceded it was a "mistake" to briefly block the article over misinformation concerns, they also denied the feds had any role in that decision.

While GOP committee members used much of their time to air personal grievances and smear the ex-Twitter employees, Democrats largely focused on highlighting how Twitter had bent over backward to accommodate Trump and his conservative allies.
And yes, to the prick-bitch:
Congratulations @chrissyteigen https://t.co/fw6WssVEqP

— Molly Jong-Fast (@MollyJongFast) February 8, 2023
Bess Levin at Vanity Fair this afternoon had the details/background:
If you're having trouble accessing this particular incident from the memories so many of us have repressed from the Trump years, a quick refresh. In September 2019, Trump, who'd not yet been banned (and unbanned) from Twitter, logged on to his favorite social media site and complained that he wasn't getting enough credit for the bipartisan criminal reform bill that had passed through Congress and been signed into law. Specifically, he wrote: "Guys like boring musician @johnlegend, and his filthy mouthed wife, are talking now about how great it is—but I didn't see them around when we needed help getting it passed." Chrissy Teigen is obviously the wife of John Legend, though she had not been tagged or referred to by name, which inspired her to send a tweet of her own reading, "Lol what a pussy ass bitch. tagged everyone but me. an honor, mister president."

Anyway, life went on and we didn't hear much about this thereafter. But on Wednesday, amid a congressional hearing about Twitter's decision to limit users' ability to read a New York Post article about Hunter Biden's laptop—which Republicans naturally believe is evidence of a vast conspiracy—it suddenly popped up again.

Specifically, we learned, thanks to the testimony of Anika Collier Navaroli, a former member of Twitter's content moderation team, that the White House sprang to action upon reading Teigen's tweet. "The White House almost immediately thereafter contacted Twitter to demand the tweet be taken down. Is that accurate?" Representative Gerry Connolly asked Navaroli. "I do remember hearing we'd received a request from the White House to make sure we evaluated this tweet, and they wanted it to come down because it was a derogatory statement directed at the president," she said.

Later, in an exchange with Representative Maxwell Frost, the full "pussy ass bitch" quote was entered into the official congressional record.

The tweet, of course, was not taken down. It's not clear if Trump himself—an avid Twitter user at the time—was the one who told his team to tell the site to remove the insult, or if they acted on their own, knowing he'd have a massive fit over it. Perhaps we'll learn more in subsequent hearings.
And we will as such things go.
"PAB" for the historical record, in Congress:
Despite the bitch-truth, once again here we are…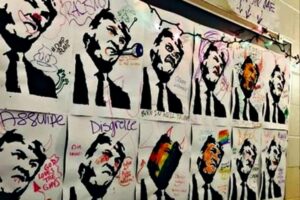 (Illustration out front is of a New York state high-school student exhibit: 'The piece was displayed during student-driven art show at Shenendehowa High School. It consisted of at least 12 identical black-and-white pictures of Donald Trump. There was also a sign above the pictures that read, "Draw on Me." Using markers from the art classroom, some students opted to scribble critical messages and profanities on the pictures' — and found here.)