Clear skies and a golden-orange sunset this early-evening Thursday here in California's Central Valley, bringing to a close another good-as-it-gets day for these parts — we expect the same for the next week or so with some early-morning fog thrown into the mix for good measure.
Since it was pretty warm today, especially this morning, I expect we will have one hot-ass summer (in less than 90 days).
In a mention of hot-ass, what also near-immediately came to mind is the MAGA-Republican-controlled House Judiciary Committee's "weaponization of the federal government" panel, a bullshit-warped supposed investigation (use of that word is a stretch) into how the FBI, the DOJ, and other federal agencies are biased against asshole Republicans. Apparently, the rabid GOPers claim "the politicization" of those departments has aimed at the T-Rump lay of the Republican land.
The panel held its first gathering today, and like the House Twitter episode yesterday, there was nothing but shit thrown against the walls of the media. Republicans went after anything that stuck — Gym Jordan, irritatingly still without a coat, is chairman of the mess.
And Americans already know the score: 'One of those surveys suggests a larger perception problem for the subcommittee: 56 percent of Americans said the panel is "just an attempt to score political points" in a Washington Post-ABC News poll.'
The panel's ranking Democrat, Del. Stacey Plaskett replayed: '"I'm deeply concerned about the use of the select subcommittee as a place to settle scores, showcase conspiracy theories and advance an extreme agenda that risks undermining Americans' faith in our democracy."'
As proposed, the hearing was a trainwreck:
nailed it. pic.twitter.com/rPqbsR7Id0

— Aaron Rupar (@atrupar) February 9, 2023
A further good recap can be found at Digby's place. And CNN. And the Insider. (All over the InterWebs).
Plus a good, direct summary from The New York Times late this afternoon:
But the first public hearing of the new Select Subcommittee on the Weaponization of the Federal Government produced little to no new evidence about government misconduct or targeting of the right, instead serving mostly as a forum to relitigate old grievances about how former President Donald J. Trump and others have been treated by federal law enforcement officials, Democrats and the news media.

Events were resurfaced from 2016 news cycles that still anger Mr. Trump. The name of Hillary Clinton, the former secretary of state and a favorite target of the right, was repeatedly invoked. There was sinister talk of destructive forces on the left that Republicans said held undue influence both in the United States and globally.

Yet there were no fresh revelations. Fox News, the favorite channel of the right, declined to carry most of the four-hour hearing live, featuring just a few clips before turning to other topics.

"We'll get back into it for anything newsworthy," the anchor John Roberts said at one point, before cutting away.
And there are two years of this shit.
Some further background:
This weaponization panel is today at 12. It like everything with this GOP originated on Fox News. https://t.co/g0R0U3sfJ3

— Molly Jong-Fast (@MollyJongFast) February 9, 2023
Molly Jong-Fast at Vanity Fair yesterday put all this shit in good perspective — some snips:
"With its 'weaponization of government' committee the GOP has basically hung up a shingle for 'Insurrection LLC'—a law firm of sorts where MAGA Republicans will work overtime to expunge their own roles in the January 6 attack on the Capitol." California representative Eric Swalwell told me, "Erasing what happened on January 6—and the role Trump and MAGA GOP played—is the best way to incite a future attack on democracy."

Carlson didn't get everything he wanted in this new "Church Committee," a reference to the post-Watergate congressional panel that probed the intelligence agencies. The host called for the group to be led by Kentucky representative Thomas Massie, who, while getting a seat, was beaten out for the top spot by the only person who might be more pugnacious and than he is, the proudly jacketless Jim Jordan. In early January, the newly emboldened Jordan, who now chairs the powerful Judiciary committee, told his friends at Fox, "We have a duty to get into these agencies and look at how they have been weaponized to go against the very people they're supposed to represent, how they have infringed on First Amendment liberties of the American people."

Jordan was on the original Benghazi select committee, which was so profoundly effective at damaging Hilary Clinton's career that, in 2015, McCarthy bragged to Fox News' Sean Hannity how the series of investigations into a terrorist attack three years earlier in Libya, while Clinton was Secretary of State, was tanking her poll numbers ahead of a presidential election. "Everybody thought Hillary Clinton was unbeatable, right?" McCarthy said. "But we put together a Benghazi Special Committee, a select committee. What are her numbers today? Her numbers are dropping."

So if Republicans found success with the original, why not a sequel?

These days, Jordan, a figure widely despised by Democrats, seems to be on a kick to look less like a partisan fanatic, which includes seeking to "boost his credibility" by also appearing on non-Fox outlets. For instance, Jordan just made his first stop on NBC's Meet the Press since 2019. (Of course, according to the Bulwark, Jordan's committee leaked its subpoenas list to preferred right-wing outlets, including Breitbart and Fox News—and then promoted those articles on its own website.) "Jordan is obviously firmly anchored in that Freedom Caucus right-wing MAGA world. He's a close Trump confidant," one Democratic lawmaker told CNN. "His effort, if he wants to do this, will be to try to create more credibility, especially outside of Fox News."

[…]

Democrats wisely picked members of Congress from previous Trump investigations to serve on the committee. Representative Stacey Plaskett, a breakout star of Trump's second impeachment and a former law student of Representative Jamie Raskin, is serving as ranking member. Also on the committee is newly minted congressman Dan Goldman, who was the lead lawyer on Trump's first impeachment.

"The Select Subcommittee on the Weaponization of the Federal Government—or more aptly named the GOP Subcommittee to Obstruct Justice—will operate as simply another vehicle for the Republicans' attacks on our democracy and efforts to interfere with ongoing criminal investigations," Goldman told me in an email. "I look forward to using my experience directly relevant to the focus of the Subcommittee to serve as a bulwark against Republican overreach and politicized investigations. We Democrats will not only counter the extremism and expose the hypocrisy of the Republicans, but we will also work to restore faith in the rule of law and our democratic foundations."

We know what this committee is. It's a craven propaganda ploy. The question is, like with so many things in this political landscape, will it work with voters? The midterms showed that swing state voters weren't swayed by these kinds of MAGA theatrics. And Republicans, to win in 2024, need voters who rejected the likes of Kari Lake, Dr. Mehmet Oz, and Blake Masters—and will likely shrink at the image of Marjorie Taylor Greene banging a gavel and cosplaying Nancy Pelosi. It's too soon to know if the "weaponization" committee hurts Republicans the way the party's overreach with Bill Clinton's impeachment did in the late 1990s—or if it helps the GOP the way Benghazi did in tarnishing Hillary Clinton last decade. But it's hard to imagine this group of morons aren't going to embarrass themselves, and the country, in the process.
Hear, hear the weapons of a one-sided, dumb-ass hearing.
A clip of another recap via MSNBC:
Nit-twits all, so here we are once again…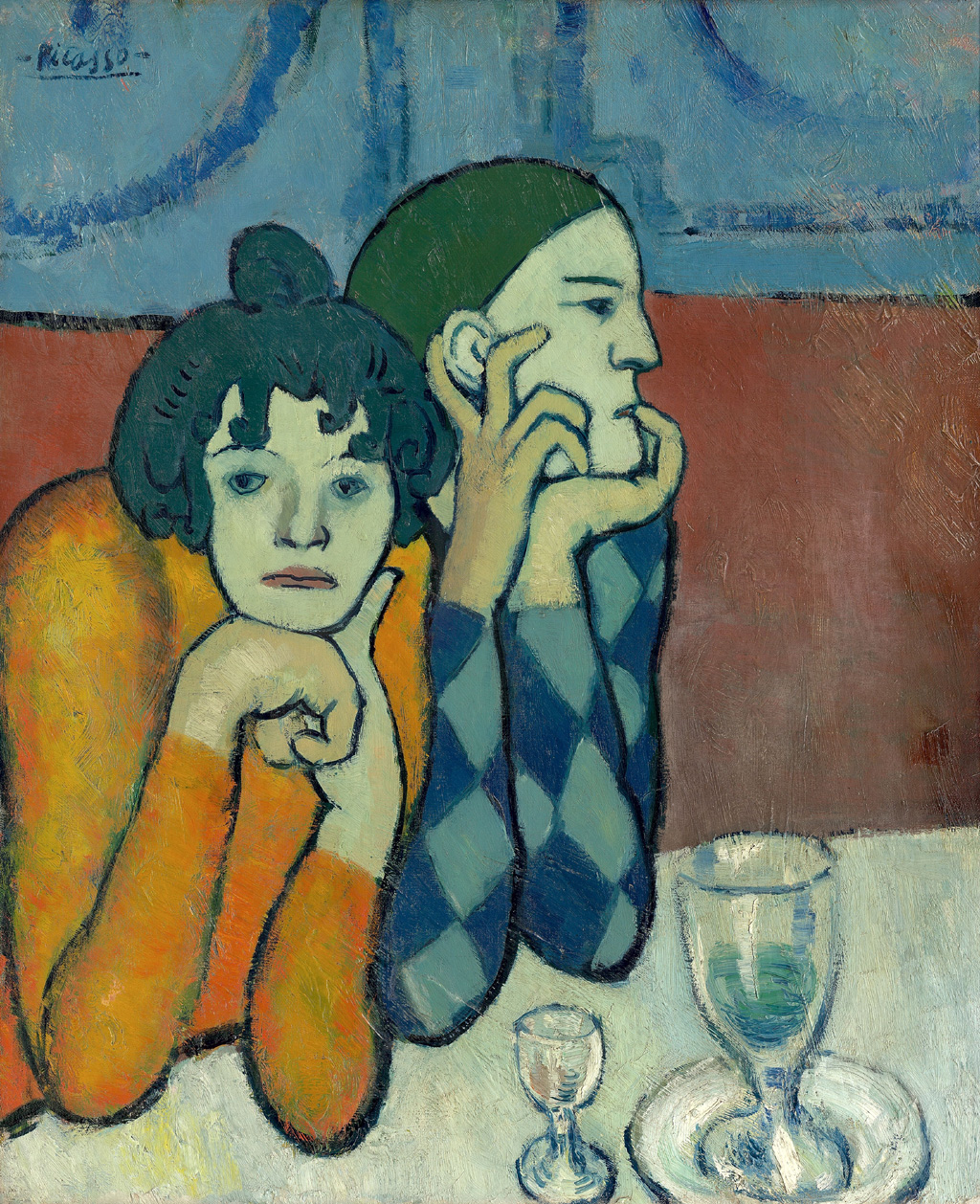 (Illustration out front: Pablo Picasso's 'Les Deux Saltimbanques: l'Arlequin et Sa Compagne,' found here.)