Overcast and warm this late afternoon Saturday here in California's Central valley — rain expected tomorrow, or maybe even tonight, but supposedly (hopefully) not as disastrous as in the immediate past.
Less than a week, reportedly, and we're back to sunshine again.
Probably the big story today occurred this morning — and I'm sure you've already heard/read/seen that the T-Rump blabbered in all caps on his upcoming possible arrest.
This is one of those deals to be believed only afterward:
"Protest, take our nation back"

I'm reminded of @RepAdamSchiff's impeachment argument: "He has compromised our elections & he will do so again. You will not change him…He is who he is. Truth matters little to him. What's right matters even less & decency matters not at all." pic.twitter.com/qZGPvZa3kO

— Joyce Alene (@JoyceWhiteVance) March 18, 2023
Although the orange turd snotted about 'illegal leaks,' accordingly what happened his lawyers were notified of the maybe-coming indictment/arrest as normal for these types of proceedings. Normal is called abnormal by a way-abnormal asshole.
However, the T-Rump able-bodied team recovered: 'Two hours later, a spokesman issued a statement saying that Mr. Trump had not written his post with direct knowledge of the timing of any arrest, adding, "President Trump is rightfully highlighting his innocence and the weaponization of our injustice system."'
Beyond the not-idle threat of violence, David Remnick at The New Yorker this afternoon looks at the shitty politics and the zilch existence of being the T-Rump — the courtroom starter's gun might bang-away in a couple of days:
Trump lives in a state of constant auto-excitement. If he is not at the center of things, he is dead. Traditionally, former Presidents take differing but familiar roads: Jimmy Carter chose the path of pure service, as near to selflessness as one could imagine; nearly all the rest find ways to make a fortune, take up golf, and manage their historical reputations. They retreat. Trump, of course, moves ever forward, a white shark leading a white movement. He is undeterred by rejections, impeachments, abandonments by former allies, and multiple legal threats. He wants only to return to the White House, where he would assemble an Administration of the vengeful; and, if he cannot win, he will at least enjoy the pleasures of remaining at the center of things for a while longer.

While he campaigns and devises new nicknames for his Republican rival Florida Governor Ron DeSantis, Trump faces potential prosecution on multiple fronts: the case in New York, for which his former lawyer, Michael Cohen, was already convicted and served time in federal prison; his central role in inciting the January 6th insurrection and obstructing the certification of the Electoral College votes; and the attempt to commit election fraud in Georgia. There is also the matter of his handling of classified documents, which led to the F.B.I. search of his residence at Mar-a-Lago, and his potential role in any financial crime committed at his business, the Trump Organization.

Just because Trump said he is going to be arrested Tuesday does not mean it is true. But when Trump was recently given the opportunity to testify before a grand jury, in Manhattan, that was indeed a signal that indictment could be imminent. According to NBC News, officials in New York have been meeting to put in place adequate security measures in and around the Manhattan criminal court should Trump be indicted. Trump no longer commands the platform of the White House to mobilize supporters in the way he did two years ago: "Will be wild!" But he finds ways to get the word out.

The legal and political sources I've spoken with tell me that if, in fact, Trump is right and that the first indictment he faces is from the Manhattan D.A., Alvin Bragg, he is fortunate, at least in the short term. Those sources say that the Stormy Daniels case is the least significant and the weakest one facing Trump. Bragg will have to prove that the hush money provided to Daniels to cover up their affair amounts to felonious election fraud. A caveat: if indeed an indictment is coming, we do not know the specifics. Nevertheless, as the Washington Post associate editor and columnist Ruth Marcus writes, the problems with the New York case are manifold. Under state law, the hush-money payments would be only a misdemeanor. "It could rise to the level of a felony charge if prosecutors could show that Trump ordered falsification of records to conceal another crime," she writes. But it's unclear whether that other crime would need to be a federal offense, or whether a state offense would suffice.

[…]

But this strategy of martyrdom is unlikely to prevail. Time will run out for Trump, be it in Georgia, at the Department of Justice, or, if it goes on that long, at the ballot box. It's not even clear that the most vociferous of the pro-Trump groups such as the Proud Boys and the Three Percenters, which have endured intense investigation and legal charges for their roles in the Capitol insurrection, will be eager to take to the streets again in Trump's name. Recently, Ali Alexander, one of the organizers of the Stop the Steal rallies that followed the 2020 election, posted on social media, "Previously, I had said if Trump was arrested or under the threat of a perp walk, 100,000 patriots should shut down all routes to Mar-a-Lago. Now, I'm retired. I'll pray for him though!"
Shit!
Reality via Slate late this afternoon: 'There's good reason to doubt Trump's prediction. A spokesperson for the former president later dialed back his statement, saying there's been no notification of an arrest from prosecutors. The New York Times reported that at least one more witness is expected to testify before the grand jury considering the charges in Manhattan. And sources told the paper that even if an indictment did come down Monday, logistics would likely delay an arrest beyond Tuesday.'
A decent, readable roadmap of pending criminal cases on the T-Rump made visible via Ari Melber at MSNBC:
Despite the facts on the criminal soul of the T-Rump, once again here we are…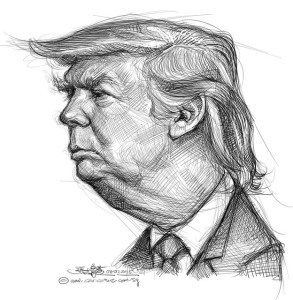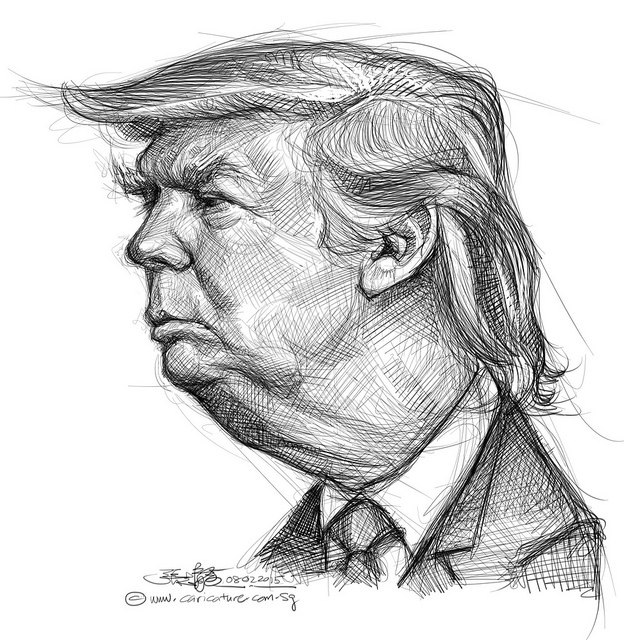 Image out front is my favorite of the T-Rump mugs, though, 'favorite' does not mean in any form or fashion, as in, 'my favorite movie,' or 'my favorite song.' It's more of an anti-appreciation/like.
And aptly titled, 'Basic Shapes,' by caricaturist/illustrator Chong Jit Leong (and found here), it's an image that displays the elemental form of a purloined sociopath — a bloated profile of flatulent bile and arrogant ignorance.