Clear skies and sunshine galore this late-afternoon Monday here in California's Central Valley. One of those as-good-as-it-gets kind of days — bright and warm.
Against that particular grain of bright and warm as the events this morning at an elementary school in Nashville, Tennessee, blows the air out of that dreamy balloon — another freaking, asshole school shooting. Seven killed, including the shooter, the others were students and faculty (the Guardian): 'Nashville police identified the dead. They were: Evelyn Dieckhaus, Hallie Scruggs and William Kinney, all nine years old; Cynthia Peak, a substitute teacher aged 61; Katherine Koonce, aged 60; and Mike Hill, a custodian, aged 61.'
At face value a nowadays 'normal' school shooting (also shows a sense of how f*cked our 'nowadays'), yet a bit apart from the rest — a female shooter, shot and killed by police 14 minutes after the initial 911 call (NBC):
The suspect in Monday's deadly school shooting was a former student who had maps of The Covenant School, Nashville Police Chief John Drake said.

Audrey Hale, 28, who police said was a transgender woman, had conducted surveillance and prepared for the attack with detailed maps, officials said. Police said the shooter had a manifesto, the contents of which were not released.

Hale had attended the school as a child; police did not detail which grades.

Hale shot through a door to gain access to the school, Drake said.

The shooter, Drake said, was "prepared for a confrontation with law enforcement" and "prepared to do more harm."

The shooter was armed with two semi-automatic AR-15-style rifles, as well as a handgun. At least two of the three guns had been purchased lawfully, Drake said.
And in that regard:
AMAZING: Live on Fox News, an angry mom at the Nashville School Shooting Press Conference, steps in front of the mic and gives an incredible speech.

Meanwhile Fox News is caught off guard and panics, trying to not show her on air. I'm sure the gun lobby and NRA aren't too happy.… pic.twitter.com/Qo4PChlGVi

— Brian Krassenstein (@krassenstein) March 27, 2023
Reality live on live TV:
Fox News was airing live footage from CBS affiliate WTVF. The network seemed ready to cut away from the activist, who identified herself only as having recently lived through the mass shooting at a parade in Highland Park, Illinois, last July. But the camera stayed on her for another minute as she laced into lawmakers for their inaction on even the most basic gun control measures.Fox News seemed ready to cut away from the activist, who only identified herself as having recently lived through the mass shooting at a parade in Highland Park, Illinois, last July. But the camera stayed on her for another minute as she laced into lawmakers for their inaction on even the most basic gun control measures.

"I am on vacation with my son visiting my sister-in-law," said the woman, later identified on social media as Ashbey Beasley. "I have been lobbying in D.C. since we survived a mass shooting in July. I have visited with 130 lawmakers … these mass shootings will continue to happen until our lawmakers step up and pass gun safety legislation."

"The woman there said it quite succinctly: 'Aren't you tired of this?'" Fox News anchor John Roberts replied from the studio as the local field reporter prepared for a live shot. "Yes, we're tired of this."
Yet there's this:
LEFT: A child crying on a school bus in Nashville today after a school shooting

RIGHT: A "Christmas card" posted by the congressman who represents that child's district pic.twitter.com/ZL7BLLBmMr

— Brad Batt for TN State Sanity ?????? (@bradbatt) March 27, 2023
And by chance this morning The Washington Post published a comprehensive report about those most-wonderful AR-15 pictured lovingly in the hands of the wonderful family in that snap above. How a 1950s weapon of war became the hot ticket to mass killings — lede-in:
But few gunmakers saw a semiautomatic version of the rifle — with its shrouded barrel, pistol grip and jutting ammunition magazine — as a product for ordinary people. It didn't seem suited for hunting. It seemed like overkill for home defense. Gun executives doubted many buyers would want to spend their money on one.

The industry's biggest trade shows banished the AR-15 to the back. The National Rifle Association and other industry allies were focused on promoting traditional rifles and handguns. Most gun owners also shunned the AR-15, dismissing it as a "black rifle" that broke from the typical wood-stocked long guns that were popular at the time.

"We'd have NRA members walk by our booth and give us the finger," said Randy Luth, the founder of gunmaker DPMS, one of the earliest companies to market AR-15s.

Today, the AR-15 is the best-selling rifle in the United States, industry figures indicate. About 1 in 20 U.S. adults — or roughly 16 million people — own at least one AR-15, according to polling data from The Washington Post and Ipsos.

Almost every major gunmaker now produces its own version of the weapon. The modern AR-15 dominates the walls and websites of gun dealers.
And a return to gun nuttery. In this particular case, however, more deaths are probably coming from this singular incident.
Beyond the horror of the seven dead, the fact that the shooter is transgender will upset the killing spree in the right-wing, wing-nut sense of pearl-clutching, causing a potentially violent backlash against a whole community of people.
In that context, Steve M concluded probably correctly:
Until this story is no longer on the front pages, it's going to be very dangerous for trans people in this country. The right already believed that all trans people are mentally ill. I don't think that's a fringe view on the right. It appears to be a mainstream view. And now this.

A group of people will be blamed for the actions of this individual. In the next few days, sick-fuck right-wingers will undoubtedly respond with even more violence than is usually meted out to trans people on a random night.

Stay safe. I'd say "It gets better," because maybe it will in the long term, but I fear in the short term it's going to get worse.
An end like this:
America is on course for having the bloodiest year yet, as the mass shooting of a private school in Nashville brings the grim total up to 129 this year.

The US surpassed the disturbing milestone of more than 100 mass shootings on March 5 – with the rate rising faster than in the past ten years.

Last year, the US hit 100 mass shootings on March 19, almost two weeks after this year's date.

The previous year, 2021, was March 20, while in 2020 it was May 3 and 2018 and 2019 also saw late May dates for the grim mark.

So far this year, there have been 13 school shootings, with six children killed in total and four adults or employees losing their lives.
And to close us out of this shitty, sad subject, The Beatles with certain noted happiness:
Sad, heart-stricken, or worse, here we are once again…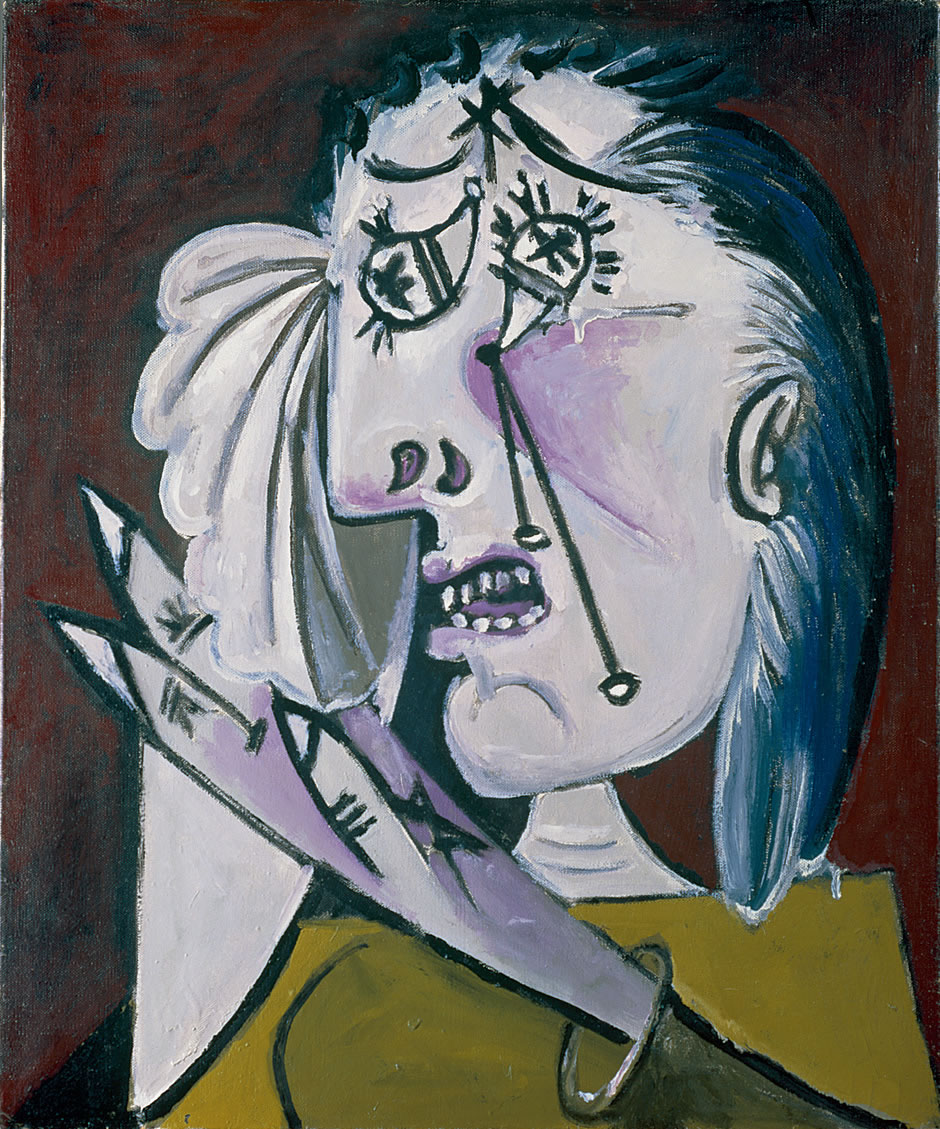 (Illustration out front: Pablo Picasso's 'The Weeping Woman [La Femme qui pleure],' found here)