An outside gray environment complete with some steady rain this late afternoon Tuesday here in California's Central Valley — supposedly wet only today and tomorrow, then we're back to some sunshine for at least a week before any more rain is on the schedule.
In a vernacular, emotional twist of rain that's sad — the shooting yesterday at that elementary school in Nashville continues to reverberate. Especially within the confines of gun-crazy America, and specifically, violent, weapon-warped Republicans. The Covenant School massacre left three 9-year-old students, and three adult school workers, all dead. Plus also the 28-year-old shooter (a transgender female, and a former student at the school), was shot dead by police.
One freaking-ass horror show that's become all too common.
And we can thank Republicans for setting up this shit environment of raining AR-15 shells. So far in 2023, there's been 128 US mass shootings. Even though 63 percent of Americans want DC Congresscritters to do more,to control this death-by-gun epidemic. Yet nothing will come of this, as being the story for years, mainly because Republians bottleneck at every turn any attempt to remedy the situation..
Delivered off a pious, near-inhumane history — from The New Republic yesterday afternoon:
Following the shooting in his state, Tennessee Governor Bill Lee appealed to "please join us in praying for the school, congregation & Nashville community," offering no idea, for instance, of how to achieve a reality where constant prayer and hollow thoughts are no longer needed.

His uselessness is unsurprising, given the large role he has played in making it easier for mass shooters in his state to access guns. In 2021, Lee signed a bill that allowed people to openly carry handguns without permits; the policy was at the forefront of his legislative agenda for the year. He proudly thanked the National Rifle Association "for helping get this done."

[…]

As of 2020, Tennessee was among the top 10 deadliest states in the country from firearms.
And to be way obvious, this particular asshole summarizes the whole shebang of the Republican party in regards to any kind of gun control, falling back onto hypocrisy, while maintaining a quiet, matter-of-fact, don't-give-a-shit demeanor about it, too:
"We're not gonna fix it. Criminals are going to be criminals."

– Rep. Tim Burchett, revealing what Republicans really believe about school shootings. pic.twitter.com/BURixoWsPd

— Ron Filipkowski ?? (@RonFilipkowski) March 28, 2023
Bess Levin at Vanity Fair this afternoon encapsulates:
Hours after three children and three adults were murdered at the Covenant School in Tennessee on Monday, Republican congressman Tim Burchett beat out all his conservative peers to win the award for the most callous, f–ked-up response to the mass shooting, the 38th since the start of this month. Note: This award isn't actually real and there's no medal or monetary sum to be collected for coming in first, making Burchett's response all the more jaw-dropping.

Speaking to reporters, outside the Capitol, Burchett said that what had happened was "a horrible, horrible situation"—and then declared: "we're not going to fix it." (Emphasis ours.) To be clear, the lawmaker wasn't saying this to underscore the collective frustration and feelings of rage millions of Americans feel for politicians who continue to allow these types of "situation[s]" to occur, offer "thoughts and prayers," and then refuse to pass meaningful gun control legislation; he was saying "we're not going to fix it" because he thinks that's correct course of action. "Criminals are going to be criminals," he continued, adding: "And my daddy fought in the Second World War, fought in the Pacific, fought the Japanese, and he told me, he said, 'Buddy,' he said, 'if somebody wants to take you out and doesn't mind losing their life, there's not a whole heck of a lot you can do about it.'"

Incredibly, he went on: Asked if he thinks "there's any role for Congress to play in reaction [to Covenant School shooting]," Burchett doubled down, saying: "I don't see any real role that we could do other than mess things up honestly because of the situation…I don't think our criminals are going to stop from [getting] guns, you know you can print them out on the computer now, 3D printing…I don't think you're going to stop the gun violence. I think you've got to change people's hearts. As a Christian as we talk about in the church, I've said this many times, I think we really need a revival in this country."
Piece-of-shit asshole. Burchett homeschools his kids, so he's clear.
Mainly due to the high-money end like from the NRA, added to the sloppy gun popularity in red-soaked MAGA-infused rural areas, guns are the main (and might be the sole, most-important) source of the mass-shooting problem. The Nashville school shooter 'had legally purchased seven firearms recently — including the three used in the shooting — and was being treated for an emotional disorder,' and reportedly purchased them 'legally' from five different gun stores in the area.
We got the guns:
It's the guns. pic.twitter.com/pnhERoRLaj

— Steven Rattner (@SteveRattner) March 28, 2023
And then some — from US News&World Report last January: 'In 2017, U.S. civilians held an average of 120.5 firearms per 100 people, the highest rate in the world by a factor of more than two, followed by Yemen (52.8), Montenegro (39.1), Serbia (39.1) and Uruguay (34.7), according to data from the Small Arms Survey, an independent research project located at the Graduate Institute of International and Development Studies in Geneva, Switzerland. In other words: The United States was the only country with more civilian-held guns than citizens.'
In the sense of living that's f*cking crazy. And factor in the mass shootings, and you've got a huge Republican mind-blowing mental instability running rampant — we be f*cked!
Joe Biden on the subject this afternoon: '"I have gone the full extent of my executive authority to do, on my own, anything about guns … The Congress has to act … The majority of the American people think having assault weapons is bizarre; it's a crazy idea. They're against that. And so, I think the Congress should be passing the assault weapons ban … To be clear … I can't do anything except plead with the Congress to act reasonably. People say, 'Why do I keep saying this if it's not happening?' … Because I want you to know who isn't doing it. Who isn't helping. To put pressure on them."'
Republicans be 'them.'
And a real call (the Guardian live blog this afternoon);
On Tuesday, Senate chaplain Barry Black began his morning prayer for the Senate with a plea on addressing gun violence.

"When babies die at a church school, it is time for us to move beyond thoughts and prayers. Remind our lawmakers of the words of the British statesman Edmund Burke: 'All that is necessary for evil to triumph is for good people to do nothing," said Black during his impassioned prayer.
Falling on cruelly-deaf ears.
Paul Waldman in an op/ed in The Washington Post this afternoon sums the sum total:
No recitation of the number of Americans killed by guns — men, women, and increasingly, children — can carry the emotional power of hearing that three 9-year-olds were just slaughtered in their school, the latest in a long line of such horrors. The result for all of us is terror: a state of heightened alertness when we're out in public, a fear that even if we don't think about it for a time never quite goes away.

That terror, and the ever-growing toll of violence that keeps it fed, were brought to us by the cooperation of the gun industry, its political advocates and the Republican Party. Can they defend what they have wrought?

The answer: They can't, and they don't. They have gotten almost everything they wanted on guns, and this nightmare is the result.
And to close out this ugly shit, Green Day:
Did you try to live on your own
When you burned down the house and home?
Did you stand too close to the fire?
Like a liar looking for forgiveness from a stone
Sorry to say, or not, once again here we are…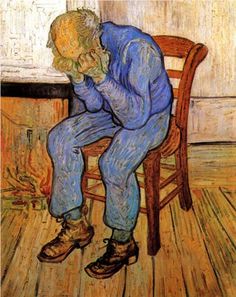 (Illustration out front: Vincent van Gogh's 'Old Man in Sorrow (On the Threshold of Eternity)' found here.)