Sunshine in a near-cloudless sky this late-afternoon Friday here in California's Central Valley.
And continuing so, the T-Rump indictment in the Stormy Daniels hush-money case is still exploding across the InterWebs. There's no Friday news dump that could upset the rolling on-it-track train of T-Rump finally getting some kind of justice for 50 years of criminal behavior, flaunting the law, and being a giant, massively-crooked asshole.
This indictment is a start and hopefully, the next 18 months or so will suck a legal avalanche that will blow the orange-turd T-Rump out of the water. Maybe not a jail cell in his future, but big-ass shame and disgrace will force more ketchup onto Mar-a-Lago walls..
Michelle Goldberg in an op/ed at The New York Times today:
Most of the legal trouble that Trump has faced since entering politics has stemmed from his willingness to skirt the law and, at times, betray the country in his drive to get and keep power. Robert Mueller's special counsel investigation didn't prove that he engaged in a criminal conspiracy, but it did show that his campaign both "welcomed" and received Russian help in his first bid for president. Trump's first impeachment, in 2019, was about his attempt to extort President Volodymyr Zelensky of Ukraine into manufacturing dirt on Joe Biden, the rival he most feared.

Trump is under criminal investigation in Georgia and Washington, D.C., for his attempts to subvert the outcome in the 2020 race. Each time he failed to face consequences for breaching rules meant to safeguard America's electoral system, he escalated his behavior, to the point of attempting a coup. Escaping conviction in his second impeachment, for trying to overthrow the democratic system he was sworn to protect, he now treats Jan. 6 as something heroic, honoring rioters at his most recent campaign rally.

Compared with these offenses, the hush money payments to Trump's paramours might seem like a minor issue, but it's part of a pattern of anti-democratic behavior. As The Wall Street Journal reported, in addition to hearing about the payoff to the porn film star Stormy Daniels, the grand jury in New York heard extensive questioning about the payoff to a Playboy model, Karen McDougal. Both women were going to tell their stories before the 2016 election. Unlawful means were used to silence them, which is why Michael Cohen, Trump's former fixer, went to prison.
Thusly, now the whole GOP operation:
GOP's astounding position: The Oxford English Dictionary defines corruption as: "having or showing a willingness to act dishonestly in return for money or personal gain." In DEFENDING TRUMP, the GOP claims he cannot be held accountable for bad behavior! This is blatantly CORRUPT.

— John W. Dean (@JohnWDean) March 31, 2023
And the only way of the T-Rump:
Second rule of Trump: Always go after the judges. https://t.co/K5fYXtRypB

— Orin Kerr (@OrinKerr) March 31, 2023
Details via The Washington Post this afternoon:
Former president Donald Trump is quite familiar with New York Supreme Court Justice Juan Merchan, the judge who oversaw the grand jury that indicted Trump this week and will preside over the criminal proceedings that follow.

Merchan, 60, who has sat on the New York bench since 2009, also presided over the jury trial last year of Trump's namesake real estate company, which resulted in a conviction in December, and the prosecution of the company's longtime chief financial officer, Allen Weisselberg.

On Friday, the first former president ever charged with a crime lashed out at Merchan on social media, declaring that the judge "HATES ME."
Despite all the big-mouthed GOPers like asshole Lindsey:
The guy is really cracking up. pic.twitter.com/EynKr33chf

— Ron Filipkowski ?? (@RonFilipkowski) March 31, 2023
Yet there's not much movement amongst the rank-and-file MAGA nutters flocking to his rescue, especially online — from NPR this afternoon:
"There's not as much talk about 'we've got to stop this'; there's not as much talk about 'we should do something," says Eric Curwin, chief technology officer of Pyrra Technology, a company that monitors platforms such as Truth Social, Gab, Kiwi Farms and Bitchute that Trump supporters flocked to after Facebook, Twitter and others suspended Trump and some of his followers after Jan. 6.

The progression of events so far resembles when Trump's Mar-a-Lago residence was searched for classified documents last summer, says Jared Holt, a researcher at nonprofit Institute of Strategic Dialogue monitoring extremism. "The same kind of claims that the government or the legal system is being weaponized against Trump to undermine his election chances…some vague commentary from random users being like, 'Oh, let's go, let's do it.

"From our early reads on this, we can't, you know, haven't been able to really pick out a whole lot of solid plans to actually mobilize large crowds around this " Holt says, " I say that with the caveat that in the weeks to come that can always change."

[…]

Many in the community think the online spaces they have used to organize are now under surveillance, Holt told NPR in an interview. "Any time somebody suggests anything too crazy, a lot of them just yell at each other and accuse them of, you know, accusing each other of being federal agents, trying to entrap each other."

"As long as those kinds of dynamics are in play, there's going to be a pretty big hurdle to any sort of mass organizing on Trump's behalf."
Here we are once again…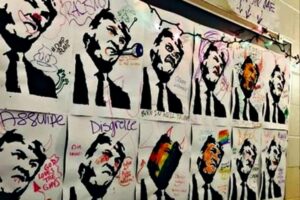 (Illustration out front is of a New York state high-school student exhibit: 'The piece was displayed during student-driven art show at Shenendehowa High School. It consisted of at least 12 identical black-and-white pictures of Donald Trump. There was also a sign above the pictures that read, "Draw on Me." Using markers from the art classroom, some students opted to scribble critical messages and profanities on the pictures' — and found here.)