Sunshine in between large, fluffy clouds this late afternoon Thursday here in California's Central Valley — supposedly no rain featured on the weather front for at least 10 days or so.
Hip-hip-hooray.
And in the hip-hip-hooray category and as the entire InterWebs has gathered — the T-Rump was indicted this afternoon in the Stormy Daniels hush-money case. You know, Stormy was paid to keep quiet about a magazine's usage: '"So he turned around and pulled his pants down a little – you know had underwear on and stuff – and I just gave him a couple swats," Daniels said.'
Yuck! And finally today the comeuppance:
I may have to buy a paper copy of this he Times tomorrow. pic.twitter.com/vhS2MB6ReZ

— The Hoarse Whisperer (@TheRealHoarse) March 30, 2023
Nutshell-details via The New York Times live blog this afternoon:
Donald J. Trump was indicted in Manhattan on Thursday for his role in paying hush money to a porn star, according to five people with knowledge of the matter, a historic development that will shake up the 2024 presidential race and forever mark him as the nation's first former president to face criminal charges.

On Thursday evening, after news of the charges had been widely reported, the district attorney's office confirmed that Mr. Trump had been indicted and that prosecutors had contacted Mr. Trump's attorney to coordinate his surrender. Three people with knowledge of the matter said Mr. Trump was expected to turn himself in and face arraignment early next week, at which point the specific charges will be unsealed.
At this point, pretty well known.
Also at the Times and Maggie Haberman:
At Mar-a-Lago on Thursday evening, former President Donald J. Trump was still absorbing the news of his indictment, according to several people close to him. Mr. Trump and his aides were caught off guard by the timing, believing that any action by the grand jury was still weeks away and might not occur at all.

Some advisers had become confident that there would be no movement until the end of April at the earliest and were looking at the political implications for Mr. Trump's closest potential rival, Gov. Ron DeSantis of Florida.
And life has its kickbacks — T-Rump's dump in attitude (The Washington Post's live blog late this afternoon):
Former president Donald Trump has been in a good mood in recent days, joking about "golden handcuffs," one person who spoke with him said. His team had increasingly come to think that the New York indictment was not coming for some time, if at all, two advisers said.

But on Thursday night, one adviser described him as "irritated" and "deflated" and his team as scrambling to figure out logistics for an arraignment. His attorneys were speaking by phone late Thursday and expected to talk more on Friday, with some at his Florida club, and they were taken aback by the indictment news.
Latest (again, the NYT): 'Former President Trump is expected to turn himself in on Tuesday for arraignment on the indictment in State Supreme Court in Manhattan, according to one of his lawyers, Susan R. Necheles.'
In that scattered mental attitude, T-Rump originally made an obvious brain-fart typo
I like when he speaks about himself in the third person https://t.co/jfOGnZGV6r

— Molly Jong-Fast (@MollyJongFast) March 30, 2023
'Indicated' he is an asshole criminal (CNN): 'Donald Trump faces more than 30 counts related to business fraud in an indictment from a Manhattan grand jury, according to two sources familiar with the case – the first time in American history that a current or former president has faced criminal charges.'
Add to the flavor — expanding the casting net (also CNN late this afternoon):
The Manhattan district attorney's office has been asking questions during grand jury proceedings about a hush money scheme known as a "catch and kill" deal aimed at covering up an alleged affair between former President Donald Trump and a former playboy model before the 2016 presidential election, two people familiar with the matter said.

Prosecutors have asked at least one witness questions about a $150,000 payment the publisher of the National Enquirer made to the model, Karen McDougal, to buy her story about the alleged affair with Trump, the people said.
Finally, a laugh for a reason:
Did y'all hear that orange one got his dumb ass incited? ?? pic.twitter.com/YBbwPsd6uI

— Jo ? (@JoJoFromJerz) March 30, 2023
There's a lot to wonder about — the great Andy Borowitz at The New Yorker this afternoon:
PALM BEACH (The Borowitz Report)—Melania Trump, who made headlines in 2018 by wearing a jacket emblazoned with the words "I REALLY DON'T CARE, DO U?," was spotted wearing the garment again Thursday evening.

Mrs. Trump, who was seen in the controversial jacket while taking a stroll around the grounds of Mar-a-Lago, offered no explanation for donning it other than that she "was really in the mood to wear it tonight."

The former President's wife projected an air of calm that was in sharp contrast with the tense scenes unfolding inside the residence, according to reports.

Sources said that an emergency cleaning crew had to be summoned to Mar-a-Lago to mop up what was described as a "river of ketchup."
Yes, laugh out loud.
In handcuffs, or not, yet once again here we are…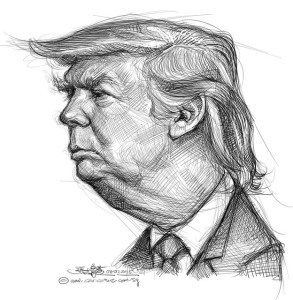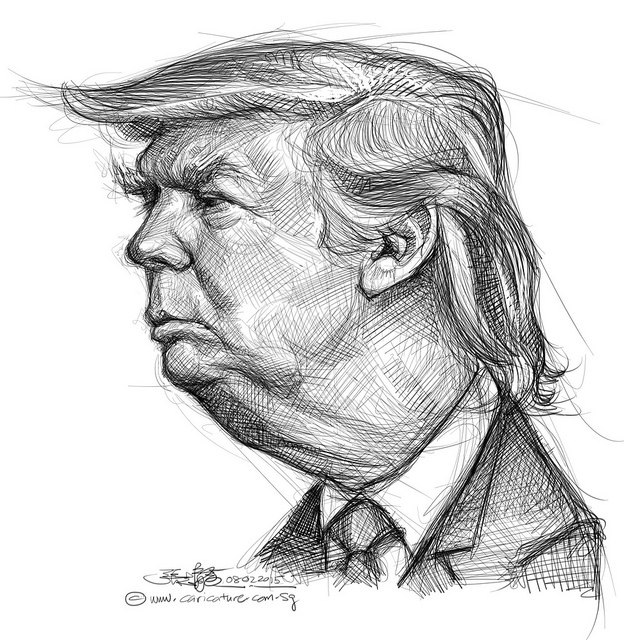 Image out front is my favorite of the T-Rump mugs, though, 'favorite' does not mean in any form or fashion, as in, 'my favorite movie,' or 'my favorite song.' It's more of an anti-appreciation/like.
And aptly titled, 'Basic Shapes,' by caricaturist/illustrator Chong Jit Leong (and found here), it's an image that displays the elemental form of a purloined sociopath — a bloated profile of flatulent bile and arrogant ignorance.