Sunshine galore tempered by some way-brisk, frosty-like wind this late afternoon Monday here in California's Central Valley — better chilled than pelted by heavy rainfall and being flooded.
Despite the icy breeze, we're forecast for warming temperatures to start arriving in the next few days. This is spring, remember?
Also in recollection, there's still the T-Rump. And the T-Rump. And even more of the T-Rump. I'm really getting way-sick and tired of that piece-of-shit totally hogging the news cycles all the last week. He was indicted in New York and the world rotates around the hedgehog since then (although he's always a sore sight for sick, sore eyes) while his followers and the entire Republican party await his court appearance tomorrow in Manhattan.
An ugly reflection is just how shitty GOPers are in rules of law. Rules pertain to thee and not me.
In an absolute-farcical replay/display the media seemed enthralled with T-Rump's trip from Mar-a-Lago to New York. I didn't watch any of it, just too shitty, and stupid, dumb-ass.
As if — via The Washington Post late this afternoon:
With all the breathless reporting of a major event, CNN, Fox News and MSNBC broke into their midday newscasts to cover the mundane spectacle of former president Donald Trump … leaving his house and getting on an airplane.

Multiple network cameras followed Trump as he departed his Mar-a-Lago resort and was driven to Palm Beach International Airport, where he boarded a Trump-branded plane en route to New York City.

The news peg, of course, was that Trump was on his way to report on Tuesday for arraignment on still-undisclosed charges handed down last week by a New York grand jury. The first president in history to be indicted is a major story — or will be when Trump actually surrenders.

In the meantime, the cable guys were on the scene — live! — for what CNN anchor Phil Mattingly called an "O.J.-like convoy," a reference to the live TV coverage in 1994 of accused murderer O.J. Simpson traveling in the back seat of a white Ford Bronco as a posse of Los Angeles police cars slowly tailed him down the Santa Monica Freeway. So many made the reference online, in fact, that "O.J. Simpson" briefly trended on Twitter.

[…]

It was less reminiscent of O.J. in the Bronco than of another Trump flight: the live coverage of his departure from Washington, and from office, on Jan. 20, 2021, as Frank Sinatra's "My Way" played on loudspeakers.
And yet the reality of the sordid end result:
Mango Mussolini arrives at Trump Tower pic.twitter.com/jZZurVZplS

— Ron Filipkowski ?? (@RonFilipkowski) April 3, 2023
A nutshell summary of what awaits the show tomorrow — per The New York Times, also late this afternoon:
Mr. Trump will be walked through the routine steps of felony arrest processing in New York.

While it is standard for defendants arrested on felony charges to be handcuffed, it is unclear whether an exception will be made for a former president. Most defendants are cuffed behind their backs, but some white-collar defendants deemed to pose less danger have their hands secured in front of them.

Mr. Trump will almost certainly be accompanied at every step — from the moment he is taken into custody until his appearance before a judge in the imposing Criminal Courts Building — by armed agents of the U.S. Secret Service. They are required by law to protect him at all times.

Security in the courthouse is provided by state court officers, with whom the Secret Service has worked in the past. But the chief spokesman for the federal agency, Anthony J. Guglielmi, said he could not comment on measures that would be put in place for Mr. Trump.

After he is arraigned, he is almost certain to be released on his own recognizance, because the indictment is likely to contain only nonviolent felony charges; under New York law, prosecutors cannot request that a defendant be held on bail in such cases.
A sight no doubt. Yet it's an involved entity in the eyes of this country.
Despite today's insane, bullshit travelogue on the orange turd-meister, a decent majority chunk of Americans are okay with T-Rump's being indicted — via CNN this morning:
Sixty percent of Americans approve of the indictment of former President Donald Trump, according to a new CNN Poll conducted by SSRS following the news that a New York grand jury voted to charge him in connection with hush money payments made to adult film actress Stormy Daniels. About three-quarters of Americans say politics played at least some role in the decision to indict Trump, including 52 percent who said it played a major role.

Independents largely line up in support of the indictment – 62 percent approve of it and 38 percent disapprove. Democrats are near universal in their support for the indictment (94 percent approve, including 71 percent who strongly approve of the indictment), with Republicans less unified in opposition (79 percent disapprove, with 54 percent strongly disapproving).

While views on the indictment are split along party lines, the poll finds that majorities across major demographic divides all approve of the decision to indict the former president. That includes gender (62 percent of women, 58 percent of men), racial and ethnic groups (82 percent of Black adults, 71 percent of Hispanic adults, 51 percent of White adults), generational lines (69 percent under age 35; 62 percent age 35-49; 53 percent age 50-64; 54 percent 65 or older) and educational levels (68 percent with college degrees, 56 percent with some college or less).
Beyond the actual reality of the hush-money criminal aura, T-Rump has once again utilized his victim persona:
"Trump's refusal to accept any personal responsibility and his ability to double down in a truly pathological way has created a world where his base no longer operates in reality, but instead in a kind of MAGA land." Boom shares @MollyJongFast https://t.co/DuUwIvhsmx

— Susan Spector McPherson (@susanmcp1) April 3, 2023
Molly Jong-Fast at Vanity Fair this afternoon:
In the normal pre-Donald Trump world, a politician getting in trouble for paying off an adult film star he allegedly cheated on his third wife with would be, you know, a political scandal like the kind that brought down everyone from Eliot Spitzer to John Edwards. But Trump has made it so his sex scandals and possible election interference aren't functions of his own behavior, but rather deep state plots to keep MAGA down. It's the greatest trick Trump ever played on Republicans; he's convinced them that attempts at accountability for his actions are a direct assault on them. "This is an attack on our country the likes of which has never been seen before," he posted after news of his coming indictment in the Stormy Daniels hush money case, adding that it's part of the "continuing attack on our once free and fair elections." And this framing of his personal scandals as nefarious forces targeting his supporters has cemented his hold on the base.

Trump's refusal to accept any personal responsibility and his ability to double down in a truly pathological way has created a world where his base no longer operates in reality, but instead in a kind of MAGA land. It's a terrain so profoundly distorted that Trump's base believes that organizations like the FBI and the CIA are composed almost entirely of liberals whose sole purpose is to hurt their guy, and by extension, them. In this scenario, the act of holding Trump accountable isn't actually about holding Trump accountable at all. Trump's indictment is everyone's fault except for Trump's. He has an ability to say a lie, like the 2020 election being "stolen," so many times, and so shamelessly, that much of the GOP base believes it. "The witch-hunts against President Trump have no basis in facts or law. The deranged special counsel and the DoJ have now resorted to prosecutorial misconduct by illegally leaking information to corrupt the legal process and weaponize the justice system in order to manipulate public opinion and conduct election interference, because they are clearly losing all across the board," Trump spokesman Steven Cheung wrote in a statement about the DOJ's investigation into the classified documents found in Trump's Mar-a-Lago residence.

[…]

Trump's hold on the party is intractable. And core to his pull is this MAGA notion that the federal government (chiefly the FBI) is evil and out to get not only Trump, but everyone who supports him. He's got his allies rallying—even rioting—in his defense, his rivals and critics are coming out against efforts to hold him accountable, and he's got right-wing media in his pocket. Even if Rupert Murdoch isn't the biggest Trump superfan anymore, he clearly does delight in the fantasy of destroying trust in the federal government. Making his indictments a case against the government hits a GOP sweet spot. And it's a strategy Trump could ride to the nomination.
Horribly amazing the flip/twist to reality is so strong in the MAGA cult — idiots are dangerous, too.
Yet the charges are still sealed and Republicans are blubbering about shit like horses assholes:
And despite the crime, or not, here we are once again…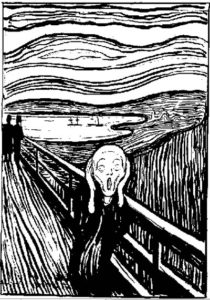 (Illustration out front: Edvard Munch's 'The Scream,' lithograph version, found here.)