Clear skies with plenty of sunshine, all basking in warm temperatures this late-afternoon Friday here in California's Central Valley — the summer heat is coming as we're forecast to curdle into the 90s by the end of next week.
This week's ever-increasing ardor most-likely signifies a hot-ass summer season — I can hardly wait.
Despite the weather's warmth, the politics of abortion cooled somewhat this afternoon — the SCOTUS news-dumped Friday with a ruling the abortion pill, mifepristone, can stay on the market. For now.
Details via the Associated Press:
The justices granted emergency requests from the Biden administration and New York-based Danco Laboratories, maker of the drug mifepristone. They are appealing a lower court ruling that would roll back Food and Drug Administration approval of mifepristone.

The drug has been approved for use in the U.S. since 2000 and more than 5 million people have used it. Mifepristone is used in combination with a second drug, misoprostol, in more than half of all abortions in the U.S.

The court's action Friday almost certainly will leave access to mifepristone unchanged at least into next year, as appeals play out, including a potential appeal to the high court. The next stop for the case is at the New Orleans-based U.S. Court of Appeals for the 5th Circuit, which has set arguments in the case for May 17.

Two of the nine justices — Samuel Alito, the author of last year's decision overturning Roe v. Wade, and Clarence Thomas — voted to allow restrictions to take effect, and Alito issued a four-page dissent. No other justices commented on the court's one-paragraph order, and the court did not release a full vote breakdown.
Our so-called Supreme Court has become a travesty of corrupt bullshit (Salon): 'The Supreme Court had initially said it would announce its mifepristone decision on Wednesday, but on Tuesday announced it needed until Friday. On Friday the court waited until near the end of the day to announce its decision, prompting Vox legal correspondent Ian Millhiser (who has a law degree) to comment on Twitter, "When I was a law student, if it took me a week to figure out that a bunch of doctors who don't prescribe mifepristone don't have standing to challenge the FDA's approval of mifepristone, I would have received an F."'
We're living in uncharted territory.
Yet 'cool' is still cool:
President Biden gets a cheer from the crowd as he puts on his sunglasses. pic.twitter.com/8qFNqDeOS5

— The Recount (@therecount) April 21, 2023
Joe is cool and knows how to be cool about it:
President Joe Biden joked on Friday about being a "very dull president" known for his sunglasses and love of chocolate chip ice cream.

"I'm sure you all loved sitting in the sun here, but it could be worse. It could be raining. It's a beautiful day. And as that old phrase used to go, 'it's a beautiful day in the neighborhood.' And it is beautiful. Excuse me — I'm putting on my sunglasses so I can see," Biden told the crowd at the White House.

The president continued, "As I've told my distinguished friend from Massachusetts — a good friend, Sen. Markey — it's really very, very dull when after all these years in public life, you're known for two things: Ray-Ban sunglasses and chocolate chip ice cream. Very dull president."

The crowd was gathered in the White House Rose Garden to see him sign an executive order directing all federal agencies to make it their "mission" to work toward "environmental justice for all." His order creates a White House Office of Environmental Justice to "better protect overburdened communities from pollution and environmental harms" and claims that "racism is a fundamental driver of environmental injustice."

Biden was criticized last month when he spent several minutes joking about ice cream at a White House event in his first public appearance following the deadly shooting in Nashville at a Christian school.

"I eat Jeni's ice cream — chocolate chip. I came down because I heard there was chocolate chip ice cream," Biden said in his first comments following the shooting.
Yet in all that fun and coolness, there's the seeping horror of next year. Supposedly Biden's going to officially announce his 2024 presidential run maybe next Tuesday as the fight will begin and becomes really fierce.
Mainly because of this piece-of-shit-asshole:
"Since leaving office, Trump has said he regrets not going even further to deploy military power domestically and wouldn't hesitate to do so if he returns to the White House."https://t.co/6tkfVHUP5E

— Dan Lamothe (@DanLamothe) April 21, 2023
Grilled background from The Washington Post this morning:
Mandatory stop-and-frisk. Deploying the military to fight street crime, break up gangs and deport immigrants. Purging the federal workforce and charging leakers.

Former president Donald Trump has steadily begun outlining his vision for a second-term agenda, focusing on unfinished business from his time in the White House and an expansive vision for how he would wield federal power. In online videos and stump speeches, Trump is pledging to pick up where his first term left off and push even further.

Where he earlier changed border policies to reduce refugees and people seeking asylum, he's now promising to conduct an unprecedented deportation operation. Where he previously moved to make it easier to fire federal workers, he's now proposing a new civil service exam. After urging state and local officials to take harsher measures on crime and homelessness, Trump says he is now determined to take more direct federal action.

"In 2016, I declared I am your voice," Trump said in a speech last month at the Conservative Political Action Conference and repeated at his first 2024 campaign rally in Waco a few weeks later. "Today, I add: I am your warrior. I am your justice. And for those who have been wronged and betrayed, I am your retribution."

Trump's emerging platform marks a sharp departure from traditional conservative orthodoxy emphasizing small government, which was famously summed up in Ronald Reagan's first inaugural address: "Government is not the solution to our problem; government is the problem." Trump, by contrast, is proposing to apply government power, centralized under his authority, toward a vast range of issues that have long remained outside the scope of federal control.

[…]

"As with so many things Trump, it'll be sticky to sort out where what he's proposing is literally unlawful, which some things would be, and where what he's proposing would fly in the face of well-established and deeply principled norms," said Steve Vladeck, an expert on constitutional and national security law at the University of Texas at Austin.
And we're really on our own.
However, Stormy nails it:
And hope-like shit it's not a 2016 replay, or not, yet once again here we are…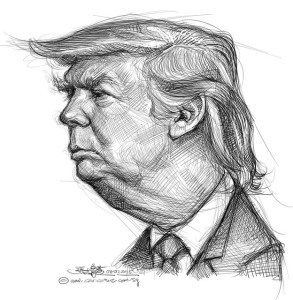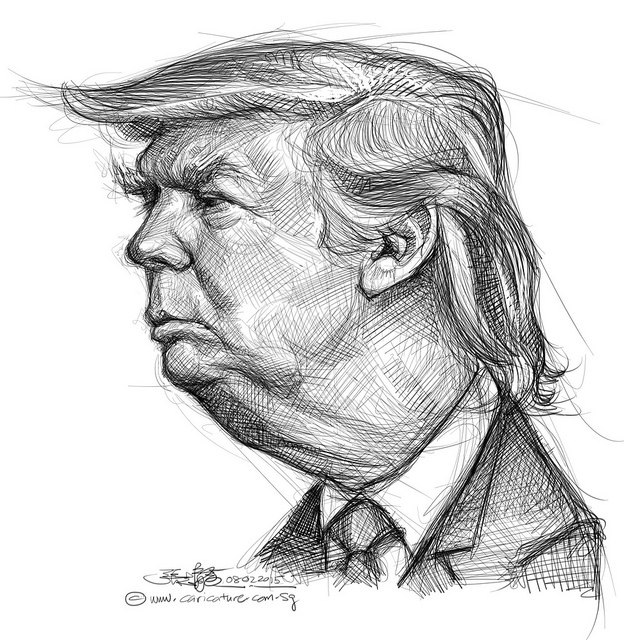 Image out front is my favorite of the T-Rump mugs, though, 'favorite' does not mean in any form or fashion, as in, 'my favorite movie,' or 'my favorite song.' It's more of an anti-appreciation/like.
And aptly titled, 'Basic Shapes,' by caricaturist/illustrator Chong Jit Leong (and found here), it's an image that displays the elemental form of a purloined sociopath — a bloated profile of flatulent bile and arrogant ignorance.