Sunshine and early-spring-like temperatures this near-midday Thursday here in California's Central Valley — these days are the ones we'll fondly remember in about another month or so. Or maybe earlier.
I've got a feeling summer's going to be a hot bitch, and not the good kind either.
Also, a bitch still this morning is Ron DeShitty after his total f*ck-up yesterday in the Elon Musk-Husk-Twitter roll-out of his 2024 presidential campaign — nutshell (Guardian): 'As the live stream began, the audio feed was affected by feedback, outages and garbled audio. Listeners reported their Twitter apps crashing or logging them out as they tried to join the event. After 20 minutes of audio chaos, the stream cut out before restarting. DeSantis was able to declare his bid 25 minutes after the event had been due to start.'
DeShitty was so shitty in the catastrophic Twit feed when finally a new Twit 'Space' was produced (after the first one melted down) that it was all word salad for MAGA twits: '"Some of the problems with the university and the ideological capture — that didn't happen by accident, you can trace back all the way to the accreditation cartels. Well, guess what? To become an accreditor, how do you do that? You've got to get approved by the U.S. Department of Education. So we're going to be doing alternative accreditation regimes, where instead of saying, 'You will only get accredited if you do D.E.I.,' you'll have an accreditor that will say, 'We will not accredit you if you do D.E.I. We want a colorblind, merit-based accreditation scheme.'"'
WTF?
The best response so far on the DeShitty/Musk-Husk debacle came from White House press secretary  Karine Jean-Pierre in her press briefing this morning:
Good joke, but I have issues with the delivery. ? https://t.co/JK1e711Nov

— Mueller, She Wrote (@MuellerSheWrote) May 25, 2023
Near perfect reaction — 'unscheduled disassemblies' can't be topped.
Meanwhile, also this morning, the T-Rump has come back under the legal mirror/microscope involved with the vaulted classified documents case now seemingly quickly accelerating:
BREAKING WAPO:

Two of Trump's employees moved boxes of papers the day before the FBI visited Mar-a-Lago to retrieve classified documents — timing that investigators have come to view as suspicious and an indication of possible obstruction. https://t.co/sqy41fewhA

— Kyle Griffin (@kylegriffin1) May 25, 2023
Nutshell details via The Washington Post late this morning:
Two of Donald Trump's employees moved boxes of papers the day before FBI agents and a prosecutor visited the former president's Florida home to retrieve classified documents in response to a subpoena — timing that investigators have come to view as suspicious and an indication of possible obstruction, according to people familiar with the matter.

Trump and his aides also allegedly carried out a "dress rehearsal" for moving sensitive papers even before his office received the May 2022 subpoena, according to the people familiar with the matter, who spoke on the condition of anonymity to describe a sensitive ongoing investigation.

Prosecutors in addition have gathered evidence indicating that Trump at times kept classified documents in his office in a place where they were visible and sometimes showed them to others, these people said.

[…]

Of particular importance to investigators in the classified-documents case, according to people familiar with the probe, is evidence showing that boxes of documents were moved into a storage area on June 2, just before senior Justice Department lawyer Jay Bratt arrived at Mar-a-Lago with agents. The June 3 visit by law enforcement officials was to collect material in response to the May 2022 grand jury subpoena demanding the return of all documents with classified markings.
Another criminal possibility down the short road — we can only hope.
Despite the overwhelming evidence, or not, here we are once again…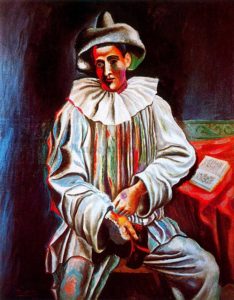 (Illustration out front: Pablo Picasso's 'Seated Pierrot,' found here.)