Clear, bright sunshine and coolish temperatures in the shade this noon Thursday here in California's Central Valley — does feel way-warm in the sun, however.
Just another pre-summer, glorious day to enjoy before it's too late.
Meanwhile far to the east in New Hampshire this morning, the supposedly number-one not-Trump Republican aspirant for president revealed how far off the mark he is in being elected, displaying a toxic, whine of a self-enclosed asshole:
DeSantis's lack of composure here is jarring and pretty telling. also, Hulk Hogan's theme is playing in the background https://t.co/PEMS6vnjJD

— Aaron Rupar (@atrupar) June 1, 2023
Nutshell via The Daily Beast:
Ron DeSantis was campaigning at an event in New Hampshire Thursday when he gave an Associated Press reporter some attitude. "Governor, how come you're not taking questions from voters?" reporter Steve Peoples asked. DeSantis venomously shot back: "People are coming up to me, talking to me. What are you talking about? Are you blind? Are you blind?" An NBC News reporter who tweeted a video of the interaction reported that DeSantis had declined to take questions from the audience at the event, however the clip showed him mingling with voters afterwards. He was also seen chatting with voters in Iowa on Wednesday, telling one that he's going to embrace ballot harvesting. DeSantis' camp was quick to try to spin Thursday's sassy display as a positive, though. The Never Back Down PAC, formed to support DeSantis' presidential candidacy, shared a video of the incident on Twitter, writing that "@RonDeSantis SHUTS DOWN fake news reporter."
And the spin:
DeSantis' Super PAC promoting this exchange https://t.co/aUUHM2xrIX pic.twitter.com/TXrY5ISckN

— Alex Thompson (@AlexThomp) June 1, 2023
And a nutshell per The Hill:
The Never Back Down PAC, which formed to support DeSantis's run for the White House, also tweeted a video of the interaction, writing that he "SHUTS DOWN fake news reporter."

DeSantis press secretary Bryan Griffin also defended DeSantis, tweeting that the reporter asked DeSantis the question while the governor was "surrounded" by New Hampshire voters who were asking him questions and taking pictures with him.

"Perfectly illustrative of the modern media shutting their eyes and ears to the truth to push their narrative," Griffin said.
Ha!
And a semi-deep dive on the incident by Jennifer Bendery at Yahoo!News:
In New Hampshire, dozens of municipalities still govern themselves by holding annual town meetings — with the unwieldy type of democratic participation immortalized by painter Norman Rockwell. The New England tradition of direct voter engagement has long spilled over to the Granite State's presidential campaign events, and has been a part of New Hampshire's argument for maintaining its status as the first-in-the-nation primary.

The late Arizona Sen. John McCain, who won New Hampshire's GOP presidential primaries in both his 2000 and 2008 bids for the presidency, was famous for relishing in the back and forth with town hall attendees in the state. More recently, every major Democratic presidential candidate, including now-President Joe Biden, regularly took questions from New Hampshire voters ahead of the 2020 vote.

Yet, former President Donald Trump easily won the state in 2016 while exclusively delivering monologues at raucous rallies that no one would mistake for Athenian assemblies. It was also rare for Trump to directly interact with voters at diners or engage in traditional retail politicking.

The early days of the 2024 race have seen plenty of skepticism about DeSantis' retail politics abilities, along with decisions from Trump to embrace the types of surprise stops at restaurants and unscripted interactions with voters he once neglected.

Rep. Ro Khanna, a progressive Democrat from California who recently appeared at a state party dinner in New Hampshire, took a shot at DeSantis over this week's incident.

"Free advice Ron," Khanna said on Twitter. "In the Granite state, get rid of your entourage & stick around to answer every question. I know it's a quaint idea. But the state still believes in town hall democracy."
Another example of how DeShitis will be most-likely the largest candidate crater in the 2024 Republican-T-Rump cavalcade. The shitheel is not T-Rumpish material.
A hard, woke laugh at the DeShithead's bullshit from yesterday:
Thin-skinned, or just an asshole, yet here we are once again…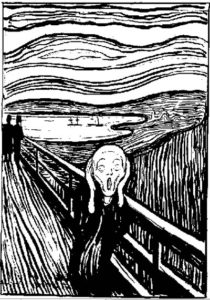 (Illustration out front: Edvard Munch's 'The Scream,' lithograph version, found here.)