Beyond the debt ceiling vote coming up shortly, a T-Rump scoop hit the news airwaves this afternoon — an audio tape of the asshole talking/acknowledging he's holding classified documents — hopefully a clinching linchpin to indicting the Orange Turd.
A major kick: 'The tape was made during a meeting Mr. Trump held in July 2021 with people helping his former chief of staff, Mark Meadows, write a memoir of his 10 months in the White House, according to the people briefed on the matter. The meeting was held at Mr. Trump's club at Bedminster, N.J., where he spends summers.'
Reportedly, the DOJ obtained the recording in recent months and maybe could give special counsel, Jack Smith, some leverage to charge T-Rump with obstruction, lying, and no-telling-what-else in the widening/close-to-ending classified documents case, which some have said could be T-Rump's ticket to a jail cell or at least another indictment.
Somebody taped the shitheel while he gloated:
Whoa. Trump's own people recorded him talking about having top secret Pentagon planning on Iran and saying he couldn't show it because it was classified – blowing up his argument that he had declassified all the documents he took. This is a year before the subpoena and raid. https://t.co/Us4fg67OV4

— Helen Kennedy (@HelenKennedy) May 31, 2023
Details from CNN:
Federal prosecutors have obtained an audio recording of a summer 2021 meeting in which former President Donald Trump acknowledges he held onto a classified Pentagon document about a potential attack on Iran, multiple sources told CNN, undercutting his argument that he declassified everything.

The recording indicates Trump understood he retained classified material after leaving the White House, according to multiple sources familiar with the investigation. On the recording, Trump's comments suggest he would like to share the information but he's aware of limitations on his ability post-presidency to declassify records, two of the sources said.

CNN has not listened to the recording, but multiple sources described it. One source said the relevant portion on the Iran document is about two minutes long, and another source said the discussion is a small part of a much longer meeting.

Special counsel Jack Smith, who is leading the Justice Department investigation into Trump, has focused on the meeting as part of the criminal investigation into Trump's handling of national security secrets. Sources describe the recording as an "important" piece of evidence in a possible case against Trump, who has repeatedly asserted he could retain presidential records and "automatically" declassify documents.

Prosecutors have asked witnesses about the recording and the document before a federal grand jury. The episode has generated enough interest for investigators to have questioned Gen. Mark Milley, one of the highest-ranking Trump-era national security officials, about the incident.

The July 2021 meeting was held at Trump's golf club in Bedminster, New Jersey, with two people working on the autobiography of Trump's former chief of staff Mark Meadows as well as aides employed by the former president, including communications specialist Margo Martin. The attendees, sources said, did not have security clearances that would allow them access to classified information. Meadows didn't attend the meeting, sources said.

Meadows' autobiography includes an account of what appears to be the same meeting, during which Trump "recalls a four-page report typed up by (Trump's former chairman of the Joint Chiefs of Staff) Mark Milley himself. It contained the general's own plan to attack Iran, deploying massive numbers of troops, something he urged President Trump to do more than once during his presidency."

The document Trump references was not produced by Milley, CNN was told.

Investigators have questioned Milley about the episode in recent months, making him one of the highest-ranking national security officials from Trump's administration to meet with the special counsel's team.?Milley's spokesman Dave Butler declined to comment to CNN.
One really somewhat comforting aspect of the T-Rump is that he's an idiot. And in the whole meaning of it, too, and embellished by his hugely rotten personality — he's so full of shit he can't understand any f*cking thing. He doesn't read or grasp any kind of knowledge on anything.
And he's always easy picking in legal situations.
In for instance, the recent E.Jean Carroll case in New York and T-Rump's deposition on mistaking Carroll for his ex-wife Marla Maples — in a transcript of a podcast with Molly Jong-Fast at VanityFair this morning, Carroll and her attorney, Roberta Kaplan, describe the legal moment:
Kaplan: Yeah, I was astounded by it. And when you read the transcript and if you watch the video, it was very clear that it wasn't a set up by me in any way. I wasn't trying to trick him. He mentioned the photograph, which he said he saw at the time, and I said, well, let me show you a copy, I think I have one here to confirm. And that's when he pointed to E. Jean and said it was Marla. Yeah, we were pretty stunned. I literally, I think, almost fell off my seat.

Our job as lawyers was not to show any shock or surprise, and we certainly tried very hard not to show it. But I can tell you that when we took the next break, there was a lot of celebration and high fives going on among the lawyers on our team, for sure.

E. Jean Carroll: And of course, Molly, I think the main reason why Trump did not show up for the trial was that Robbie had the deposition, and if he took the stand, it would have been pure, unadulterated murder. I don't know how he could have testified at all with Robbie giving him the questions. Molly, when you read that deposition, you'll see trap after trap that he fell into. It was an amazing seven hours or however many. And Robbie, what happened about lunch at Mar-a-Lago? What was going on there?

Kaplan: That was the other thing. I actually had been there the week before, for another case that our firm has against Trump that's based on a pyramid scheme, a multilevel marketing scheme, that we believe he fraudulently promoted to working-class Americans. At that lunch—let me put it this way: He got very angry at his lawyers because they had graciously offered to provide us with lunch at Mar a Lago, and he didn't know that, and he was not at all happy about it. I'm not going to get into any more detail than that. But he was not a happy camper when he realized that they had made that offer to us.
What a, what?
Indicted for being stupid, or not, once again here we are…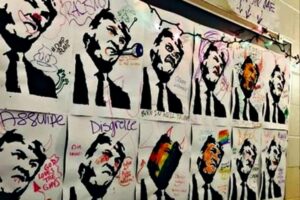 (Illustration out front is of a New York state high-school student exhibit: 'The piece was displayed during student-driven art show at Shenendehowa High School. It consisted of at least 12 identical black-and-white pictures of Donald Trump. There was also a sign above the pictures that read, "Draw on Me." Using markers from the art classroom, Isome students opted to scribble critical messages and profanities on the pictures' — and found here.)