Hot and feeling hot this late-afteroon Monday here in California's Central Valley — just another drop in the bucket of weather going abnormal on the normal (for climate change).
I came across the story when it happened last week, and spied this tweet this afternoon as a remembrance:
Really distressing. The way talent doesn't matter, or even is seen as a liability. Over and over. https://t.co/g3QD6i0KY9

— Margaret Sullivan (@Sulliview) July 17, 2023
As a former journalist and a newsroom worker,  this is shitty.
A note from one of those fired, Kevin Siers of the Charlotte Observer (He won the Pulitzer prize for cartooning in 2014), via The Washington Post last week:
"I've seen a lot of talk about 'the bean counters' destroying editorial cartooning, but I don't think these decisions are fueled by profit motives alone. We're simply not paid that much," Siers said via email Wednesday.

"There seems to be a rethinking among corporate management over the years as to how a newspaper's opinion pages should engage with readers. They've convinced themselves and the industry that readers no longer appreciate good editorial cartoons, when I feel that it's the boardroom itself that is uncomfortable with our satire," Siers said.

"My local editorial page editors throughout my tenure have always been my biggest cheerleaders," he added.
As they say, nothing new.
A bit of a list per Forbes at the end of last month:
June 29
ESPN cut 20 on-camera positions—including longtime commentator Jeff Van Gundy—and canceled a morning radio show hosted by Max Kellerman, Keyshawn Johnson and Jay Williams, according to the Washington Post, as Disney continues a wave of layoffs announced earlier this year.

June 27
National Geographic laid off its staff writers, according to senior writers Craig Welch and Doug Main, who said the staff was notified about the layoffs "a while ago."

June 26
The Italian fashion magazine Grazia shut down its U.S. publication, according to Puck, after CEO Dylan Howard decided to not renew its publishing license with Pantheon Media.

June 24
At least three people were laid off from The Hollywood Reporter, according to TheWrap.

June 22
Bloomberg cut about 10 people from its national news desk, radio and television staff, according to Insider.

June 22
Cheddar News—founded by former BuzzFeed president Jon Steinberg in 2016—laid off about 12 employees, according to Insider, including longtime anchors Chloe Aiello and Baker Machado, after the company said it, "like many other media companies," suffered from a "challenging advertising environment."

June 20
Warner Bros. Discovery is laying off about 100 employees from its Discovery and Turner cable networks, according to Variety, as the company faces financial pressure amid a transition from cable to streaming and a heavy debt burden from last year's merger of Discovery and AT&T-owned Warner Media.

[…]

January 4
Gannett laid off 50 employees at an Indiana printing press to "adapt to industry conditions," a spokesperson told the Indiana Star—the press remains open and the layoffs aren't expected to affect newspaper employees.
In between — a shitload of layoffs. Go read the whole catalog of dismissals in one particular field.
In memory, the good old days not so long ago:
Stop the presses, or not, even so once again here we are…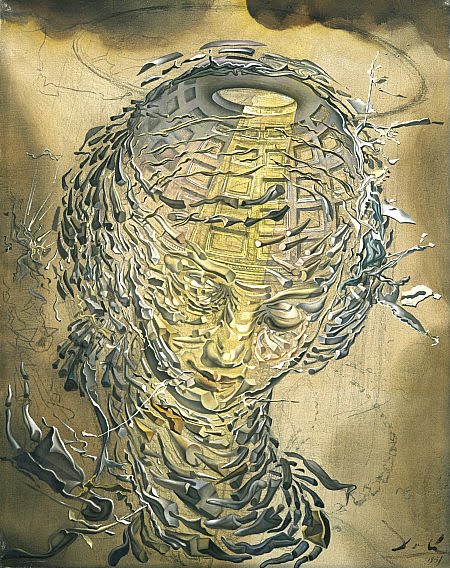 (Illustration out front: Salvador Dali's 'Tête Raphaëlesque éclatée [Exploding Raphaelesque Head],' found here.)