Cooler in temperature, but still hotter than shit this late-afternoon Tuesday here in California's Central Valley — we're under triple-digits right now (96 degrees) due to the overcast, but expect to return to that 100-plus level tomorrow.
Appears the next 10 days at least are going to be boilers.
Meanwhile, the red-hot news flash of today is T-Rump receiving a 'target' letter from DOJ Special Counsel Jack Smith — the letter informed the asshole he's a 'target' in the continuing investigation into the Jan. 6, 2021, insurrection/riot at the US Capitol and there's evidence linking him to a possible crime/crimes. Supposedly he has a chance to testify before the grand jury about it.
A normal procedure for an upcoming indictment:
"Investigations start out very broad — they investigate crimes, not people — and as they amass more evidence, at some point it becomes clear that they are very likely to indict this person," said Barbara McQuade, a former federal prosecutor. That's when a letter like this is usually sent.

McQuade said these letters can serve as a declaration of rights and an invitation to the recipient to tell their side of the story to a grand jury. In this case, Trump was invited to speak before the grand jury this week. (Defendants rarely choose to say yes, and a Trump adviser told The Washington Post that the former president does not plan to testify.)
In a broad sense (New York Times this afternoon):
In the two and a half years since a mob laid siege to the Capitol in an effort to prevent Congress from certifying Joseph R. Biden Jr.'s electoral victory, a wealth of evidence has emerged about Donald J. Trump's bid to stay in power after the 2020 election.

Mr. Trump and his allies peddled spurious claims of voter fraud, pressured officials in states he narrowly lost and recruited false slates of electors in those states. He urged Vice President Mike Pence to delay certification of Mr. Biden's win. And he called on a huge crowd of his supporters to march on the Capitol and "fight like hell."
Despite the legalities, it's infuriating the haphazard, lackadaisical approach to T-Rump's criminal activity:
Fox News anchor John Roberts: "You gotta wonder if, at some point, voters become inured to all this. Well, how many indictments can a former president and a current presidential candidate face before people say you know what, maybe it doesn't matter?" pic.twitter.com/HKoqAMPZ4k

— Justin Baragona (@justinbaragona) July 18, 2023
Not that it does matter. T=Rump seems appealing to a certain nasty, criminal element.
In a Joe Biden encounter, Steve M this afternoon maybe thinks T-Rump is getting stronger from all those criminal charges, or at least isn't hampered much, even from the obvious from the 'target' letter reported today via Jack Smith — high-note:
Yes, there should be that kind of damage. Isn't the general consensus that Trump can't possibly win, or can't win a two-person race, because of his obvious repulsiveness and ever-accumulating legal baggage? But evidence of that hasn't shown up in the polls. Trump was indicted in New York on April 4 and in Florida on June 13. The last Economist/YouGov poll of a Trump-Biden race taken before the indictments was in January, and Biden was up by 4. The same pollsters conducted a survey April 1 through April 4, and Trump was up by 2. The margins since then: Trump +1, Trump +1, tie, Trump +2, Biden +3, tie, Trump +4, tie. All the surveys are in the same narrow range, and Trump is clearly competitive. The same is true for Quinnipiac. In late March, Biden led by 2 in Quinnipiac's polling. After the indictment's Biden lead hasn't really increased — it's switched between 2 and 4 in several polls.

If the ever-accumulating Trump indictments were turning off less committed Trump voters, you'd think Biden's lead would be steadily increasing. It isn't. In at least one poll (Harvard/Harris), Trump's lead is increasing slightly. It was 4 just before the first indictment, and since then it's been 5, 7, and 6.
In a view of the overall legal situation, a deep-dive into possible criminal proceedings against the T-Rump off the insurrection can be found at Just Security from last week — highlight a small portion (h/t Digby):
Here, we conclude there likely is sufficient evidence to obtain and sustain a conviction of Trump for his three-step plan to overturn the election:

1. Trump knew he lost the election but did not want to give up power, so he worked with his lawyers and others on a wide variety of schemes to change the outcome. Those schemes included creating fraudulent electoral certificates that were submitted to Congress, implicating statutes such as 18 U.S.C. § 371, which prohibits conspiracies to defraud the United States in the administration of elections.
2. When all the other schemes failed, Trump and his lawyers ultimately concentrated on using the false electoral slates to obstruct the constitutionally mandated congressional certification of the election on January 6, implicating statutes such as 18 U.S.C. § 1512, which prohibits obstruction of an official proceeding. Their primary objective was to have Vice President Mike Pence in his presiding role on that day either block Congress from recognizing Joe Biden's win at all or at least to delay the electoral count.
3. When Pence refused, Trump went to his last resort: triggering an insurrection in the hope that it would throw Congress off course, delaying the transfer of power for the first time in American history. This implicated statutes such as 18 U.S.C. § 2383, which prohibits inciting an insurrection and giving aid or comfort to insurrectionists. (Section 2383 is rarely charged, and as we discuss below, this is a charge DOJ will use only with extreme caution. We believe there is sufficient evidence to pursue it—as did the Select Committee in making a criminal referral of Trump under that statute—but prosecutors may make different choices. Much will depend on the evidence the Special Counsel develops.)
Go read the whole piece, breaks down all the shit. Appears to be ready to prosecute.
In good, related news: 'Michigan Attorney General Dana Nessel charged 16 Republicans who falsely claimed to be the state's 2020 presidential electors with forgery and other felonies Tuesday, bringing the first criminal prosecution against Trump electors as investigations over attempts to overturn election results intensify across the country.'
Further today, in Florida: 'The federal judge presiding over Donald Trump's trial for allegedly mishandling classified documents appeared skeptical Tuesday about the former president's request that it be delayed until after the 2024 election. U.S. District Judge Aileen M. Cannon also appeared wary of prosecutors' request to begin the proceedings as soon as this year. During a hearing in federal court, Cannon did not set a new date for the trial, saying she would consider both sides' arguments and make a decision on the timing "promptly."'
And an old story making a renewed burst: 'Donald J. Trump and his allies are planning a sweeping expansion of presidential power over the machinery of government if voters return him to the White House in 2025, reshaping the structure of the executive branch to concentrate far greater authority directly in his hands.'
A horror story to end the American experience.
And, of course, the shitty, whine:
She mad. pic.twitter.com/CJM9JVCpvp

— Ron Filipkowski (@RonFilipkowski) July 18, 2023
Asshole Republicans defend the Orange Turd no matter what, like Ron DeSantis walking back his bullshit and tiptoeing among T-Rump's feces: 'Mr. DeSantis, for his part, said that any indictment would be part of "an attempt to criminalize politics and to try to criminalize differences," while also saying that Mr. Trump should have "come out more forcefully" to stop his supporters from storming the Capitol on Jan. 6.'
Bullshit! Chickenshit coward!
Steve McGarrett knew the words:
Indictment, or not, yet here we are once again…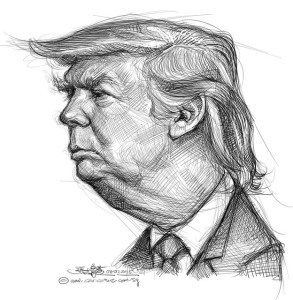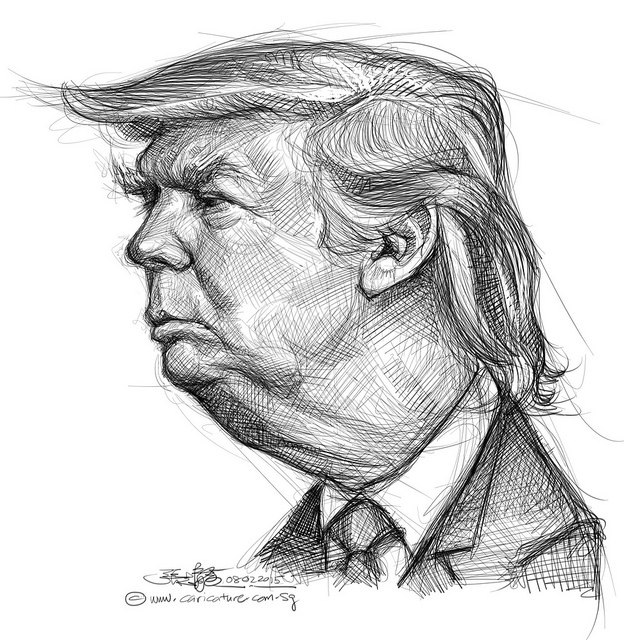 Image out front is my favorite of the T-Rump mugs, though, 'favorite' does not mean in any form or fashion, as in, 'my favorite movie,' or 'my favorite song.' It's more of an anti-appreciation/like.
And aptly titled, 'Basic Shapes,' by caricaturist/illustrator Chong Jit Leong (and found here), it's an image that displays the elemental form of a purloined sociopath — a bloated profile of flatulent bile and arrogant ignorance.