Another hot one this noon-time Thursday here in California's Central Valley — reportedly, we're back to triple-digits this afternoon on our way to another week of the blasting heat.
Apparetly, the same old story told again and again.
Also the near identical is the T-Rump facing court dates as his ulgy charge/campaign after the presidency again gets heated up — the asshole might have to double up his shit to make the process work, at least until Novemberr 2024. In his fight, the T-Rump added a new face to his legal team (CNN): 'Attorney John Lauro, who has also represented Trump attorneys Christina Bobb and Alina Habba, is joining the team and will be working alongside Todd Blanche, several sources told CNN. Lauro will be solely focused on special counsel Jack Smith's investigation into the aftermath of the 2020 election and was part of the team attempting to find out whether others in Trump's orbit received target letters after Trump did Sunday night. Lauro is a former federal prosecutor in Brooklyn turned white-collar lawyer who practices out of Florida and New York.'
In the next few months, T-Rump will be up to his fat ass in courtroom calls:
"At least one thing is clear: Under the laws of physics, he cannot be in two places at once." — @charlie_savage

Don't be too sure, Charlie.

Donnie Houdini Trump — he of the inconsistent defenses — seems convinced he can be everywhere all at once https://t.co/RHjN4ZZAv4

— Laurence Tribe ?? ?? (@tribelaw) July 20, 2023
Legal details of criminal consequences all at once — from The New York Times this morning:
As former President Donald J. Trump campaigns for the White House while multiple criminal prosecutions against him play out, at least one thing is clear: Under the laws of physics, he cannot be in two places at once.

Generally, criminal defendants must be present in the courtroom during their trials. Not only will that force Mr. Trump to step away from the campaign trail, possibly for weeks at a time, but the judges overseeing his trials must also jostle for position in sequencing dates. The collision course is raising extraordinary — and unprecedented — questions about the logistical, legal and political challenges of various trials unfolding against the backdrop of a presidential campaign.

"The courts will have to decide how to balance the public interest in having expeditious trials against Trump's interest and the public interest in his being able to campaign so that the democratic process works," said Bruce Green, a Fordham University professor and former prosecutor. "That's a type of complexity that courts have never had to deal with before."
In history there's never been such a most-horrible piece-of-shit asshole like T-Rump — but he's up to his eyeballs:
Already, Mr. Trump is facing a state trial on civil fraud accusations in New York in October. Another trial on whether he defamed the writer E. Jean Carroll is set to open on Jan. 15 — the same day as the Iowa caucuses. On Jan. 29, a trial begins in yet another lawsuit, this one accusing Mr. Trump, his company and three of his children of using the family name to entice vulnerable people to invest in sham business opportunities.

Because those cases are civil, Mr. Trump could choose not to attend the trials, just as he shunned an earlier lawsuit by Ms. Carroll, in which a jury found him liable for sexual abuse.

But he will not have that option in a criminal case on charges in New York that he falsified business records as part of covering up a sex scandal shortly before the 2016 election. The opening date for that trial, which will most likely last several weeks, is in late March, about three weeks after Super Tuesday, when over a dozen states vote on March 5.

[…]

Looming over Mr. Trump's legal peril is an unwritten Justice Department norm known as the 60-day rule. As a primary or general election nears, prosecutors should not take overt actions that could improperly influence voting.

It is not clear, however, how that principle applies to matters that are already public and so less likely to alter a candidate's image. Notably, Raymond Hulser, a veteran prosecutor who has been consulted for years about how to apply the 60-day rule, is a member of Mr. Smith's team.
We'll just have to wait and see — though, DOJ special counsel Jack Smith seems to know what he's doing.
Unlike, or despite being 'not' a lawyer for hire:
Courtroom antics, or not, yet here we are once again…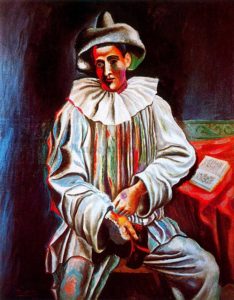 (Illustration out front: Pablo Picasso's 'Seated Pierrot,' found here.)