Adding more legal spice that's been flowing all day, comes word of more action in the T-Rump's way-illegal handling of classified government documents case — more charges have been filed against the nasty Orange Turd and a third cast member joins the fun and frolic.
Despite the happy excitement this morning on the possibility of the T-Rump being indicted in the DOJ's Jan. 6 insurrection case, reportedly not to be: 'Just before 3 pm EST, a deputy clerk at the courthouse told journalists that no indictments had been returned on Thursday and that none were expected by the end of the day.'
Yet there's still tomorrow in that one.
Meanwhile this afternoon, a new/old player in the game joins the T-Rump and Waltine 'Saltine' Nauta on the ever-expanding docket:
JUST IN: Carlos de Oliveira, a Mar-a-Lago worker, has been charged and added to Donald Trump's criminal case re classified documents.

No details on the charges are available, but he appears now on the Trump-Nauta docket. pic.twitter.com/8vT5QqkAhM

— Kyle Cheney (@kyledcheney) July 27, 2023
Background/storyline from The Daily Beast late this afternoon:
New charges were also filed against Trump's so-called Diet Coke aide Walt Nauta. Both he and Trump pleaded not guilty when they were originally charged in the case last month.

A new defendant, Mar-a-Lago maintenance worker Carlos De Oliveira, was also added to the case in a court document filed just minutes before the new charges.

De Oliveira, 56, has been accused of draining the Florida club's pool in October—an act that flooded a room containing its surveillance video logs. He is charged with conspiracy to obstruct justice, altering, destroying, or mutilating a document, and making false statements.

In the superseding indictment unsealed Thursday, all three men were accused of requesting "that [an unnamed Trump employee] delete security camera footage at The Mar-a-Lago Club to prevent the footage from being provided to a federal grand jury."

Last June, De Oliveira and Nauta were caught on surveillance cameras shifting boxes containing classified records around Mar-a-Lago. The next month, De Oliveira spoke to the unnamed Trump staffer, an information technology worker identified in the indictment as Trump Employee 4, to ask about the servers that held Mar-a-Lago's security footage.

"De Oliveira told Trump Employee 4 that 'the boss' wanted the server deleted," the indictment reads. When the employee said he didn't think he "would have the rights to do that," De Oliveira allegedly pressed him, asking at one point, "What are we going to do?"

De Oliveira was repeatedly questioned about the events of last summer by Smith's team, according to sources familiar with the investigation who spoke to The Washington Post. The newspaper reported that investigators grew increasingly skeptical of the maintenance worker's answers.
Further via The Post's live blog, also late this afternoon:
Trump already faced 31 counts of illegally retaining national defense information, but prosecutors have added a 32nd to the list. That count centers on a now-infamous conversation Trump allegedly had at his golf club and summer residence in Bedminster, N.J., in July 2021, focused on what has been described by others as a secret military document concerning Iran.

In that conversation, which was recorded, Trump said: "As president I could have declassified it. … Now I can't, you know, but this is still secret."
Parody plays as reality:
You attempted to destroy surveillance footage after a subpoena for the classified documents.

It bolsters every charge in the indictment.

I have the war plan you were waving around too.

You're mine now, bae.

— Jack E. Smith ?? (@7Veritas4) July 28, 2023
And some more noted shit in the new charge-filled docket, per The New York Times, again late this afternoon:
The revised indictment added three serious charges against Mr. Trump: attempting to "alter, destroy, mutilate, or conceal evidence"; inducing someone else to do so; and a new count under the Espionage Act related to a classified national security document that he showed to visitors at his golf club in Bedminster, N.J.

[…]

Prosecutors under Mr. Smith had been investigating Mr. De Oliveira for months, concerned, among other things, by his communications with an information technology expert at Mar-a-Lago, Yuscil Taveras, who oversaw the surveillance camera footage at the property.

That footage was central to Mr. Smith's investigation into whether Mr. Nauta, at Mr. Trump's request, had moved boxes in and out of storage room at Mar-a-Lago to avoid complying with a federal subpoena for all classified documents in the former president's possession.

The revised indictment said that in late June of last year, shortly after the government demanded the surveillance footage as part of its inquiry, Mr. Trump called Mr. De Oliveira and they spoke for 24 minutes.

Two days later, the indictment said, Mr. Nauta and Mr. De Oliveira "went to the security guard booth where surveillance video is displayed on monitors, walked with a flashlight through the tunnel where the storage room was located, and observed and pointed out surveillance cameras."

A few days after that, Mr. De Oliveira went to see Mr. Taveras, who is identified in the indictment as Trump Employee 4, and took him to a small room known as an "audio closet." There, the indictment said, the two men had a conversation that was meant to "remain between the two of them."

It was then that Mr. De Oliveira told Mr. Taveras that "'the boss' wanted the server deleted," the indictment said, referring to the computer server holding the security footage.

Mr. Taveras objected and said he did not know how to delete the server and did not think he had the right to do so, the indictment said. At that point, the indictment said, Mr. De Oliveira insisted again that "the boss" wanted the server deleted, asking, "What are we going to do?"

Two months later, after the F.B.I. descended on Mar-a-Lago with a search warrant and hauled away about 100 classified documents, people in Mr. Trump's orbit appeared to be concerned about Mr. De Oliveira's loyalties.

"Someone just wants to make sure Carlos is good," the indictment quoted Mr. Nauta as saying to another Trump employee.
Wonder who that 'someone' be?
In response, the indictment said, that employee told Mr. Nauta that Mr. De Oliveira was "loyal" and "would not do anything to affect his relationship with Mr. Trump." After the conversation, Mr. Trump — who during his 2016 presidential campaign often assailed his opponent, Hillary Clinton, for deleting material from her email server — called Mr. De Oliveira and said that he would get him a lawyer.

Mr. De Oliveira's lawyer, John Irving, declined to comment.
Of course not. These poor guys are up shit creek without any kind of paddle — T-Rump will throw them under the bus the minute this shit gets serious and the whole courtroom drama goes south.
This is getting interesting.
Clip of the news:
And then there's 'Jed' Bartlet's court:
Jail cell ahead, or not, once again here we are…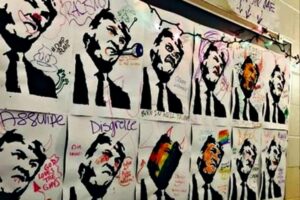 (Illustration out front is of a New York state high-school student exhibit: 'The piece was displayed during student-driven art show at Shenendehowa High School. It consisted of at least 12 identical black-and-white pictures of Donald Trump. There was also a sign above the pictures that read, "Draw on Me." Using markers from the art classroom, Isome students opted to scribble critical messages and profanities on the pictures' — and found here.)