Bright sunshine with a warm breeze this late-afternoon Monday here in California's Central Valley — another start to another work week.
Autumn supposedly comes this Friday; one indication of the approaching fall season is darkness comes quicker nowadays, and our days end seemingly abruptly. Time marches forward, however,
In the splash sh of news today it's been mostly T-Rump and the continuing horrors of him being a lying asshole (and NBC News allowing him to be shitty on a platform), Joe Biden's age, a lost F-35 jet, and other lugs of media attention, from Lauren Boebert's shitty, hypocritical behavior out in public (she's not dating Democrats anymore) to the Iranian deal.
A decent news day, I guess.
Dark political comedy also today is Jeffrey Clark, the former low-level DOJ asshole ("completely incompetent"), indicted last month in Georgia on charges he tried to help overturn the 2020 election there. He's trying to move the state RICO case to federal court.
Although Clark wasn't present, a quick sketch supplements the event:
Y'all, @AnthonyMKreis's court sketch from Jeffrey Clark's removal hearing is so much better than mine…

But as promised here's my effort: https://t.co/OQbPigUPSj pic.twitter.com/C9EFhwYysM

— Anna Bower (@AnnaBower) September 18, 2023
Nutshell on the proceedings via the Guardian this afternoon:
The way that the hearing played out for Clark could dictate how future efforts by Donald Trump or his other co-defendants to remove their cases to federal court could play out, given how Clark's lawyer at times put blame on the former president.

The US district judge Steve Jones did not make a formal ruling from the bench at the court hearing in Atlanta but left Clark, the former assistant attorney general for the civil division, without the key evidence he had wanted to submit after he failed to appear in person.

That means the judge will make a decision on whether Clark can remove his racketeering charges brought by the Fulton county district attorney's office last month based on the oral arguments by Clark's lawyer and parts of a supporting affidavit from former attorney general Edwin Meese.

The judge's refusal to consider Clark's own written testimony suggests he faces an uphill struggle, given the burden rests on Clark to prove that he was acting within the scope of his official duties as a justice department official in order to successfully change venue to federal court.
In the wake of the T-Rump admitting yesterday in the shitface 'Meet The Press' interview, "It was my decision," to attack the legitimacy of the 20202 election, Clark's part in the scheme comes as a direct approach of his brown-nosing his way into the idiotic brain of the T-Rump because he told the Orange Turd what he wanted to hear, and T-Rump then utilized his own "instincts" to claim fraud.
In Clark, Trump found his legal, bootlicking patsy.
A view of such per The New York Times last October:
It was clear that night, though, that Mr. Clark — with his willingness to entertain conspiracy theories about voting booth hacks and election fraud — was not the establishment lawyer they thought him to be. Some senior department leaders had considered him quiet, hard-working and detail-oriented. Others said they knew nothing about him, so low was his profile. He struck neither his fans in the department nor his detractors as being part of the Trumpist faction of the party, according to interviews.

The department's senior leaders were shocked when Mr. Clark's machinations came to light. They have spent recent weeks debating how he came to betray Mr. Rosen, his biggest champion at the department, and what blend of ambition and conviction led him to reject the results of the election and embrace Mr. Trump's claims, despite all evidence to the contrary, including inside the department itself.
What a clusterf*ck!
A panel discussion at MSNBC this afternoon:
Crazy Clark, or not, yet once again here we are…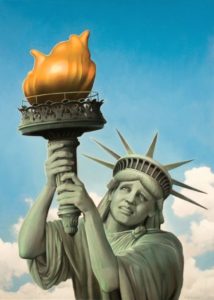 (Image out front by illustrator and portrait painter, Tim O'Brien, and can be found here.)