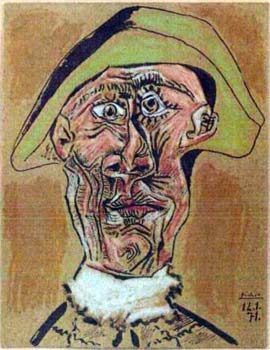 Tonight, President Obama supposedly is set to present his plan for action against the infamous ISIS, and will be speaking to a nation apparently approaching the level of scared shitless.
According to a new NBC News/Wall Street Journal poll, we haven't been this afraid and hyped-up since the Sept. 11, 2001, attacks:
Forty-seven percent say the country is less safe, while just 26 percent say it's safer.
That's compared with the results from Sept. 2002 (when just 20 percent said the country was less safe) and from last year (when it was 28 percent).
Video kills — 94 percent of Americans also say they're aware of the beheaded journalists, a chilling effect/factor.
(Illustration: Pablo Picasso's 'Harlequin Head,' found here).
In NBC/WSJ polls, the highest amount for any news events the past five years. Emotions can easily escalate on witnessing an act from the darkest Middle Ages — ISIS indeed is a monster.
A threat to the US? Not so much.
ISIS is tough, but the real source of their success is unique:
"I think sometimes there's been a tendency to sort of overestimate the technical sophistication of the Islamic State," said Charles Lister, visiting fellow at the Brookings Doha Center.
Lister, like many other analysts, said much of the power of the Islamic State group — also known by the acronyms ISIS or ISIL — lies in its centralization of command and intense loyalty within the organization.
That distinguishes the group from others, which are overstretched by years of conflict.
In the case of the Syrian rebels, there are deep divisions that have hampered their cause.
And for such a horrible, bloodthirsty bunch, a sophistication of technology:
Militants from the Islamic State group have waged an aggressive social media campaign.
They have released statements with detailed information on conquests and battles, and posted high-quality videos that often provide visual proof of their activities in regions that have suffered a media vacuum recently as the risks have become too great for journalists.
In Syria, two American journalists were beheaded by the group in the past month.
The killings, posted on militant websites, were shot in high definition, featured embedded soundbites from Obama, and used wireless microphones to amplify statements from the masked, English-speaking militant and his victims.
Thus, Obama has a problem, and the difficulty is figuring out what to do.
Via USAToday:
"America will lead a broad coalition to roll back this terrorist threat," Obama plans to say, according to excerpts released by the White House.
"Our objective is clear: we will degrade, and ultimately destroy, ISIL through a comprehensive and sustained counter-terrorism strategy."
Again pledging not to deploy American combat troops, Obama also plans to say that his strategy is based on ongoing operations in Yemen and Somalia.
"This counter-terrorism campaign will be waged through a steady, relentless effort to take out ISIL wherever they exist using our air power and our support for partner forces on the ground," Obama plans to say.
The key word up there, of course, is 'strategy,' and not much wiggle-room. Or another invasion?
Reportedly, the whole venture could take years — three years at minimum to start. And once started…
Jason Ditz at antiwar.com nailed it: But wiping out ISIS in multiple countries and putting something more pro-US in its place is a far broader goal than "keeping the embassy safe" or some other platitude about why the new war was launched, and the scariest part is we aren't even sure that's where it'll finish off, with officials tacking new goals on seemingly every couple of days. Obama's Wednesday speech will in no way resemble his start of the war speech, and his speech a few weeks down the road will probably be starkly more bellicose, as the war keeps expanding.
All this up-flush in war-bravado stands in contrast reality. Americans think their government sucks and can't be trusted to handle international affairs — via a new Gallup poll out today:
Americans' trust in the federal government to handle international problems has fallen to a record-low 43 percent as President Barack Obama prepares to address the nation on Wednesday to outline his plan to deal with ISIS.
Separately, 40 percent of Americans say they have a "great deal" or "fair amount" of trust in the federal government to handle domestic problems, also the lowest Gallup has measured to date.
…
Gallup has never measured lower levels of trust in the federal government to handle pressing issues than now.
That includes the Watergate era in 1974, when 51 percent of Americans trusted the government's ability to handle domestic problems and 73 percent trusted its ability to deal with international problems, and also at the tail end of the Bush administration when his job approval ratings were consistently below 40 percent and frequently below 30 percent.
Two things we can trust, though — one, a war is coming, and two, the whole affair will be a fucked-up mess.