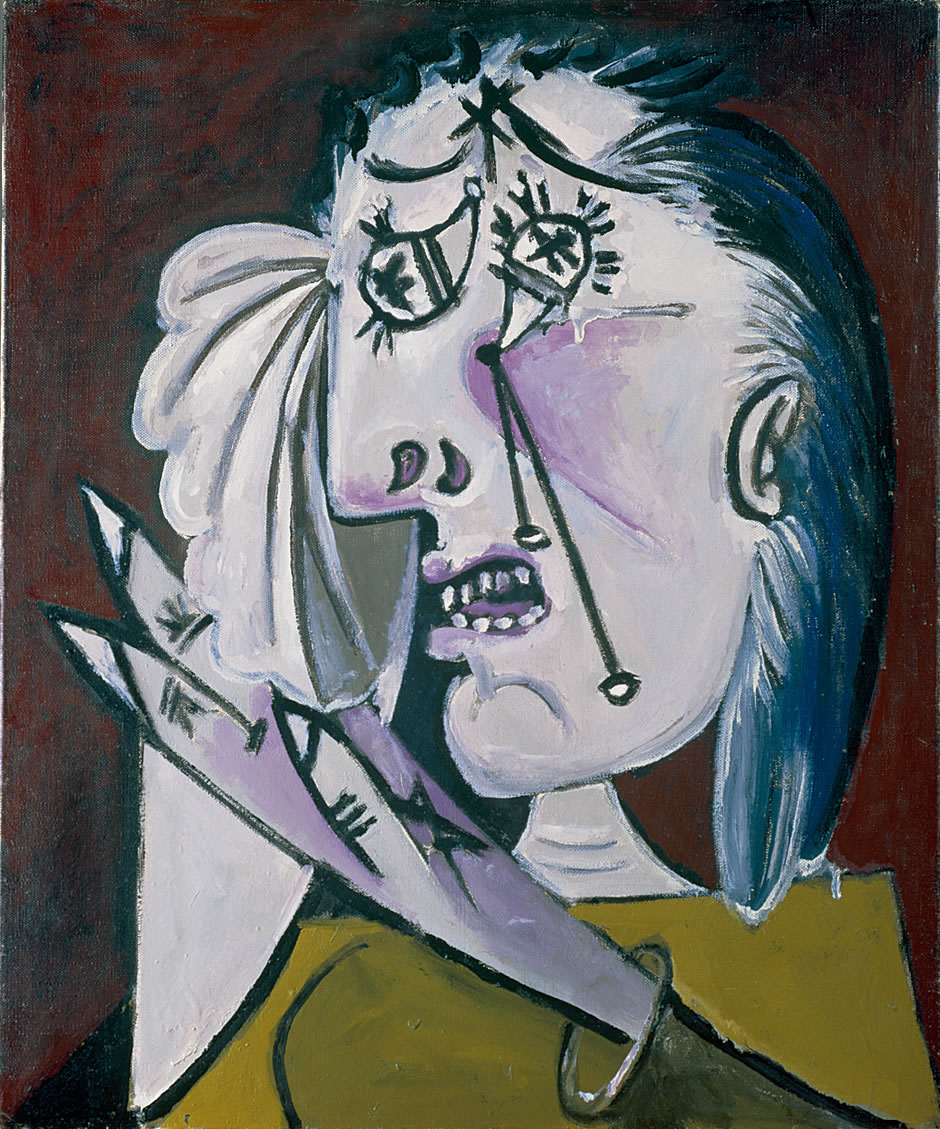 Way-wet and chilly this early Friday on California's north coast, but nothing unexpected as we're on the first-strike, forefront of a big storm set to roll across the state the next couple of days. Our region could get three to four inches of rain, further south, maybe up to seven inches between now and Sunday/Monday — weather's hard to gauge, beyond current conditions.
Of course, today is also 'Black Friday,' a nebulous event ground into powder by a weird, kind of pure-American self-greediness of material shit.
So virus-like, too — from the BBC this morning: 'Police have been called to supermarkets across the UK amid crowd surges as people hunt for "Black Friday" offers…Originating in the US, Black Friday is becoming a major UK shopping day.'
(Illustration: Pablo Picasso's 'Weeping Woman,' found here).
And in the US, already seemingly an anecdote of the nowadays — like John Meza and Inez Ortiz of suburban Phoenix, AZ: '"This is our first time coming out. We came just for the Black Friday experience."'
An experience, like motion sickness, or getting slapped in the face with a cold, wet rag?
Yet, a hint of glee in whichever-Ortiz's words, it seemed to me.
Odd in a fashion, nevertheless a hard-reminder of pure-capital glee, which might have been too-much for the masses.
Megan Garber at The Atlantic:
BlackFridayDeathCount.com keeps a running list of the casualties incurred by the rites and rituals of the day after Thanksgiving.
Since 2006, the site says, Black Friday has claimed 97 deaths and injuries—seven of the former, 90 of the latter—as the result of the tramplings, pepper-sprayings, shootings, stabbings, and other tragedies that can occur when the term "doorbuster" is taken too literally.
Ancient Romans filled the Colosseum with throngs thirsting for fights; in the same way, Americans eagerly partake in the annual spectacle that makes bargain-hunting a matter of athletic competition.
Black Friday is a media event; it is also an extremely commercialized—and oddly moralized—form of bloodlust.
"People are crazy," we say, watching the news reports and assuring ourselves that we are not part of the "people" in question.
"How could they just trample someone?"
Black Friday may currently be associated with its ability to put retailers "in the black"; it was originally named, however, for human impulses of a much more basic variety.
In the 1950s, the Harvard historian Nancy Koehn says, factory managers started calling the day after Thanksgiving "black Friday" because so many workers would call in sick for it. (The scourge was, as one magazine put it, "a disease second only to the bubonic plague.")
In the early '60s, police in Philadelphia began using "Black Friday" to describe the crowds of shoppers and traffic that would flow into the city post-Thanksgiving—making their jobs, and consequently their lives, temporarily more difficult.
It wasn't until the 1970s and '80s that retailers began to emphasize the connection between the day after Thanksgiving and the start of the (commercial) holiday season.
Today, Black Friday is not just a series of sales, but a series of spectacles.
And as a day, Garber reports, its days are numbered — maybe into months: '"It used to be called Black Friday, then it became Thursday, now it's a week long," Wal-Mart's chief U.S. merchant, Duncan Mac Naughton, told the Wall Street Journal. "Maybe we should just call it November."'
Still a shitty, shitty season.
And getting social/political, too. Maybe because of earthquake social/political events, and the disruption of financial order. The legal-ludicrous Ferguson, MO, events have spilled over the rim: 'Kicking off their latest strategy inside a Walmart in another nearby suburb of St. Louis, about 75 demonstrators protested peacefully, chanting "Hands up, don't shoot!", bemusing bargain-hunters pushing their brimming shopping carts.'
Although other protest events at other cities had been planned, according to reports, turn-out for them has been slim.
And as if on cue — via Reuters:
The U.N. Committee against Torture urged the United States on Friday to fully investigate and prosecute police brutality and shootings of unarmed black youth and ensure that taser weapons are used sparingly.
The panel's first review of the U.S. record on preventing torture since 2006 followed racially-tinged unrest in cities across the country this week sparked by a Ferguson, Missouri grand jury's decision not to charge a white police officer for the fatal shooting of an unarmed black teenager.
The committee decried "excruciating pain and prolonged suffering" for prisoners during "botched executions" as well as frequent rapes of inmates, shackling of pregnant women in some prisons and extensive use of solitary confinement.
Its findings cited deep concern about "numerous reports" of police brutality and excessive use of force against people from minority groups, immigrants, homosexuals and racial profiling.
The panel referred to the "frequent and recurrent police shootings or fatal pursuits of unarmed black individuals."
In a so-called high-tech age, of so-called enlightened peoples — in 2013, 'nearly 30 percent of all American adults 25 and older had attained at least a bachelor's degree' — and so, should be half-assed educated, too.
Yet we're sill racist, self-centered assholes.
Via CNN:
It's what one Duke University sociologist calls "racism without racists."
Eduardo Bonilla-Silva, who's written a book by that title, says it's a new way of maintaining white domination in places like Ferguson.
"The main problem nowadays is not the folks with the hoods, but the folks dressed in suits," says Bonilla-Silva.
"The more we assume that the problem of racism is limited to the Klan, the birthers, the tea party or to the Republican Party, the less we understand that racial domination is a collective process and we are all in this game."
And no, 'Black Friday,' ain't about slavery — an urban myth, for those of  douchebag origins.