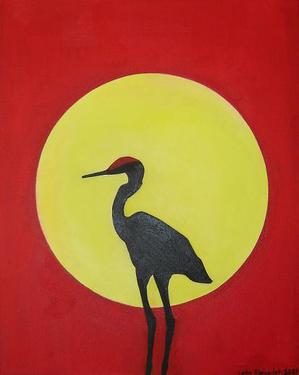 Near-crystal clear this early Monday on California's north coast, a faint white streak peeking from the east, the moon hanging slightly above, like a fingernail in its 'Waning Crescent' period, and supposedly, today should be 'nearly the same' as yesterday, and if true, another beautiful one a-coming, weather-wise.
And Sunday was a keeper — opened all the windows, allowing flow-through of warm, sunshine-filled afternoon air.
Although there seems a clear dawn in the making right now, usually about/or before sunrise, a moist ground fog descends upon the land, a gray will filter out all the bright, but just for a little while, until certain mechanisms of nature allow burn-off into glorious sunshine for late-morning and afternoon.
This warm streak extends nearly statewide, even in land of swimming pools and movie stars, reportedly at 3 p.m. Saturday, it was 83 degrees in downtown LA — normal for the area this time of year, 68.
And the Bay Area was not an exception, either.
Via SFGate:
Residents and visitors flocked to Bay Area parks and beaches Sunday afternoon as an unseasonable winter weekend heat wave cooked the region and broke a temperature record for the date in San Francisco.
Farther south near Santa Cruz, the mercury spiked at 83 degrees Saturday, and followed suit Sunday, breaking a nearly century-old record of 82 degrees, which was set in 1916, forecasters said.
The Bay Area was noticeably cooler, but still astonishingly warm for a mid-February day.
Temperatures hit 73 degrees at the San Francisco International Airport breaking the 1977 record of 72 degrees, said Austin Cross a forecaster with the National Weather Service.
In Oakland, temperatures got up to 70 degrees.
…
San Jose hit 75 degrees, but stayed shy of the 80-degree record set in 1930.
In the North Bay wine regions of Napa and Sonoma, temperatures got up to 72 degrees — hot, but well short of the 81-degree mark set in 1943.
This a way-deep contrast to the upper east coast of the US — per the Weather Channel this morning:
The Northeast is shivering through one of the most brutal arctic outbreaks in a generation as shot after shot of frigid Canadian air moves into a region already refrigerated by an extensive and very deep snowpack.
Buffalo, New York, put an exclamation mark on the cold Sunday as it logged its coldest day in 21 years.
The day's high of 2 degrees — observed at 12:20 a.m. — was the city's coldest since Jan. 19, 1994, as was the daily mean temperature of 4 below zero.
Shortly before midnight at the end of the day, the mercury touched 10 below zero for the first time since Jan. 6, 1996.
It was the coldest February temperature in Buffalo since 1979.
New York City's Central Park dropped to 4 degrees just before the end of Sunday, tying the low of 4 during the so-called "Polar Vortex" cold snap on Jan. 7, 2014.
The temperature then fell to 3 degrees on Monday morning, making it the coldest reading in the Big Apple since Jan. 16, 2004.
The frigid air mass also set record lows Monday morning.
A country/world of weather extremes — here on the north coast it appears the ground fog didn't form, and the sun might just come up like thunder, or close to it, despite some high, wispy clouds already formed this morning. And we're apparently warmer than normal, too.
From our local Times-Standard yesterday afternoon:
Another week of dry, mild weather is forecasted for Humboldt County, according to National Weather Service meteorologist Jeff Tonkin.
"There's no indication from anything beyond 10 days that suggest we're going to have a major pattern change yet," Tonkin said.
So last week's weather will extend through this week and likely into the next.
Tonkin said the high-ridge pressure over Humboldt is causing "a very tranquil pattern."
…
"Pretty warm afternoons. Probably not going to see too much fog in the mornings and overnight temperatures are not going to get very cold," Tonkin said.
"Normally in February … we'd see normal (overnight) temperatures getting down to freezing in the interior, but it's not going to do that."
Clouds will come and go this week, but there are no chances of showers.
"Looks like we'll get some clouds but no sign of rain at all," Tonkin said.
"Basically no rain in sight."
The blinding-clincher in the sunlight.
(Illustration above found here).