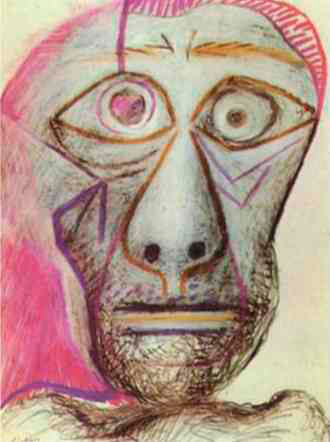 An absolute-hateful event — after a nice nap, a cup of coffee going, and shortly after waking-up the laptop, a terrifying thingy lurches out from the screen, knocks the freaking-fucking living-shit out of me: 'Gunmen opened fire on a holiday party on Wednesday at a social services agency in San Bernardino, California, killing 14 people and wounding 17 others before fleeing, authorities said.'
I just hate it.
Getting familiar, a pattern.
A similar shit-snap event just last week, though, instead of a nice afternoon nap, the shattered-serenity came after a nice, sweet walk to Safeway and back, and within minutes after returning to my apartment, wham-ass, that terrifying thingy — the shooting in Colorado Springs.
WTF!
(Illustration: Pablo Picasso's 'Self Portrait Facing Death' (June 30, 1972), was originally found here).
My youngest daughter was then visiting friends there. Although only three-four blocks away, she seems to have emerged unscathed, except for the shitty sensation of being way-weirded-out. And I really don't like the personal aspect — in early November, a student at UC Merced slashed five other students with a knife before being shot dead by police.
Another daughter attends there, working on her doctorate, but was at home doing 'home' work. She, too, escaped unscathed, though, got the shit scared out of her — and for a few minutes, her daddy. In that particular case, another delightful round-trip to Safeway in gorgeous weather made real-fast shit-like shortly after arriving home.
I just hate it.
And reportedly the situation with this terrifying thing is worse than it appears — via HuffPost this afternoon: 'Over on Reddit, the Guns Are Cool community has compiled a list of every U.S. mass shooting this year. According to their count, Wednesday's burst of violence was the 355th this year.'
We're in day-number 336 for 2015.
In the shadow of the mass shootings, are just regular, run-of-the-mill killings, sometimes for no reason at absolutely-all. Lost in the Planned Parenthood news cycle last week was this pure terrifying thingy out of Biloxi, Miss., where 52-year-old Julie Brightwell, a waitress at a Waffle House, was shot dead by a customer after she'd told him there was no smoking in the restaurant.
Via the Gulf Coast's Sun Herald:
She knew to hide, court records show, because her accused killer, Johnny Max Mount, had pulled a 9 mm handgun from his waist and pointed it at her after she told him he couldn't smoke in the restaurant.
The incident happened about 1 a.m. Friday, shortly after Mount arrived, sat at a counter seat and went to light up.
When Mount pointed the gun at Brightwell, she tried to hide from her killer, the reports say, but Mount stood up, leaned over the counter and shot her once in the head.
Brightwell, 52, was pronounced dead at Merit Health Biloxi a short time after the shooting.
The shooter, Johnny Max Mount, is a former firemen who suffered a bad auto accident in 2002, supposedly suffering a traumatic brain injury: 'A friend of Mount's family said he "was not a monster," and that something must have "snapped" in him.'
Fucking shitty…
A near-common-place tragedy, the sorrow and fucking craziness, and a response toward life in the nowadays:
Biloxi Police Chief John Miller said the investigation is continuing, but had a few thoughts about what occurred.
"I just don't understand why somebody would be so upset over a cigarette," he said.
"Some stuff like this just defeats logic."
Meanwhile, the scene down in San Bernardino continues to run live — '"It's still, again a very active, fluid situation," said San Bernardino Police spokeswoman Vickie Cervantes.'
Interesting to see what's the motive behind these three assholes — at dark Wednesday, two were down, one was being hunted.
Logic doesn't play well with a terrifying thingy…