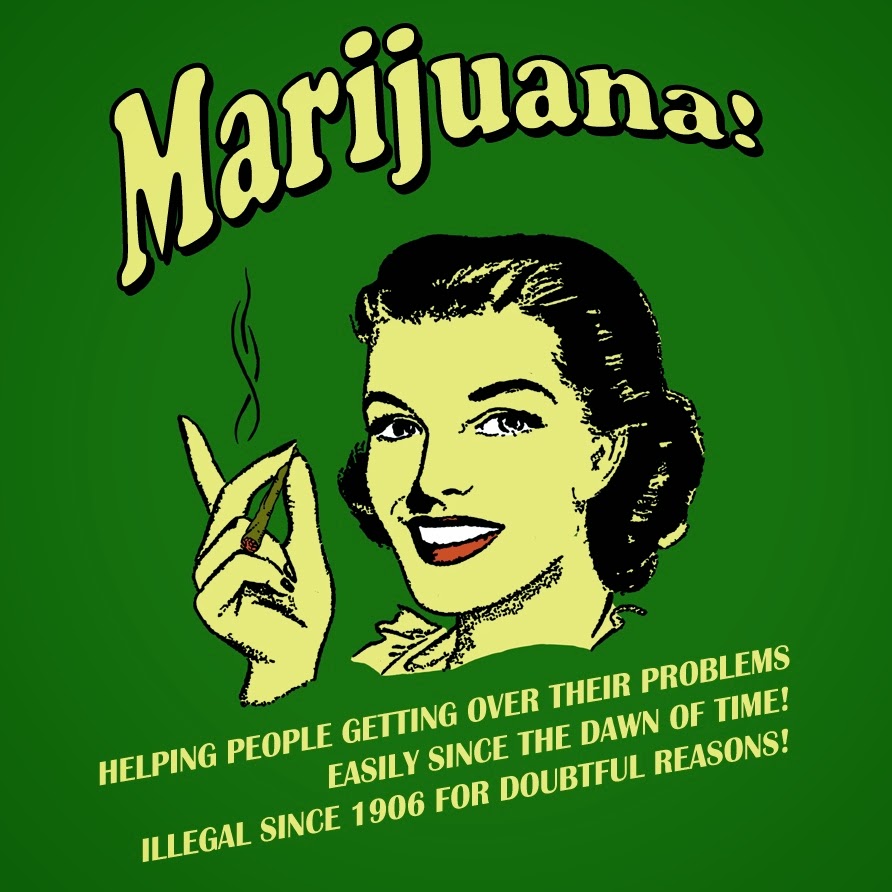 Sunshine this early Thursday on California's north coast as we enjoy a bright spot prior to an expected heavy-storm period to drench us the next week-to-10-days.
Rain-dense 'atmospheric river' system forecast for tomorrow, and supposedly will continue for awhile — to be cold and windy, too.
Also bright is the seemingly new-found interest in the health benefits of marijuana — new research just launched to study the effect of pot on multiple sclerosis, studies show aid of cannabis in certain cancer treatments, and different examinations have disclosed there's all kinds of health benefits from the weed.
(Illustration found here).
And the latest of this string of medical reports on the benefits of pot is in a most-needed area — Cannabidiol (CBD), one of the chemical components found in marijuana, may may work as a fast-acting antidepressant. The study published in Neuropharmacology.
Via PsyPost last Friday:
In a study led by Raquel Linge, of the Universidad de Cantabria, neuroscientists examined the action of CBD in the brains of 40 mice to determine whether the chemical was effective at reducing depression, and the neural pathways by which it operates.
Researchers performed surgery on some of the mice to remove a region of the brain called the olfactory bulb.
…
Glutamate release was affected dramatically in all mice who received CBD, both immediately after the first dose and after weeks of repeated administration.
The impact on serotonin was more subtle after the first dose, and it persisted over time only in mice who had OBX surgery, suggesting that this change may have occurred only in response to the depression-like conditions in the mice's brains.
Because OBX has proven to be an accurate model for human depression in numerous previous studies, these findings suggest that CBD may one day serve as the basis for a new treatment for depression.
It may be especially promising because it appears to both act rapidly to reduce symptoms and to lead to sustained recovery over time.
A good start at the way-very minimum.
In cannabis politics, California moves forward in the right direction: 'The California Democratic Party, at its annual convention over the weekend, reaffirmed a platform plank supporting "the legalization, regulation and taxation of marijuana, in a manner similar to that of tobacco or alcohol."'
Supposedly, the provision the same as in 2014, but on Sunday added a clause specifying '…that legalization should prioritize "the health and safety of California's communities over revenue or profits."'
Delving deeper, pot for the Bern — from  International Business Times this morning:
A pot shop in Portland announced it plans to donate a portion of its sales to Vermont Sen. Bernie Sanders' presidential campaign, KGW-TV reported Wednesday.
As part of the "Burn One for Bernie" campaign, the owner of Foster Buds, which has two dispensaries, said the business will donate 10 percent of sales from every $10 "Farmer 12" joint  sold to Sanders' campaign.
"The cannabis community has never been appropriately represented or considered on a federal stage. Cannabis enthusiasts, supporters and medical patients come from every walk of life now, and we all deserve a president who will rally to reschedule cannabis and transform America's Cannabis policies,"  Foster Bud wrote on Instagram.
"We believe Bernie Sanders is the best and most likely candidate to appropriately represent the needs of our community."
Sanders supports medical marijuana and the decriminalization of recreational marijuana, as well as the right of states to opt for full legalization, his campaign website says.
He has come out in favor of ending the federal prohibition on marijuana, and co-sponsored the Marijuana Businesses Access to Banking Act of 2015 to ensure access to banking services for legitimate marijuana businesses.
However, Sanders said last year he is not a fan of marijuana himself.
"Because I coughed a lot, I don't know. I smoked marijuana twice, didn't quite work for me. … It's not my thing, but it is the thing of a whole lot of people," Sanders said in an interview with Yahoo News.
Bern says yeah, 'thing of a whole lot of people,' and so it goes…