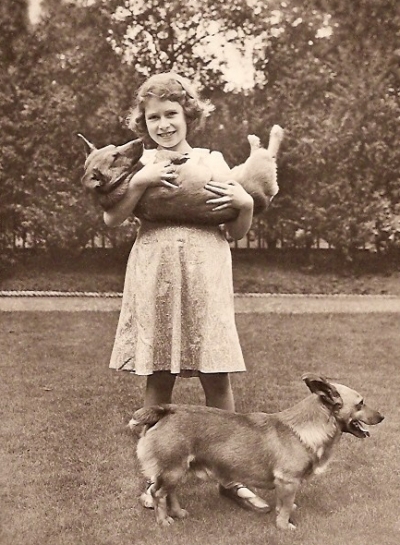 Warm sunshine soothed by a chilled breeze this near-noon Thursday on California's north coast, supposedly becoming overcast later today as rain is expected to arrive tonight and linger-around into Friday.
The NWS doesn't use the word 'rain' in its forecast, however, instead opted for the less-wet, 'Showers,' to indicate precipitation levels.
And today, of course, is the 90th birthday of the UK's Queen Elizabeth. She spent 20 minutes earlier this morning outside Windsor Castle meeting-and-greeting, receiving bouquets, gifts and even a cake: '"She looked so lovely," fan Margaret Tyler tells People.
Tyler handed over a cake decorated with a corgi to a lady in waiting.
"One of us called out, 'Each time we see you, you look younger.' She smiled."'
In the dog lies the linkage…
(Illustration: Young Bess with her Corgi, found here).
Elizabeth has always carried a great affection for the Corgi line of dog type — as the photo above of a young queen-to-be surrounded by her beloved family — and online there's a shitload of Google images of her and the dogs. See a really-great pix of her current brood, also at People, by famed photographer Annie Leibovitz — aging monarch with dogs on the steps of the castle.
In a direct, way-round-about link, my youngest daughter, who lives in Kansas City, has a corgi named Kuru, who I got to know real-good last summer during a visit. Kuru, which also dark-humorously is the name of a rare and fatal nervous system disease — my daughter thinks she's being cute with the name (and, she is) — is reflective of the breed.
Sweet, intelligent and obedient.
And the visit was emotional. I posted about it here if you like some background.
Corgis are wonderful companions — a queen's choice…
Beyond the cute, neat doggie bullshit, Good-Queen Bess is way-way-loaded. And she's rich — via Fortune this morning:
The Queen is estimated to have a personal net worth of about $425 million, according to Bloomberg.
That includes the $65 million Sandringham House and $140 million Balmoral Castle.
But that's what she inherited.
As monarch, the true windfall for her and her family comes in vast amounts of property kept in trust for her which generate significant income.
Last year her 15 percent share of the income was valued at approximately $54.5 million.
…
But that isn't the only source of income.
The Queen also receives money — $19 million last year — on the income from a parcel of properties totaling 45,549 acres called the Duchy of Lancaster.
(Prince Charles takes his pay, more than $27 million, from the income on the Duchy of Cornwall, a separate 53,400 acres.)
In personal history, Charles is only two weeks older than me — he was born mid-November 1948 in a castle, and near the end of the month, I arrived in a near-tar-paper farm house in southeast Alabama. Charles could easily be a wanker, or even a douche, but he's way-too-much a dufus. Just look at the whole Diana thingy — idiot!
I came out way-ahead indeed with the birthing situation.
Tragically ironic, a Queen's high-numbered birthday on the day a Prince dies at such a young age…
(Illustration out front found here).