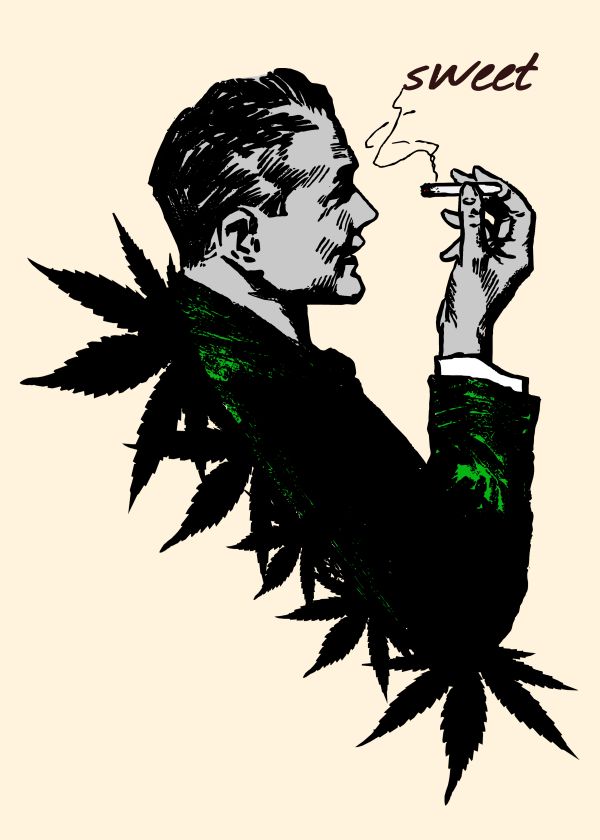 Sunshine, near-clear skies and warm this Tuesday afternoon on California's north coast — another in the summer series of wonderful shoreline days.
Although the wind is expected to pick-up later, right now it's gorgeous.
Beyond the crazed world, and the even-more crazed US presidential election, new information on how long people have been getting stoned — starting way-back when:
A new study, published in the journal of Vegetation History and Archeobotany, has linked the increased use of cannabis in East Asia with the rise of transcontinental trade between Europe and the East between 4,000 and 5,000 years ago, at the start of the Bronze Age.
A way-old business model, huh?
(Illustration: 'Cannabis and Politics,' by Denis Marsili, found here).
Despite whatever comes from politics, marijuana is here to stay — an excellent view of this was found at Headset a couple of weeks ago:
Accounting for 68.9 percent of customers, the ratio of men to women is well over 2:1.
This disparity is not surprising given cannabis culture's emphasis on the male pothead.
Next we examined the distribution of customer age.
25-to-29-year-olds account for the largest percentage of customer loyalty members (20 percent), followed by 21-to 24-year-olds (16 percent).
Yet the average customer age is 37.6-years-old, which is a higher than one might expect given stereotypes about marijuana users.
The average age for female customers is slightly older at 38.2 while the average age for males is 37.4.
People ages 65 to 95 make up less than 5 percent of customers.
…
Most people spend between $25 and $50 per trip to a marijuana store, with a $33 median spend per trip.
34.7 percent of customers spend less than $10 on average, usually picking up a single item like a half gram pre-roll or a carbonated beverage.
Only 8.2 percent spend more than $100/trip.
…
The median customer spends $645 on pot each year, and over 57 percent of customers spent more than $500. Very few customers — less than 10 percent — spent over $2,500.
…
For the most part, men and women have similar shopping and spending habits.
Men shop slightly more often, visiting the store about every 19.5 days compared to 21.5 days for women.
Although men buy fewer items per trip, they spend almost as much ($33) as women ($35).
…
Flower, which is "traditional" marijuana bud, is the most popular product for both genders.
But it is even more popular among men: flower accounts for 4.4 percent more of their purchases.
Women tend to buy more Pre-Roll and Edibles, while men buy more Concentrates.
Women also tend to experiment more with non-traditional products (Other) such as Beverages, Tincture & Sublingual and Topicals.
…
Each segment buys mostly Flower, with those in their 50s buying Flower at the highest rate.
Older customers buy less Pre-Rolls than their younger counterparts.
Pre-Rolls make up 27 percent of purchases among customers in their 20s, and this ratio drops down with each age band to only 8 percent of purchases for those 80 years or older.
Conversely, the proportion of both Edibles and Other purchased increase with age — from 6 percent to 18 percent and 3 percent to 12 percent, respectively.
(h/t The Big Picture).
A new life for flowers…