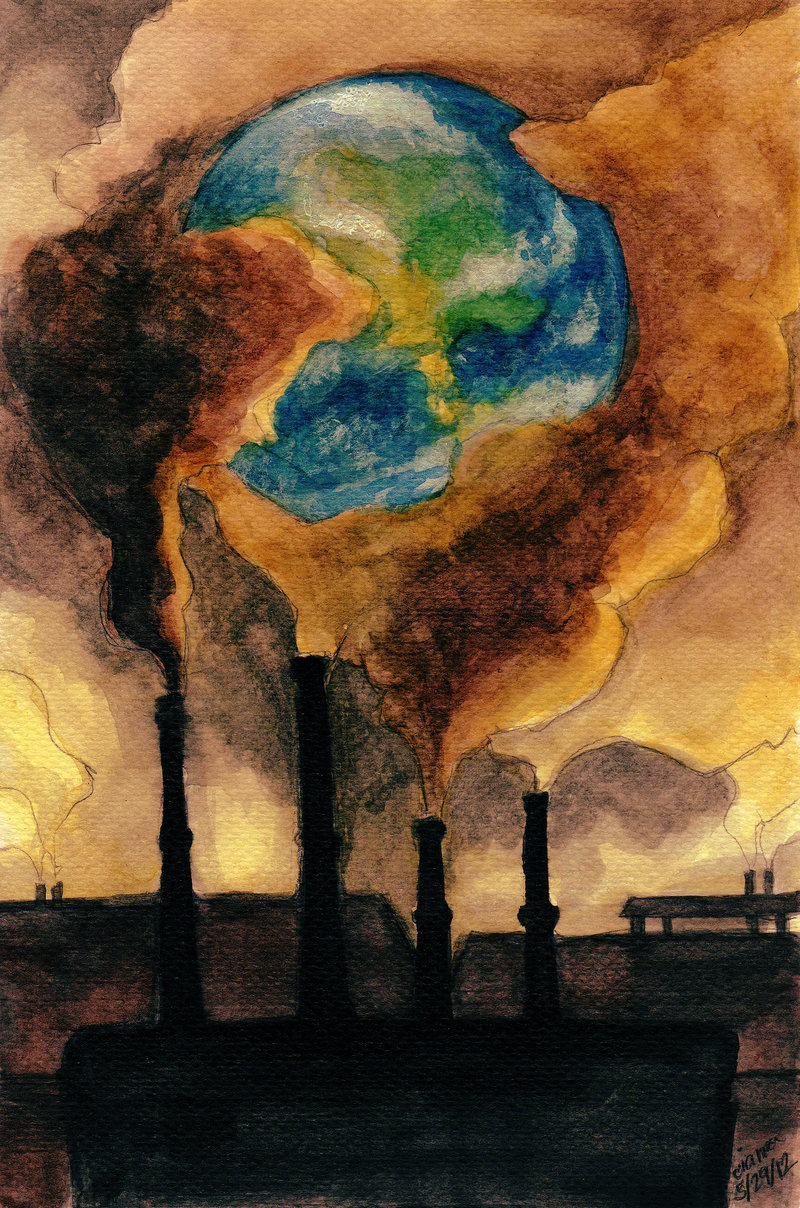 Foggy-damp and chilly this early Tuesday afternoon on California's north coast, with a supposedly strong storm bearing down on us — heavy rain forecast for close to a week starting Thursday.
Or maybe tomorrow, who knows?
Seeking a respite from the hourly-updated horror of the 2016 presidential race, we'll take a look at another horror — climate change and forest fires, a situation suited for California.
A new study reports global warming will just make the shit worse.
A. Park Williams, one of the study's authors and an assistant research professor at Columbia's Lamont-Doherty Earth Observatory (the New York Times yesterday): '"People tell me that they've never seen fires as active as what they're battling right now. What we're seeing in fire world is much different than what we saw in the 1980s, and in the 2030s, fires will be unrecognizable to what we're seeing now."'
(Illustration found here).
Further from the Times piece:
Forest fires are burning longer and stronger across the western United States, lighting up the landscape with alarming frequency.
Residents are forced to flee, homes are incinerated, wildlife habitats are destroyed, lives are lost.
Last year, the Forest Service spent more than half its annual budget fighting fires.
Scientists have long theorized that climate change has contributed to the longer fire seasons, the growing number and destructiveness of fires and the increasing area of land consumed, though some experts suggest that the current fire phenomenon is not just a result of a changing climate, but also fire-suppressing policies practiced by the government for the last century or more.
…
They state that, since 1979, climate change is responsible for more than half of the dryness of Western forests and the increased length of the fire season.
Since 1984, those factors have enlarged the cumulative forest fire area by 16,000 square miles, about the size of Massachusetts and Connecticut combined, they found.
Couple that particular research to another about our freaking drought, which apparently will/can morph into 'megadroughts.'
From Carbon Brief last week:
A new study, published in Science Advances, says unchecked climate change is upping the risk that California and the wider American southwest could see droughts in future that persist a lot longer.
The study looks specifically at "megadroughts".
These are 35-year periods that are at least as dry, on average, as the worst droughts experienced in the 20th century — such as the "Dust Bowl" droughts of midwest America in the 1930s.
The researchers assessed future drought risk using a statistical model to estimate the impacts of temperature and rainfall changes on soil moisture in the southwest.
This region includes Arizona, much of California and Nevada, southern Utah and western parts of Colorado and New Mexico.
And just to continue the future bleakness, and a ugly phenomena for us — earthquakes.
From Lost Coast Outpost yesterday afternoon
A new study published in the journal Nature Geoscience finds that larger earthquakes may occur during periods of exceptionally high tides.
The study, published last month by a team of Japanese scientists, report finding a statistical connection between high tides and large magnitude quakes.
Exceptionally large tides (Perigean spring tides) occur when the moon is closest to the earth during full or new moon phases.
The Eureka National Weather Service reports that we will experience our next Perigean spring tides during Oct. 17-19.
Another such tide will occur Nov. 13-17.
…
Dengler advises that people participate in the upcoming Great ShakeOut event on Oct. 20.
A global earthquake drill, designed to improve earthquake preparedness and safety.
Dry rattle-n-roll…
Now back to the election…