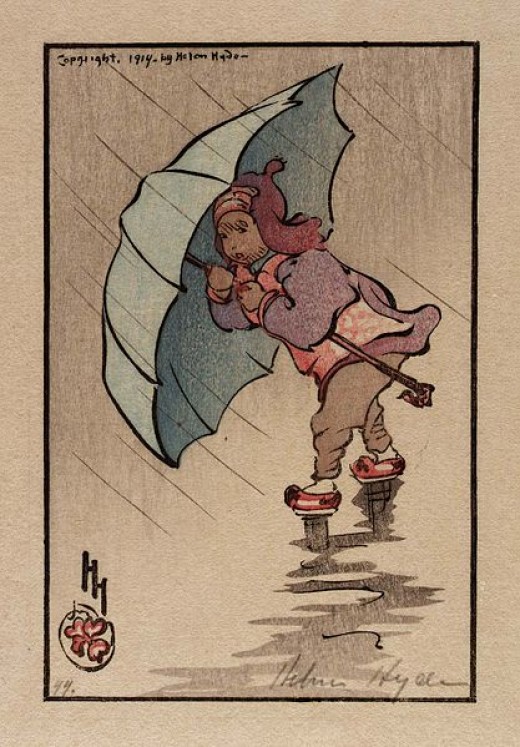 Rain in buckets-full this early Monday on California's north coast, and some blustery winds, too.
Just another episode of the rain-laden storms sweeping across the West Coast this week, and apparently no end in sight until Thursday, then it's only for a day or so, then once again the cycle starts all over again.
Covering just about all of Humboldt County, even the shoreline — this 'Short Term Forecast' from the NWS this morning: 'Doppler radar indicated thunderstorms along a line extending from near Westhaven-Moonstone to Honeydew, moving east at 25 mph. The storms will generate locally heavy rain, gusty winds to 40 mph, small pea size hail and cloud to ground lightning strikes.'
Tomorrow more of the same, even maybe worse: 'Heavy Rain and Windy.'
Odd last night, I could hear crickets chirping away like it was summer, or something…
(Illustration: 'The Blue Umbrella 1914,' by Helen Hyde, found here).
Not likely, and not for awhile with more winter weather still on tap before any seasonal shift into a more pleasant environment.
Redheaded Blackbelt, also this morning, has a handy local guide to weather conditions and road closures.
In the science of the storms, some background from a LA Times weather story last night:
This week's cycle of storms began when high pressure — which has all but dominated California weather for the past five years — shifted east.
Its absence allowed waves of low pressure to wash onto the West Coast.
Wind flows counterclockwise around low pressure, and swirling air draws warm moisture north from the tropics; the result is what's known as an atmospheric river.
Due to this particular phenomenon's origins in the Pacific Ocean around Hawaii — and its ability to quickly beam storms toward the West Coast — meteorologists call it the "Pineapple Express."
"We think of it as a fire hose, because that's basically what it looks like," said Jim Anderson, a meteorologist at the National Weather Service in Hanford, Calif.
That fire hose of moisture poured down over much of California as rain and snow in two sessions — one at midweek and a second, stronger wave during the weekend.
Between New Year's Day and Thursday, the Squaw Valley ski resort north of Lake Tahoe racked up 83?inches of snow on its peaks.
Areas west of the peaks were inundated with nearly 10?inches of rain in 48 hours.
Stay dry…yeah, right.