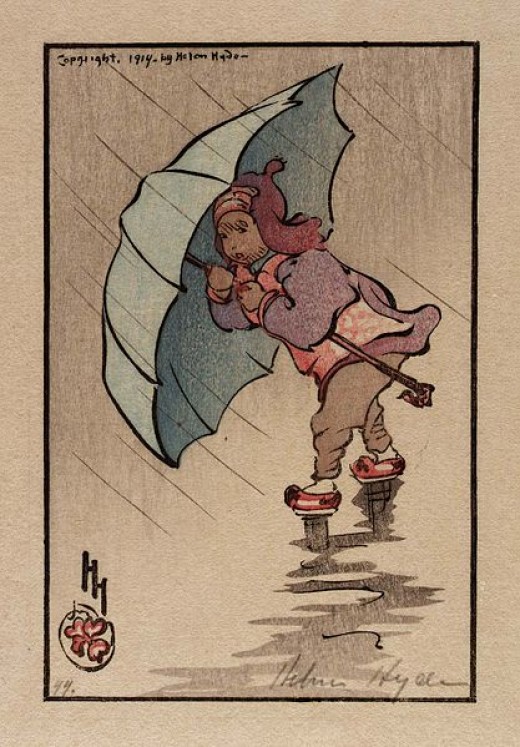 Overcast and quiet this Monday morning on California's north coast, and even some way-occasional faded-yellow sunshine — an environment not too indicative of a massive 'atmospheric river' cruising our way.
However, according to NWS' Weather Story, the heart of the AR is aimed at the Bay Area — 4-6-inches of rain forecast down there the next couple of days, versus 1-2-inches predicted for our area.
The wind has really died compared to earlier — the NWS 'weather' thingy notes we experienced gusts up to 43-mph in the pre-dawn hours, but at first light all seemed calm.
Also from the NWS are preliminary rainfall totals for January, and no surprise, my spot received 134-percent of normal in precipitation last month — more than 11-inches of rain, compared to the 'normal' of 8.34-inches.
This particular rainy season feels way-way-way-past the expiration date.
Rain, rain…
(Illustration: 'The Blue Umbrella 1914,' by Helen Hyde, found here).
Couple this continuous, gloomy-weather pattern since forever  — October at least, when we got 419-percent normal for the time (my post on it) — with the horror of the T-Rump, and we've a most-certain winter of our discontent, fueled with high anxiety.
Today's workings via The Weather Channel earlier this morning:
Heavy rains are sending another California reservoir toward flood stage, and officials say it's likely they'll have to open the spillway gates, something that has happened since 1997.
The region's saturated rivers and creeks are already beginning to cause problems as this second round of storms moves in, flooding streets, bringing trees and debris crashing into roadways.
Torrential rain and flooding from the first round left at least seven people dead.
In Tuolumne County, the Don Pedro Reservoir near Hayward is threatening to overflow.
The reservoir is sitting at 826 feet, with flood stage just 4 feet higher.
Officials from the Turlock Irrigation District say with more rain coming, it's likely the spillway gates will likely be opened — something that hasn't happened since 1997.
In Oroville, where heavy rains recently damaged the reservoir dam forcing the evacuation of nearly 200,000 people, officials say waters are receding behind the dam, and the reservoir is at 81 percent capacity with room for incoming runoff.
…
According to energy provider PG&E, more than 10,000 customers were without power Monday morning, and KRON is reporting average flight delays of 228 minutes at San Francisco International Airport, where 47 outbound flights and 47 inbound flights had been canceled as of Monday morning.
Officials are warning residents in northern California they need to be ready to evacuate again.
Colusa County Assistant Sheriff Jim Saso told the Associated Press Sunday that even though floodwaters are receding in the farm community of Maxwell, where dozens of people sought higher ground during flooding rain earlier in the week, people need to stay alert.
"We're telling these people to keep a bag close by and get ready to leave again," said Saso.
"If the water comes back up, it's going to be those areas affected."
And reality continues…