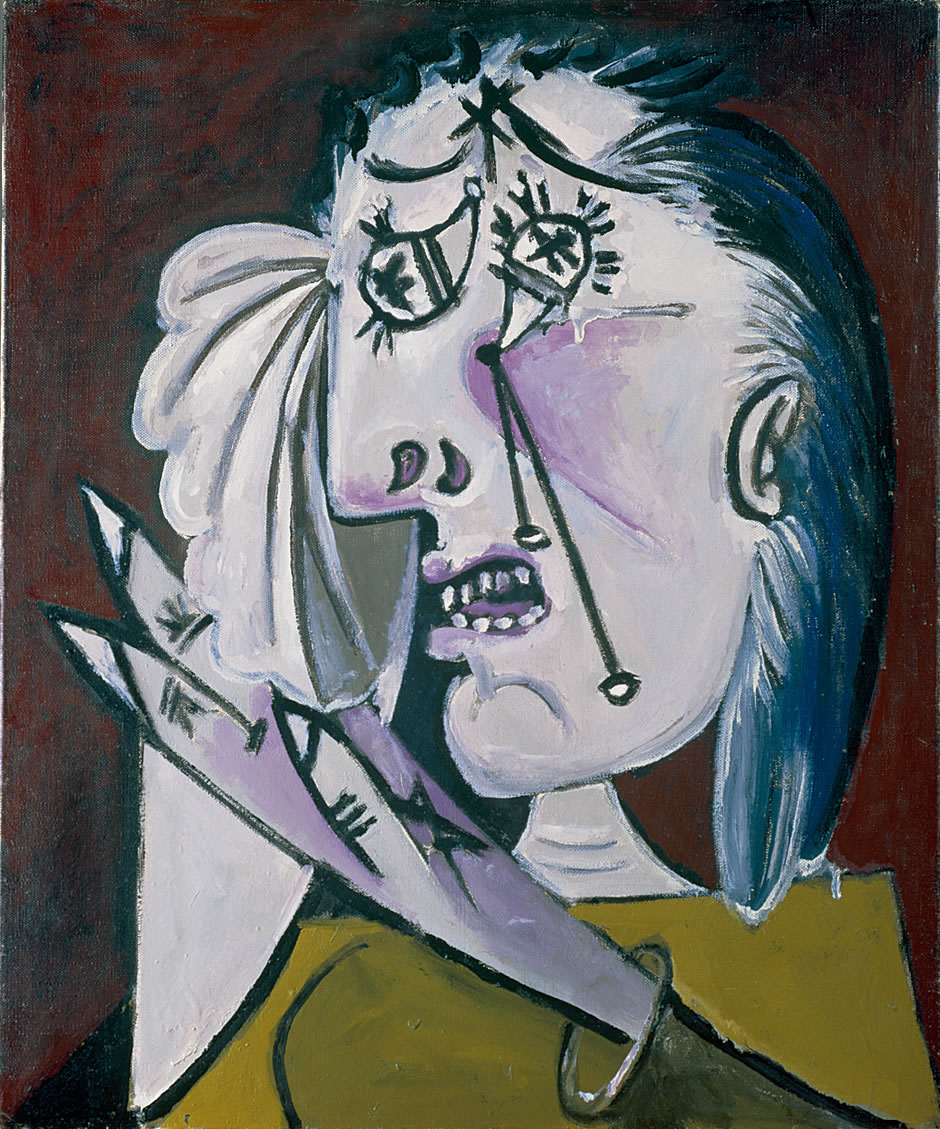 (Illustration above: Pablo Picasso's 'Weeping Woman,' found here).
Punch-back is in the wind — good attitude already from Alexandria Ocasio-Cortez, who today took rightful-issue with White House spin-noddle Kellyanne Conway on reality, not "alternative facts."
John Kelly was straight up exposed for lying about @RepWilson in comments aimed at discrediting her.

He absolutely owes her an apology, and his refusal to do so isn't a sign of strength – it's cowardice. https://t.co/BA40Hgofvk

— Alexandria Ocasio-Cortez (@Ocasio2018) December 10, 2018
Conway is a way-weirdo, odd looking, with a husband seemingly an exact political  opposite — a freakish version of the James Carville/Mary Matalin set-up, but way-way-more implied violence somehow involved, and way-way-less intelligence. A wonder she's lasted this long, hardly anybody left of the original crowd. She's mad because of Ocasio-Cortez's tweet (above) on Sunday. Per The Hill this afternoon:
Conway's recent recent criticism of Ocasio-Cortez came during an interview on Fox News about possible successors to White House chief of staff John Kelly, who is stepping down before the end of the month. Conway criticized Ocasio-Cortez for referring to Kelly as a liar.
"[Kelly] is in his fifth decade of public service, and this country owes him a debt of gratitude, not the nonsense that has been spewed about him recently from the left, and from this 29-year-old congresswoman who doesn't seem to know much about anything when you ask her basic concepts about the economy, or the Middle East, or military funding," Conway said on Tuesday.
So Ocasio-Cortez tweeted this morning: '"Kellyanne Conway has been engaged in a War on Facts since Inauguration Day. Leveraging those who belittle my capacity is exactly how I defeated a multi-generation, multi-million $ political machine. GOP is even weaker bc their bias has no self-control."'
After Nancy Pelosi's performance yesterday with the T-Rump, Republicans must now fear the gender — a woman coming hard with the facts, and maybe present those said facts in your face.
Ocasio-Cortez is getting popular with folks. Right now, there's a pressure campaign calling for Pelosi (as next House Speaker.) to appoint Ocasio-Cortez to the powerful House Ways and Means Committee, .'…a spot freshmen are almost never given…'
We'll wait and see…