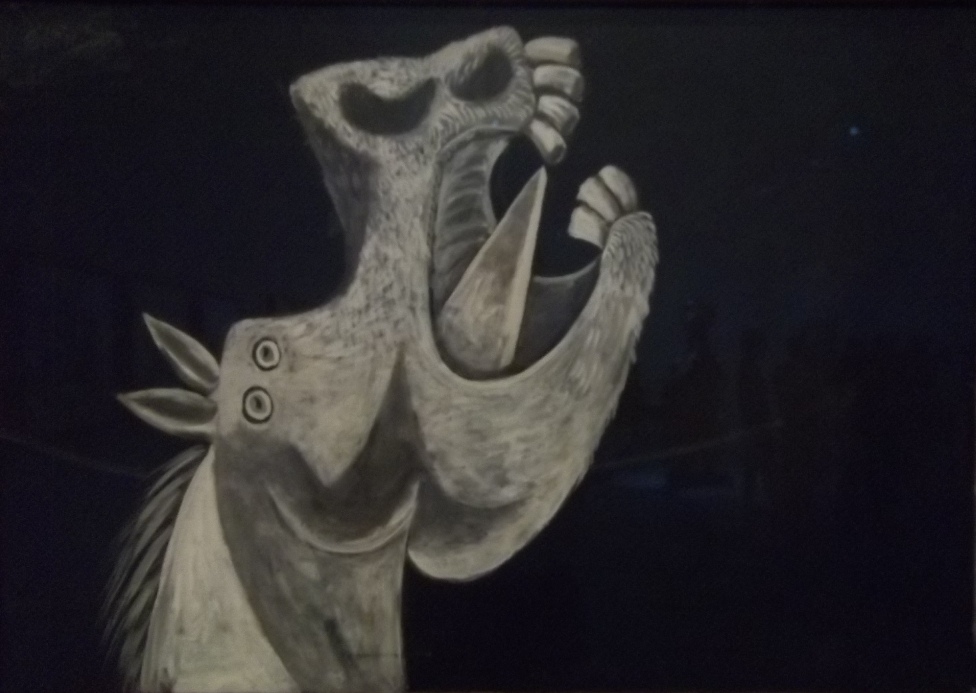 (Illustration: Pablo Picasso's 'Agonizing Horse,' found here).
First post in a couple of weeks — I've been down in the Central Valley with a daughter and a follow-up appointment off my surgery last summer at UC Davis. Doc said I'm doing good, but he wants to see me again in three months.
Here we go…
And away just a awhile and shit hits the fan — a government shutdown, and the T-Rump going further in the nutcase jam. Today, though, reality of a fiction not made of pulp — and freshman Rep. Rashida Tlaib lit the burner (Politico):
"When your son looks at you and says, 'Momma look, you won, bullies don't win,' and I said 'Baby they don't,' because we're going to go in there and we're gonna impeach the motherfucker," Tlaib said at a party Thursday night.
Video of the congresswoman's remarks was captured and posted to Twitter by user @_NestorRuiz and were reported by journalists from The Washington Post and The Huffington Post.
Despite a lot of bullshit hypocrisy and trolling from Republicans, Nancy Pelosi showed her cool:
Pelosi on Friday said she wouldn't have necessarily used the same language as Tlaib, and that her comments did not represent the position of all House Democrats.
But Pelosi also pointed out that the president himself is known for using similarly coarse rhetoric.
"I don't think it's anything worse than the president has said," she said at a town hall hosted by MSNBC, adding later that "some of the words that he uses have a direct impact on people's lives. My colleague's comments do not have an impact on people's lives."
"Generationally, that would not be language I would use, but nonetheless, I don't think we should make a big deal of it," Pelosi argued.
So there
Yet to make matters worse, even idiotic — via the Daily Beast this afternoon on the T-Rump's meeting with Pelosi and Chuck Schumer:
One of these knowledgeable sources told The Daily Beast President Trump kicked off the meeting with a rant lasting roughly 15 minutes that included his $5.6 billion demand for a border wall, and threatened that he was willing to keep the government closed for "years" if that's what it took to get his wall.
He also, unprompted, brought up the Democrats who want him impeached, and even blamed Pelosi for new Democratic congresswoman Rashida Tlaib saying at a party earlier this week that Democrats would impeach the "motherfucker" Trump.
(It is unclear why Trump would think Pelosi was responsible for this.)
Trump proceeded to tell the room he was too popular to impeach.
Along with saying the word "fuck" at least three times throughout the meeting, the president bizarrely stated that he did not want to call the partial government shutdown a "shutdown," according to the source.
Instead, he referred to it as a "strike."
(Many of the federal employees affected by the weeks-long shutdown have been working without pay. That is essentially the opposite of a strike.)
2019 is going to be interesting…