Inside chamber for first hour of Q&A..

Much more interesting to watch than arguments. Both Trump defense and Dem managers have converted their tables into mini war rooms. Lawyers and members whispering, note passing — scrambling to come up with best answer in 15 seconds or so

— Sarah Ferris (@sarahnferris) January 29, 2020
Which does lead to this:
So far Dems are only asking Dems questions, and GOP only asking Trump legal team questions.

Many of the questions are thinly veiled efforts to tee up talking points.

This is … less than useful.

— Aaron Blake (@AaronBlake) January 29, 2020
This entire enterprise is a farce, but a needed farce, however. The GOP-controlled Senate will acquit, with almost no argument there. Beyond a play on words, grandstanding and other political bullshit, Republicans will disappear behind a veil of ugly and despite the obvious, vote to let the orange turd continue until way-hopefully voters kick his malignant ass to the curb in November.
Yet a lot of shit can happen between here and there.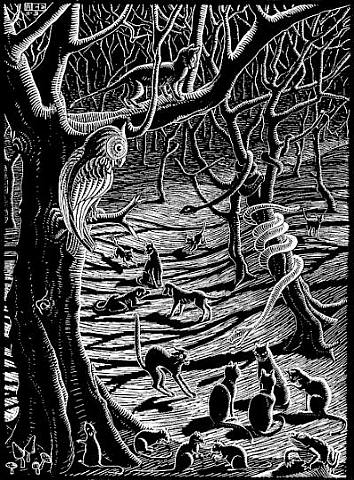 (Illustration: M.C Escher's 'Scholastica,' found here).