Pot has been a mainstay for more than 46 years — for me, personally, catching the bong in 1974 — and the changes in just the last decade have been incredible and most-fascinating, especially with all the lies and 'fake news' about weed for nearly a century.
The big turn-on for me today was a major marijuana profile in Esquire magazine, under the collective heading, "Cannabis Nation," with articles/reports on various aspects of the pot universe — a look at the first pot restaurant here; all the states that have legalized weed here; a review of marijuana vaporizers here; and here a sad, personal account by Tom Chiarella of legal vs illegal weed states, and being forced to live in a no-smoke zone, and feeling way in the past.
And there's even a self-help guide here to rolling the perfect joint:
Of course, the secret to rolling a doobie is experience, as in repetition — the more joints you roll, the better you are at it, like just about everything else, but neater. However, I'm mostly a wood-pipe guy.
Along with the above, High Times has a step-by-step guide, too. (So do a shitload of other places, and videos).
And you would know it, the T-Rump is thrashing after pot, too. He's fucking up everything he can get his tiny, orange fingers around — from Marijuana Moment this past Monday:
President Trump proposed ending an existing policy that protects state medical marijuana programs from Justice Department interference as part of his fiscal year 2021 budget plan released on Monday.
The rider, which has been renewed in appropriations legislation every year since 2014, stipulates the the Justice Department can't use its funds to prevent states or territories "from implementing their own laws that authorize the use, distribution, possession, or cultivation of medical marijuana."
This isn't the first time that an administration has requested that the rider be stricken.
Trump's last two budgets omitted the medical cannabis protections language, and President Obama similarly asked for the policy to be removed.
In all cases, Congress has ignored those requests and renewed the protections in spending bills.
…
When Trump signed that large-scale spending legislation in December, he attached a statement that said he is empowered to ignore the congressionally approved medical cannabis rider, stating that the administration "will treat this provision consistent with the President's constitutional responsibility to faithfully execute the laws of the United States."
Cannabis is also mentioned in several other places in Trump's new budget proposal for next year.
For example, it contains another long-standing rider that blocks Washington, D.C. from using local tax dollars to legalize marijuana sales.
Better roll 'em while you can…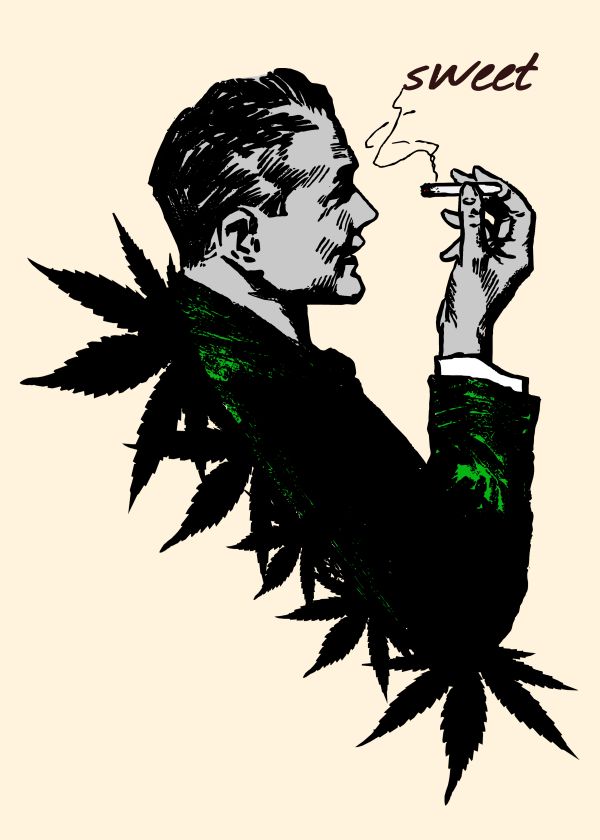 (Illustration: 'Cannabis and Politics,' by Denis Marsili, found here).