(Illustration found here).
As we spin through this weird-ass conundrum of the coronavirus, our biggest enemy in acquiring a handle on the pandemic is the T-Rump, and his self-centered bullshit that's impeding an organized assault against spread of the virus. A petulant, incompetent sociopath is in charge of some serious business.
Even as another GOPer goes down — Rand Paul has tested positive for COVID-19 and quarantined — the T-Rump continues to drag nasty feet over actions to aid medical shit, from masks to hospital beds, to whatever, and for some reason, his hesitation to okay the power of the federal Defense Production Act, which covers a lot of emergency ground. Most-likely, there's never been a more immoral, vain-glory asshole in all of history — timing is everything, right?
Reportedly, the T-Rump apparently knows he's doing a shitty job, and his performance is obviously gosh-awful on TV, he's pissed — via Raw Story:
Appearing on MSNBC's "Am Joy" on Sunday morning, Vanity Fair reporter Gabriel Sherman told host Joy Reid that Donald Trump is "furious" with Gov. Andrew Cuomo (D-NY) because his daily press conferences on the coronavirus pandemic are getting rave reviews — while his own are being panned.

Speaking with the host, Sherman explained, "My sources who are in touch with the White House, several people told me that one of the things driving [Trump's task force press conference apperances] this is that the president has been furious and frustrated at New York Governor Andrew Cuomo who has been holding these very widely well-received early morning press conferences and, in the president's view, has sort of hijacked the news cycle."
"So now you see Trump, you know, taking the stage after Cuomo trying to take back the mantle and unfortunately he's doing that with misinformation," he continued.
"So we're in a situation where the president's narcissism and his need to be at the center of every story, even though the story is not about Donald Trump, this story is about a global pandemic, is what is driving the White House's communication strategy.
"I had a senior former West Wing official tell me that the president needs to be his own press secretary and that's what's driving this," he added.
The T-Rump can't abide someone stealing his limelight, his awesome stage presence, and just can't figure out lying and bullshitting, acting cruel and insensitive, blubbering about medical shit without a sense of anything, making up numbers that should sound good, all this, does he understand it is zero-good for popularity — especially in the midst of a fucking-crazy pandemic, where people are legitimately apprehensive, scared.  So the radical contrast with Cuomo.
And this piece at CNN this afternoon delves a bit deeper:
For New Yorkers stuck inside their homes — and heads — as the state and country confront the rapid spread of coronavirus, Andrew Cuomo's press conferences have become appointment viewing.

Starting a little before noon, and running as long as an hour, the New York governor offers something simple and, to many viewers, deeply necessary: a sense that someone is in charge, even if the news is bad — and consistently getting worse.

"Everyone knows what we're dealing with," Cuomo began, matter-of-factly, on Friday. "It's preventing an overload of the health care system."

The pressers have turned into indelible split screen moments between Cuomo and President Donald Trump — whose own news conferences often take place during or after those in New York — unfolding in real time for those watching in New York City.
For many viewers, they are a stark and jarring reminder of the broad chasm between the federal government's response to the coronavirus pandemic and efforts at the state level, where governors like Cuomo are increasingly taking stricter action — and greater responsibility — as they seek to stabilize both health infrastructure and ward off a public panic.
…
As Cuomo was wrapping up in New York, Trump and his team were beginning their own briefing at the White House.
But where Cuomo projected competence and authority, with a dash of his idiosyncratic humor, Trump was meandering.
When prodded to offer some kind of empathy — Trump lashed out.

"What do you say to Americans who are watching you right now who are scared?," a reporter asked.

"I say that you are a terrible reporter, that's what I say," Trump replied.
"I think it's a very nasty question."
Whether he was annoyed that the wind-up to the question included statistics on the sick and dead, or at its characterization — "scared" — of Americans, was unclear.
"They're looking for answers and they're looking for hope," Trump continued, as if observing from afar.
…
Contrast that with Trump, a fellow Queens native who also entered his father's line of work: a week earlier, the President faced questions at a press conference over his role in the country's failure to produce and implement functioning coronavirus tests.
His answer: "I don't take responsibility at all."
Unless there's a shift somewhere topside, hard driving ahead.
This past year I've come to love this rendition of the iconic Queen song — nowadays even more:
Of course, the Queen video is 'furious' in its own right…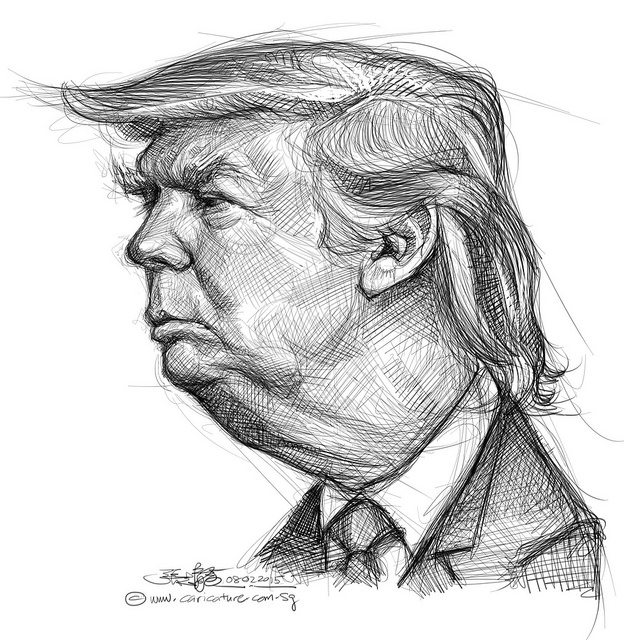 (Illustration: 'Basic Shapes,' by caricaturist/illustrator Chong Jit Leong found here).