Once again breezy and warm in California's Central Valley, an afternoon on a Tuesday — I think. Blogging in the backyard again, developed a taste for the heat in the shade.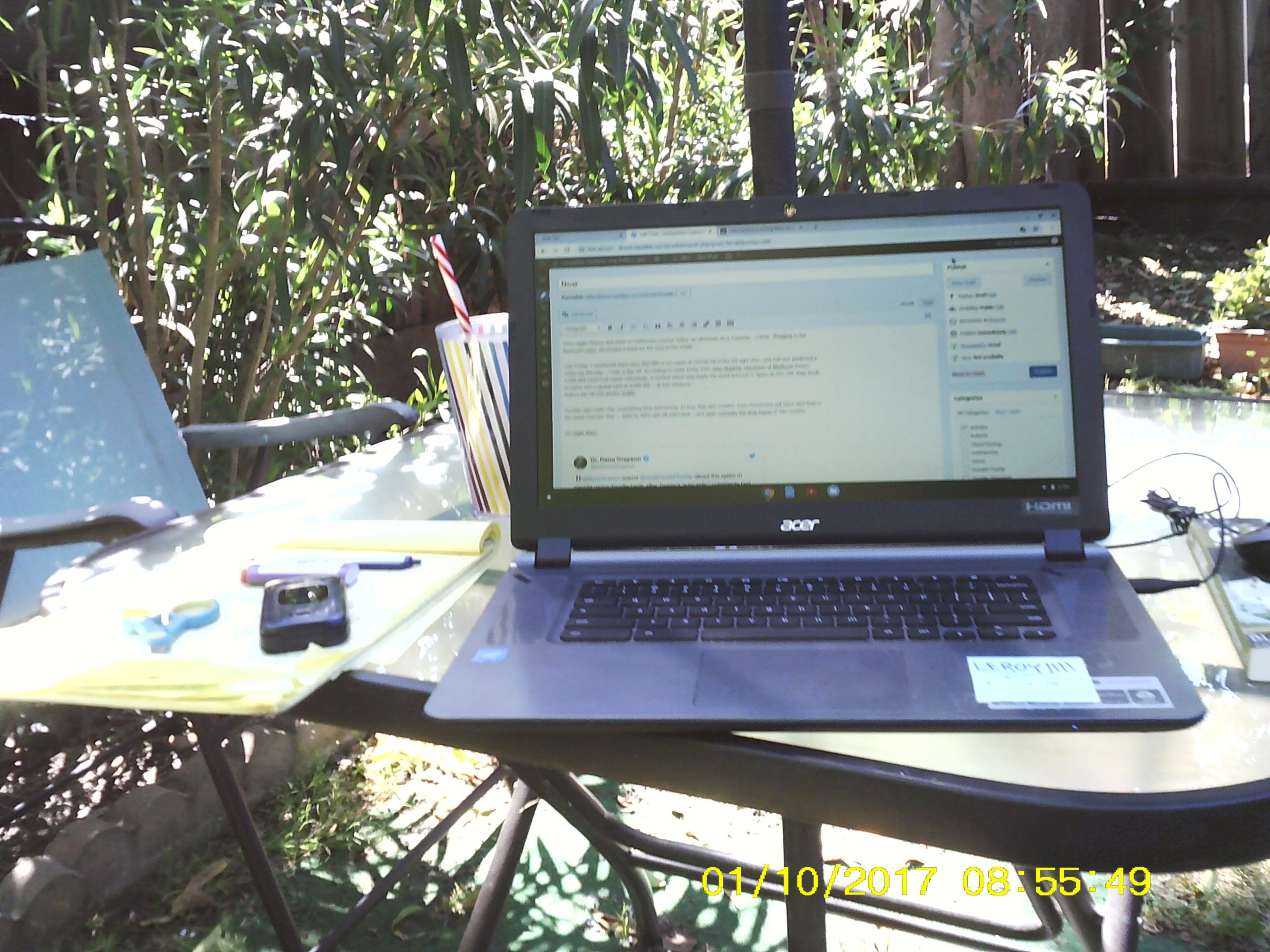 Age of the novel coronavirus, COVID-19, is near-about indescribable right now away from the virus itself, face masks, the social distancing, shelter-in-place, the odd time of it all. And the mystery of the whole pandemic unfolding quickly in societies all over the world, while in this country an actual asshole liar was setting the stage for a killing.
Last Friday, I mentioned there were 855,000 or so cases of COVID-19 in the US right then, and half-ass predicted a million by Monday — I was a day off. According to totals today from John Hopkins University of Medicine there's 1,008,066 confirmed cases nationwide, a number which way-leads the world (second is Spain at 232,128, Italy third) in cases with a global total at 3,098,391 — at last measure.
And so far, 58,126 US deaths (CNN).
Horribly ugly mark, too, considering time and history. In less than two months, more Americans will have died than in the entire Vietnam War  — 1955 to 1975 with 58,220 killed — and again consider the time frame of 'two months.' Until there's a vaccine, or some other form of medicine (scientific/legitimate) to successfully combat COVID-19, at least keep the shelter-in-place thingie going, economy or not.
Add to the burden is horror of the T-Rump. One couldn't script a more despicable, incompetent human being, T-Rump is a peculiar case where non-fiction touts fiction in creating a really-shitty villain (h/t Daily Kos):
??@BrianKarem asked @realDonaldTrump about the spike in people using disinfectants after Trump's "sarcastic" comments last week.

Trump: "I can't imagine why."

Karem: "Do you take any responsibility?"

Trump: "No, I don't."?#coronavirus #COVID19 pic.twitter.com/3We3KKc1zB

— Dr. Dena Grayson (@DrDenaGrayson) April 27, 2020
And what's worse than that, is the T-Rump seems to be getting worse. He is such a narcissist, so self-centered he can't do really anything but lash out, cry, blame others whenever he gets into public. Reporters are becoming little needles poking into him about some nasty, reality shit caught on tape. Then blow it off: 'I can't imagine why.'
Although the media is way-partisan  — truth vs the lie — and a lot of good journalism is being done, there's still a great need to get a grip on that flaming circus/dumpster fire that's been the T-Rump for nearly five years.
Once again, at The Washington Post this morning, Margaret Sullivan, the Post's media columnist, has an excellent look at media/journalism and how it falls short covering such a malignant fuck as T-Rump. Some snips:
Even if you get past the objectionable notions of "winning" and "losing," I very much doubt that history will judge mainstream journalism to have done a terrific job covering this president — including in this difficult moment.

On the contrary, the coverage, overall, has been deeply flawed.

Those flaws were on full display over the past few days, just as they have been every day since a real estate mogul/reality TV star grandly descended a goldtone escalator into the marble atrium of Trump Tower on June 16, 2015, to announce his presidential campaign.
For nearly five years, the story has been Trump.
And, in all that time, the press is still — mostly — covering him on the terms he dictates.

We remain mesmerized, providing far too much attention to the daily circus he provides.

We normalize far too much, offering deference to the office he occupies and a benefit of the doubt that is a vestige of the dignified norms of presidencies past.

And day after day, we allow him to beat us up. And then we come back for more.
…
"Trump has been able to make it all about him, and the press — with some notable exceptions — too often allows him to turn the coverage into a carnival," said Tim O'Brien, a Trump biographer, former New York Times business reporter and columnist at Bloomberg Opinion.
"You can't let the person you're covering set the terms of the coverage, but that's exactly what he has done."

Every day — sometimes every hour — there's some new craziness to distract us.
…
But in the big picture and as a whole, we've never quite figured out how to cover Trump for the good of citizens.
We've never really fully changed gears despite Trump's constant, norm-busting behavior.
Determined to do our jobs — dutifully covering the most powerful person in the world — we keep coming back for more:

Beat reporters file into the briefing room, sometimes to be publicly insulted and disparaged as "fake news" or "a terrible reporter."
Television's live coverage of briefings continues at many news organizations — allowing Trump to dominate the late-afternoon airwaves, day after day, with torrents of misinformation and narcissistic bragging.
Yet the terrible aspect is what T-Rump blabbers is way-truth to a lot of Americans — bleach inhalers, lock-down deniers, all of the Republican party.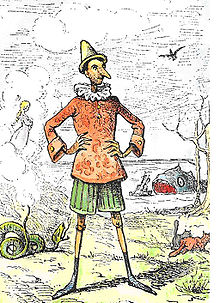 (Illustration: 'Pinocchio,' by Enrico Mazzanti (1852-1910), found here)