Yesterday was one of those watershed-type days. Personally, I received an excellent follow-up medical review at UC Davis off my cancer surgery more than two years ago (next exam in a year), and nationally, Joe Biden became POTUS.
The latter also a big thumbs-up in the health category.
And this morning, a spring in the step
Biden crunched the Resolute desk hard right away yesterday afternoon, signing 17 Executive Orders, ranging from COVID items like a mask mandate, to a cancellation of the Keystone XL pipeline, to a lift of the racist Muslim vistor ban. Tengrain has a full list of the Orders and more.
However, one item outweights and supercedes all — getting a strong handle on the virus and a way-good start is from the Oval Office (h/t again BJ):
WOW—Biden WH is much more aggressive with #COVID19 safety and testing—and so much more organized says CBS News @PaulaReidCBS.

Adults are clearly back in the WH. pic.twitter.com/T73LodKe3n

— Eric Feigl-Ding (@DrEricDing) January 20, 2021
Unless the virus is brought under control, nothing else really matters. Personal lives, schools, businesses and just about all aspects of living is under a strangle hold by COVID and no 'normal' routines can come without first and foremost having the pandemic harnessed. A major understanding after the horrific, overall bungling by the T-Rump crowd.
One of those Executive Orders Biden signed yesterday was the creation of a COVID czar with authority on production and distribution of vaccines, a tall order. President Biden (sounds good, huh?) has named Jeff Zients, a businessman known in Washington circles as "Mr. Fix-It" as COVID operations head honcho, or czar.
He's got a huge 'fix-it' problem awaiting him and his crew — per CNN this morning:
Newly sworn in President Joe Biden and his advisers are inheriting no coronavirus vaccine distribution plan to speak of from the Trump administration, sources tell CNN, posing a significant challenge for the new White House.

The Biden administration has promised to try to turn the Covid-19 pandemic around and drastically speed up the pace of vaccinating Americans against the virus.
But in the immediate hours following Biden being sworn into office on Wednesday, sources with direct knowledge of the new administration's Covid-related work told CNN one of the biggest shocks that the Biden team had to digest during the transition period was what they saw as a complete lack of a vaccine distribution strategy under former President Donald Trump, even weeks after multiple vaccines were approved for use in the United States.

"There is nothing for us to rework. We are going to have to build everything from scratch," one source said.
Another source described the moment that it became clear the Biden administration would have to essentially start from "square one" because there simply was no plan as: "Wow, just further affirmation of complete incompetence."
And yesterday:
Criticizing the "lack of cooperation" from the Trump administration as an "impediment" for the new administration, White House Covid coordinator Jeff Zients told reporters on Wednesday that he was still confident that the administration can meet its 100 million vaccine shots in 100 days target.

"For almost a year now, Americans could not look to the federal government for any strategy, let alone a comprehensive approach to respond to Covid," Zients said.
"And we've seen the tragic costs of that failure. As President Biden steps into office today … that'll change tomorrow."
Meanwhile today, an approach strategy — via CBS News this afternoon:
President Joe Biden laid out his to plan to combat the coronavirus pandemic on his first full day in office, warning Americans that the worst is still to come.

"Let me be clear," Mr. Biden said during the event at the White House. "Things are going to continue to get worse before they get better."

The president signed 10 executive orders to vastly expand testing and vaccine availability, with the goal of administering 100 million vaccine doses by the end of April.
He invoked the Defense Production Act to compel federal agencies and manufacturers to increase key supplies needed to fight the virus, and implemented new travel restrictions meant to curb its spread.

White House officials acknowledge, however, that much of their plan will be impossible if Congress doesn't pass the administration's nearly $2 trillion coronavirus proposal, and have appealed to the American people to wear masks and socially distance.
…
"This is a wartime undertaking," Mr. Biden said, noting the number of Americans who have died from COVID-19, more than 408,000, is more than those who died during all of World War II.
And concerning that Congressional COVID package, this a happy clue to maybe real work will take place as yesterday Vice President Kamala Harris (sounds good, too, huh?) took control of the Senate. She swore in newbies Raphael Warnock and Jon Ossoff, along with  Alex Padilla, appointed to take Harris' old Califoria senate spot, a situation with a bit of humor — (h/t Daily Kos):
"Yeah, that was very weird."? pic.twitter.com/mWSLjn4wrA

— Maya Harris (@mayaharris_) January 20, 2021
Thus we do have a good team to start at 'square one'…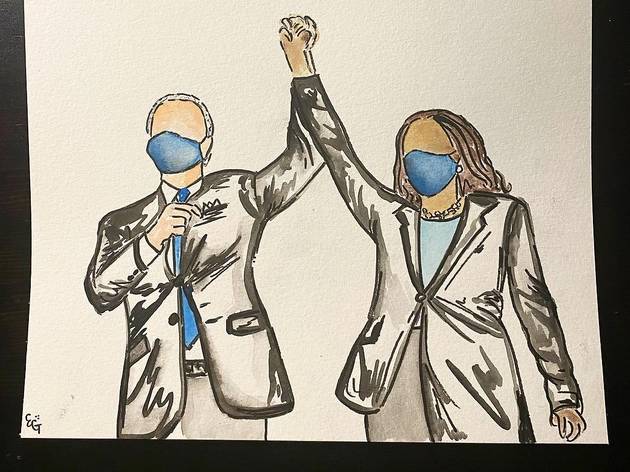 (Illustration by Emily Grace Tucker and found here).