Hot, heavy air this late-afternoon Saturday here in California's Central Valley as the temperatures spiral upward — it's 104-degrees with the view still a rusty-brown submerged in way-faded-yellow sunshine. Any length of time outside is no fun.
Listen to me whine — along the north coast of the Gulf of Mexico right now there's much-greater anxiety and a bigger weather problem with Hurricane Ida churning up from Cuba and sucking up some warm Gulf water as it nears landfall maybe tomorrow in/around New Orleans, as a Category 4 job. Fuck me and my sweaty brow. Yet on a personal note, I grew up on the Florida panhandle, which should see some offshoots of Ida's fury.
Ida is expected to be big and severe as shit:
Here is the current view of #HurricaneIda churning over the Gulf of Mexico, courtesy of the #GOESEast ??.

Get the latest on #Ida: https://t.co/arzjJiHnjF pic.twitter.com/v4ExyaVAcx

— NOAA Satellites (@NOAASatellites) August 28, 2021
And along with record size, the landing will also reflect on Katrina — via CNN:
Hurricane Ida is expected to rapidly strengthen before pummeling Louisiana on Sunday, forcing evacuations in New Orleans and the surrounding coastal region on the eve of the 16th anniversary of Hurricane Katrina.

On Saturday, Ida was moving away from Cuba and into the Gulf of Mexico, where it is expected to intensify over the next 24 to 36 hours prior to landfall across the Louisiana coast on Sunday afternoon or evening.
Recent satellite imagery showed the storm has already strengthened.

New Orleans Mayor LaToya Cantrell on Saturday warned residents planning to voluntarily evacuate — which she recommended — to get out now.
"Time is not on our side. It's just rapidly growing. It's intensifying," the mayor said at a news conference, referring to Ida.
"If you're voluntarily evacuating our city, now is the time to leave — you need to do so immediately. If you're planning to ride it out, again, make sure that you're able to hunker down."

Louisiana Gov. John Bel Edwards said Ida "will be one of the strongest hurricanes that hit anywhere in Louisiana since at least the 1850s."
"This is a very large storm," Edwards told reporters Saturday, noting that the hurricane could span about 150 miles east and west from the storm's center.
Enormous, with a way-strong punch:
Forecasters warned residents along the northern Gulf of Mexico coast to rush preparations ahead of an intensifying Hurricane Ida, which is expected to bring winds as high as 130 mph (209 kph), life-threatening storm surge and flooding rain when it slams ashore in Louisiana on Sunday.

The National Hurricane Center warned that super-warm Gulf waters could rapidly magnify Ida's destructive power, boosting it from a Category 2 storm to an extremely dangerous Category 4 hurricane in just 18 hours or less.
Landfall was expected Sunday afternoon.
Along with winds and rain — storm surges:
NOAA is continues to monitor water levels and winds for Hurricane Ida as it approaches Louisiana. There is a danger of life-threatening storm surge inundation in the storm surge warning area (hot pink). View real-time water level and meteorological data:https://t.co/tOiKzjEPXN pic.twitter.com/yv2wl5MpoW

— NOAA's Ocean Service (@noaaocean) August 28, 2021
Canals, rivers, bayous, any and all coastal waterways will be shit high: 'The Tropical Storm Warning and storm surge warning in association with Hurricane Ida has been extended eastward along the northern Gulf coast to the Alabama/Florida border. There is also a threat of possible tornadoes Sunday and Monday across the northern Gulf states, including the Florida Panhandle.'
Beyond the oddity of the Katrina anniversary, Ida also has a historical slot for being badass — hurricanes that begin with the letter, "I," have always seem to be worse — per The Washington Post this morning:
Isabel. Ivan. Ike. Irene. Irma. And now Ida. These terrible hurricanes, all of which have occurred since 2003, begin with a common vowel.
They haven't all started with the same letter by chance — there is some science behind the abundance of notorious storms starting with the letter "I."

Since 1953, storms have been given human names to make identifying them more convenient.
For 26 years they were given only female names, but in 1979 the male-female alternating alphabetical lists that we use today were introduced.

Names associated with storms that cause severe loss of life or property damage are retired by the World Meteorological Organization.
The idea of permanently retiring a storm name began after the 1954 hurricane season when Carol, Edna and Hazel ravaged the East Coast.
Since that fateful year, a total of 94 storm names have been retired, and the count of those beginning with "I" totals more than any other letter: 11.

Here they all are, listed by year: Ione '55, Inez '66, Iris '01, Isidore '02, Isabel '03, Ivan '04, Ike '08, Igor '10, Irene '11, Ingrid '13, Irma '17.

The abundance of devastating I-named storms is not entirely surprising: They tend to coincide near the typical peak of the hurricane season between mid-August and the end of September.
With warm ocean temperatures and the absence of disruptive high-altitude winds, conditions are typically prime for hurricane development just when 'I' is reached on the alphabetical list of storms.
Over the past 50 years, the average "I" or ninth named storm forms on Sept. 23, toward the tail end of peak hurricane season.
But during active seasons, which produce some of the most extreme hurricanes, the average date creeps up by about two weeks, coinciding with the most active part of the peak hurricane period.
Hurricane history is fascinating, but way-sucks.
And here we are, once again…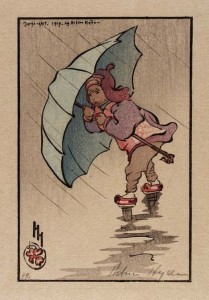 (Illustration out front: 'The Blue Umbrella," (1914), color woodcut on paper, by Helen Hyde, and found here).