In a small, first step in bringing accountability to the horror-mischief of T-Rump and his boys, the House select committee investigating the Jn. 6 insurrection/coup/riot will push the DOJ to hold Steve Bannon in contempt for not showing up today, as per subpoena, to testify before the group.
Supposedly, the committee will hold a vote Tuesday to go after the asshole — today the panel officially noted:
BREAKING: Chairman @BennieGThompson announces the Select Committee will move forward with proceedings to refer Mr. Bannon for criminal contempt. Read the full statement: https://t.co/NzwmvR09pa

— January 6th Committee (@January6thCmte) October 14, 2021
Bennie Thompson's statement:
"Mr. Bannon has declined to cooperate with the Select Committee and is instead hiding behind the former President's insufficient, blanket, and vague statements regarding privileges he has purported to invoke. We reject his position entirely. The Select Committee will not tolerate defiance of our subpoenas, so we must move forward with proceedings to refer Mr. Bannon for criminal contempt. I've notified the Select Committee that we will convene for a business meeting Tuesday evening to vote on adopting a contempt report.

"The Select Committee will use every tool at its disposal to get the information it seeks, and witnesses who try to stonewall the Select Committee will not succeed. All witnesses are required to provide the information they possess so the Committee can get to the facts. We're grateful to the many individuals who are voluntarily participating and to witnesses who are complying with subpoenas, including several who met the deadline to begin producing materials to the Select Committee. We're moving ahead quickly to get answers for the American people about what happened on January 6th and help secure the future of American democracy."
Once the committee okays the noted charge on Tuesday, the entire House will vote to hold Bannon in contempt of Congress or not, and if so, seek the DOJ to file criminal charges. Most-likely it will pass muster in the House, with the biggest unknown shit the action of AG Merrick Garland, who so far has shown to be a foot-dragging kind of a jerk.
Despite that, the action is a way-great step in the right direction and hopefully at least could lead to maybe the general public being made aware of the true horror of T-Rump's coup attempts.
However, asshole-Bannon might have another out even if charged with contempt — he might face jail time, though.
CNN senior legal analyst Ellie Hoenig reported this morning:
"It is a federal criminal misdemeanor to commit contempt of Congress. The maximum punishment is one year. Interestingly, there's actually one month minimum, meaning if you're convicted. You do have to go to prison for a month…
"He does have the right to take the fifth amendment against testifying if he may incriminate himself, and he certainly may. Look, Jan. 6 is under criminal investigation. If he takes the fifth, obviously it looks terrible. There's a real appearance issue, but at that point you can't force him to testify unless you immunize him, that's a whole other process, but it's almost impossible to bring a criminal charge if someone has a legitimate fifth amendment right. We'll see if Steve Bannon uses that counter move here."
We'll have to wait and see, but at least it's a start.
Once again, here we are…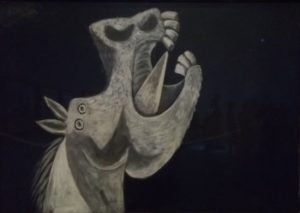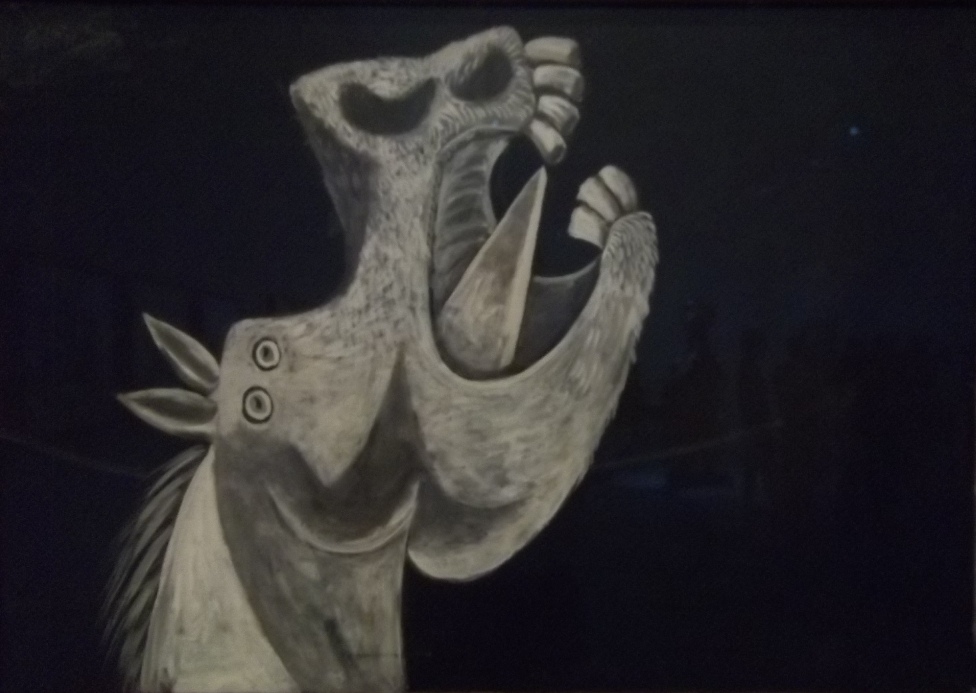 (Illustration out front: Pablo Picasso's 'Agonizing Horse,' found here),