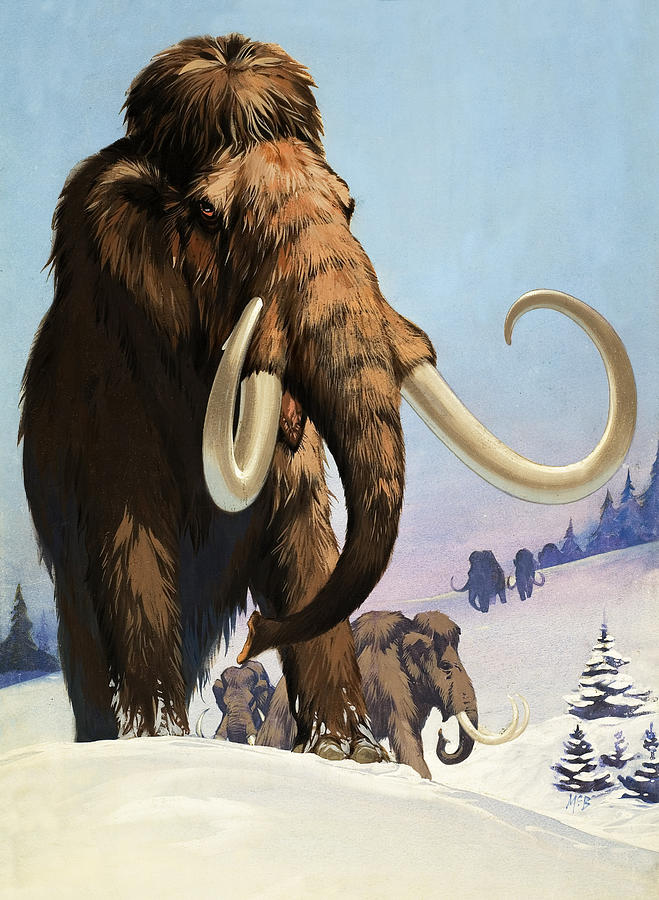 (Illustration: 'Mammoths from the Ice Age,' 1969 (gouache on paper), by Angus McBride, and found here).
Overcast and maybe a bit on the warm side this late-afternoon Wednesday here in California's Central Valley — rain could be coming. Meanwhile, up on the state's north coast, a "bomb cyclone" system will strike this weekend, with advance sprinkles forecast for today.
A developed wet/dry California version of the La Niña condition, where the north is soaked and the south is partched. And climate change makes it worse.
In contextual learning, climate change is a human condition, a massive problem created by all of us wanting more and more — within the recent weather history our environment warming has just about impacted everywhere, it's one of those 'beating-a-dead-horse' routines: Climate change is a human-made problem (EurekaAlert yesterday): 'More than 99.9-percent of peer-reviewed scientific papers agree that climate change is mainly caused by humans, according to a new survey of 88,125 climate-related studies.'
So the horror story playing out in DC over portions of the multitrillion-dollar reconciliation bill which deal with climate change and the need to do something fast or we'll experience the worse aspects of global warming and it won't be pretty — the asshole in the scenario is Joe Manchin. The destruction and damage he will do in thumbs-downing the environmental parts of the bill are immeasurable.
One guy helping to fuck the world, and the reason? A shitload of money:
Manchin has made more than a million bucks off coal over the past two years pic.twitter.com/STsM3oDgU4

— Aaron Rupar (@atrupar) October 20, 2021
Michelle Lewis at Electrek this afternoon knows the 'greed' money trail, and notes emotionally on Manchin's bullshit:
I am mad as hell about this, and more than just a little bit scared. I don't want to be dramatic, but it's bad.

Let's drill it down a bit (no pun intended): We are in the midst of a global climate emergency. China may be the No. 1 polluter overall, but the US is No. 2, and each person in America emits twice as much carbon as each person in China. Plus, the US has emitted more carbon than any other country — so this is the US's problem to solve.

When Biden was elected, he immediately signed an executive order to have the US rejoin the Paris Agreement.
He has stressed the importance of decarbonizing and has a plan. He vowed that the US will cut its emissions to 50-percent of 2005 levels by 2030.

Hope sprung from those declarations for those of us who know that the future of humanity is hanging in the balance. The infrastructure bill has me holding my breath. It's hard for me to even look at the negotiation process.
The Biden clean energy program is fundamental to that plan. The whole world, not just the US, needs it. We can wait no longer.

And just weeks before the do-or-die COP26 summit in Glasgow, that plan is about to be derailed by one man.
One man's greed is going to hurt the world's entire population of 7.75 billion people. That's not hyperbole.
And the great irony: Manchin is the chairman of the Senate Committee on Energy and Natural Resources.
Hope for a miracle.
Hope like the road ahead is rough-n-tough as shit-fire — even beyond Manchin's shitty work, there's this from this morning: 'The Chinese government has ordered the country's coal mines to "produce as much coal as possible" as it tries to increase production as winter approaches, and ease an ongoing energy crunch.'
Some climate-effect news:
All aspects of living on this planet will be affected, for instance, beekeepers across Europe — climate change is causing bees to produce less honey. Beekeepers association UNAF reports: '"Climate change, which beekeepers have felt for more than 15 years, is really hitting us."'
Reality and climate accords are two diverse objects — via Scientific American this morning: 'Fossil fuel-producing nations are on track to blow by their Paris Agreement pledges by developing coal, oil and natural gas through 2030 at levels that would fail to avoid dangerous temperature increases, according to new research.'
And no help from wind and solar as per a study published last July at NatureEnergy  — nutshell of the research from Chalmers online journal, part of the Chalmers University of Technology in Gothenburg, Sweden:
The production of renewable energy is increasing every year. But after analysing the growth rates of wind and solar power in 60 countries, researchers at Chalmers, Lund University and Central European University in Vienna, Austria conclude that virtually no country is moving sufficiently fast to avoid global warming of 1.5°C or even 2°C.
"This is the first time that the maximum growth rate in individual countries has been accurately measured, and it shows the enormous scale of the challenge of replacing traditional energy sources with renewables, as well as the need to explore diverse technologies and scenarios", says Jessica Jewell, Associate Professor in Energy Transitions at Chalmers University of Technology.
And I'm mad and scared.
The artwork of the woolly mammoth above was instigated by a story today at Inverse on the demise of the massive creatures — yep, climate change:
The study suggests warming temperatures after the Last Glacial Maximum — when ice sheets were their thickest — caused ice sheets to melt, which created more wetland plants on the Mammoth Steppe. It was harder for mammoths to access the natural resources of the wetter, softer ground compared to the firmer tundra of the Mammoth Steppe.

(Lead author Yucheng Wang) says these findings clearly shift the blame from humans.
"We found the distribution of humans over time was almost entirely unrelated to the presence of megafauna," he says.
We're off the hook for that one, thousands of years ago.
Yet, once again, here we are…
(Illustration out front found here).