In a spin-off of yesterday's post and the wake-up call needed for AG Merrick Garland to get his ass in gear to prosecute the T-Rump for the shitload of crimes he committed in broad daylight and has even boasted about them.
Despite some calls for Garland to be cautious and get all the T-Rump legal ducks in a row to take him out, that's the shits.
Glenn Kirschner, former Army prosecutor and now an NBC News/MSNBC legal analyst, has a good today take on the situation, and warns time is of the essence:
Why Are There No Timely DOJ/Federal Indictments of Trump & Company: An Insider's Perspective. #JusticeMatters https://t.co/8aOERVXjQe via @YouTube

— Glenn Kirschner (@glennkirschner2) February 13, 2022
Although a little slow, Kirschner is a bit quiet, too. Screening his clip is well-worth the time, however.
Yesterday, on the Dean Obeidallah Show on SiriusXM, Kirschner warned of the consequences of the DOJ (and AG Garland) not bringing the T-Rump to justice. If Republicans win back the House and Senate this November, time will be gone, the Repubs will seek (and most-likely) will get revenge.
Via Newsweek this afternoon:
"Democracy is hanging by a thread," he warned, saying that Attorney General Merrick Garland should take action against Trump.
"I don't know when we reach the point of no return," the attorney added.

"The Republicans will do everything they can to bring DOJ to a screeching halt by carpet bombing the Department of Justice with frivolous subpoenas, and then, trust me, they will find reasons to claim that those subpoenas are being violated," Kirschner said.
"And as Newt Gingrich promised everybody…they will lock up the members of the J6 committee."

"That's not an idle threat," he cautioned. "That's the Republicans' playbook."
Late last month, longtime nasty asshole Gingrich told Fox News if the GOP returns to Congressional power (as reportedly should happen) the shit will hit the fan: "And the wolves are going to find out that they're now sheep and they're the ones who are in fact, I think, face a real risk of jail for the kinds of laws they're breaking."
Portion of Kirschner's appearance on the Obeidallah broadcast:
Garland needs to get the DOJ's shit together before it's too late.
Here we are, however, once again…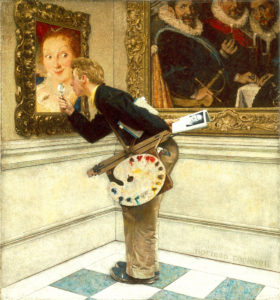 (Illustration out front: 'Art Critic' by Norman Rockwell, found here)